SQL Server
Upgrade SQL Server 2012 to 2019 Step by Step & Migrate Database Safely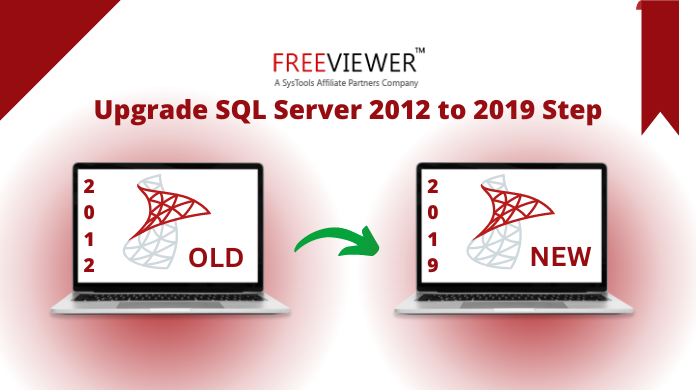 Synopsis: It's quite important for users to upgrade their SQL servers from time to time. This keeps them in a healthy & updated state. Today, we're going to help users learn how to upgrade SQL server 2012 to 2019 step by step without facing any errors. A lot of users are nowadays trying to perform the SQL migration but they often fail due to several loopholes.
To migrate SQL server 2012 to 2019 step by step, users need to follow a dedicated technique. Without the right strategy, the easiest battles can be lost too. We're going to learn both manual as well as the automated method here along with their features & drawbacks. In addition, being aware of the reason & user intent is also crucial for users. However, let's quickly begin with the automated solution to move database from SQL server 2012 to 2019 version.
Migrate SQL Server 2012 to 2019 Step by Step Using the Best Method
We're mentioning the automated solution first as this is so far the most ideal solution for users. If you want to get the perfect results & avoid all errors, select this method without a doubt. Now, the automated method involves the user-trusted SQL Server Migration Tool from SysTools software. We know that SQL migration with damaged database is a tough task but this tool can perform that too.
Download the tool & then follow these five simple steps along with the respective images. To upgrade SQL server 2012 to 2019 step by step, users just need to be careful enough to not make any mistakes.
Step-1. Launch the Tool and Click on the Open button to proceed.
Step-2. Choose the Online or Offline Mode for the migration task.
Step-3. Preview the Database Files & then Go to Export options.
Step-4. Adjust Export Options settings as per the requirements.
Step-5. Hit the Export button, in the end, to finish the migration.
Automated Features to Upgrade SQL Server 2012 to 2019 Step by Step
Users are capable to get the desired results using modern software as there are plenty of features present in it. Being aware of these features & functions allows users to use the automated tool to its maximum potential.
This utility offers multiple modes for SQL server data migration as mentioned:

Live SQL Server to Another Live SQL Server.

Live SQL server to SQL-Compatible Scripts.

Offline MDF files to the Live SQL Server DB.

Offline MDF files to SQL-Compatible scripts.

Users can also perform selective migration using the date & category filters.

Allow learning how to migrate SQL server 2012 to 2019 without SQL scripts.

Create a new database in the destination or migrate data to an existing one.

It has a feature to migrate the data with schema or schema and data as well.

The tool is capable of migrating almost all data objects like tables & triggers.

The SQL version 2019, 2017, 2016, 2014, 2012, etc are compatible with this.
Know Why Do Users want to Upgrade Their SQL Servers
There are a few reasons why users want to move database from SQL server 2012 to 2019 version. We can divide these reasons into two categories. The first one is the server upgradation & the other one is due to structural changes in the organization.
Brand acquisition & mergers are one-of-a-kind reasons why users execute such operations. However, these aren't the most common ones. Secondly, the server upgradation reasons are mentioned below to upgrade SQL server 2012 to 2019.
Speed


The new versions of SQL servers are fast enough to run queries with lightning speed without hassles. Old servers are quite slow in such tasks.

Performance


Along with speed, performance is another leverage with new servers. The latest servers are capable of handling load without any sort of outage.

Security


Here comes another major point

"security"

. We can say that users need to keep their files safe & secure from threats. New SQL versions offer them this advantage.

Cost


Cost is another factor that encourages users to migrate SQL server 2012 to 2019 step by step. Hence, dynamic pricing is available in the latest versions of SQL servers.

Functions


There are plenty of functions present in the new version of SQL servers. This helps users to work in a seamless manner effectively as well as efficiently.
Also Read: SQL Server 2012 to 2016 Upgrade Operation
Upgrade SQL Server 2012 to 2019 Step by Step Manually
The manual method is not that reliable & this is the reason we're discussing it in the end. There is no problem in selecting this one. However, in the case of having crucial data files in the database, this method can be risky.
There's no direct manual method & users need to execute three different tasks.
The first task for users is to repair the database objects. To check the health status of the database,

DBCC CHECKDB

is the perfect command. After that users can select any of the three below commands:

Repair_Rebuild
Repair_Fast
Repair_Allow_Dataloss

The second task for users to upgrade SQL server 2012 to 2019 is taking a full backup of their database. Users can store the backup file in their local system.

At last, users just need to import these files to the new SQL server without an issue. Also, this way, they can get the results they want if nothing goes wrong.
Drawbacks:
Risk of Data Loss.

Chances of Data Corruption.

Slow & Complex.

Lack of Advanced Features.

No Selective Migration.
Also Read: Migrate SQL Server 2017 to 2019 with the Same Tool & Steps
Bringing It All Together
After analyzing all the aspects of this topic, we are now capable of getting your desired results. This task is indeed a tough one if users are not aware of the correct methods. Therefore, to migrate SQL server 2012 to 2019 step by step, the manual method is a big no. Otherwise, users are free to select any method if they are confident in it.
New users can definitely go for the automated solution because IT experts as well as MS MVPs recommend that solution to users. Moreover, it is also the safest one to upgrade SQL server 2012 to 2019 step by step with ease. Being technically aware is another option for users to handle the entire project professionally.