Data Migration
,
SQL Server
Migrate SQL Server 2017 to 2019 Step by Step – Expert's Method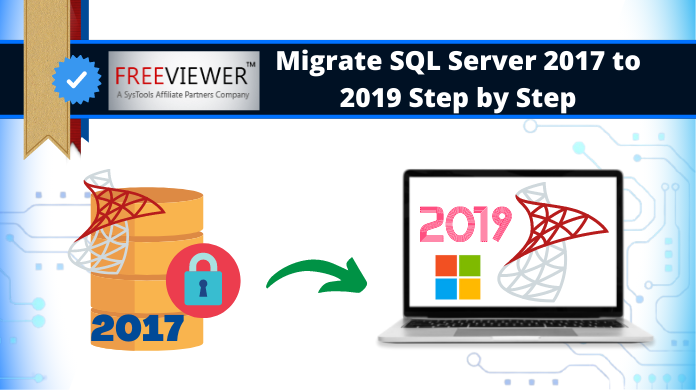 Several users email us asking for a solution to migrate SQL Server 2017 to 2019 version. We understand the entire scenario & based on our experience, we're going to mention the solution below. There are different challenges that irritate users &  we are also going to have a look at them. It'll help us in getting a deep insight into this operation. Let's have a look at the user query below to understand the topic in detail.
"Hello sir, I'm Jeremy from the United States. I want to migrate database from SQL Server 2017 to 2019 version. As I'm new to the corporate world & don't have enough technical knowledge, please help me. I need a simple yet advanced solution that can help me execute this task with ease. If you are aware of any such method, please share it with me as soon as possible."
– Jeremy Myers, System Admin
Alright, as per the above query, We can see that the user is quite panicking & in urgent need of the solution. So before we talk about several crucial factors, let's have a sneak peek to the quick guide below.
Migrate Database from SQL Server 2017 to 2019 – Quick Steps
Download the SQL Server Migration Tool from SysTools & then install it into your system. Follow the below-mentioned four easy steps to get the desired results just like you desire. The detailed tutorial to migrate SQL Server 2017 to 2019 with images is also there in this article.
Step-1. Launch the Tool & Go to the Open option. 

Step-2. Select Offline/Online Mode as you need.

Step-3. Preview SQL DB server Objects Items.

Step-4. Set Export options & Hit Export button.
Issues to Counter Migrate SQL Server 2017 to 2019
Issues or challenges are there in every task. Until & unless we know the right way to execute a particular task, no matter how hard we try, we have to face these challenges. However, with the right method, it's quite easy for users to counter them.
Below are the challenges mentioned. Understanding them is essential for users to know what they might face while executing the task.
Corrupt Database


When users have corrupt database objects, it's quite difficult for them to migrate those objects. These corrupt or damaged objects often create issues in the completion of database migration tasks.

Incompatible Data


When users migrate from a very old server to a new one, there is a high chance that the database may not be compatible with the destination. However, from 2017 to 2019version, the gap is not so big. Hence, there will be no compatibility issues.

Software Selection


To migrate SQL Server 2017 to 2019, it's very important to select a worthy & reliable tool. One should rely on a trusted solution based on experts' recommendations. For example, the above-mentioned tool is Microsoft's MVPs first preference.

Lack of Knowledge


SQL Server involved technical knowledge. Users without the core technical knowledge of SQL Server may find it tough to perform this migration task. Otherwise, the automated solution can be beneficial.
Also Read: SQL Server 2012 to 2016 Upgrade Operation Complete Guide
What Solutions are Available for Users?
When we talk about the available solutions, there are not plenty of solutions available. To be practical. There is just one direct method that we call the automated method. If you want to get the manual solution, it won't be direct.
Manual Solution: The manual method that we have is quite complex. As we don't have any direct manual method, it is the combination of two different operations. Here, the first step for users is to take a full backup of the database. Later, they have to import this backup to the new server without any errors. This way is quite complicated & possesses several restrictions as well. Hence, we don't recommend users migrate SQL Server 2017 to 2019 step by step this way.
Automated Solution: Now for the automated solution, users have to focus mainly on the software. The automated software is capable enough to directly migrate the database to the destination server. It also offers several features for users to boost the speed of the task as well. In addition, this way, users can even save time, effort & several other resources. In a nutshell,  it's an effective as well as an efficient way of migrating the SQL server databases.
Migrate SQL Server 2017 to 2019 – Detailed Tutorial
Now, it's time to learn the entire solution in depth along with respective images. Here we're going to take a look at the prerequisites of the operation and system requirements as well. Don't miss out on the tips to take an edge on your server migration.
Prerequisites
Microsoft .NET Framework 2.0 or above

Run this Tool

as an

Administrator

if you are working on Windows 10, 8, 7(32 & 64 Bit) or Windows Server 2016, 2012 R2, & 2008.
System Requirements
Intel® Core™ 2 Duo CPU E4600 @ 2.40GHz 2.39GHz

Free space of around 100MB in the hard disk.

4GB of Ram in the system.
Also Read: Fix SQL Server Header Error 5172 Without Any Hassles
Download the tool from the above link & then follow these steps to migrate database from SQL Server 2017 to 2019 safely:
Step-1. Launch the Tool & Go to the Open option to begin the task.
Step-2. Select the Offline or Online mode & authenticate the server.
Step-3. Now, just Choose the Database here that you want to migrate.
Step-4. Preview the DB Objects & Click on the Export option at the top.
Step-5. Select the Export Options like destination server & DB objects, etc.
Step-6. Finally, Click on the Export button to finish the task without any hassles.
Note: Set the schema options accordingly to execute the SQL migration with damaged database schema smartly.
Note: After the migration task, users can even download the status report as per their requirements. It can help them in further analysis of successful & failed DB files. Moreover, not just this but also other server migration is also possible. Users can upgrade SQL Server 2012 to 2019, & other versions as well.
Bringing It All Together
We're now finally at the end of this blog. We're pretty sure that by now users can easily execute the entire migration task. If you are still thinking of the manual method, then be careful as it can even wipe out your entire database with a single mistake. To migrate SQL Server 2017 to 2019 safely, the automated solution is what experts suggest. In fact, there is no alternative present matching the same level of specifications.
Evidently, be wise & save resources to be efficient. The best part of selecting the automated tool is that it comes with a free demo version. Try the tool first & then only purchase if the results are upto your expectations.