Thunderbird
Thunderbird Failed to Connect to Exchange Server Error with Solutions
Admin
| Modified: 2018-11-26T17:21:14+05:30 | 4 Minutes Reading
Hi, a couple of months ago I have hosted my email account with a domain in Thunderbird. I tried to synchronize my internet connection in this email program but, I encountered an error i.e., Thunderbird failed to connect to Exchange Server. Can anyone guide me on what am I suppose to do now?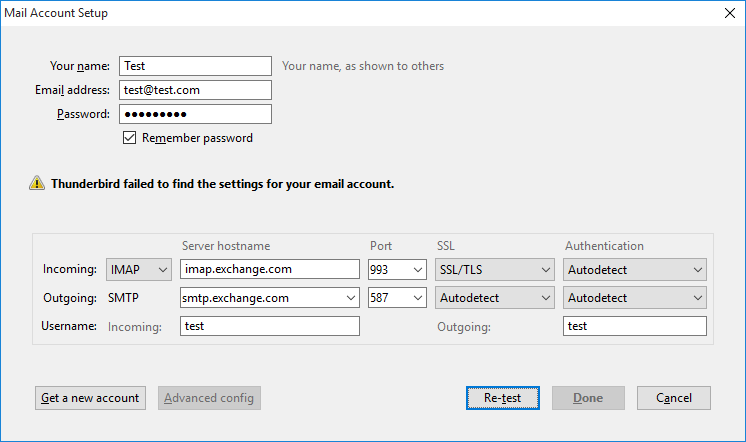 Most of the Thunderbird users face different errors while working on it. One such error is Thunderbird Failed to Connect to Exchange Server with ExQuilla. This kind of server error is not easy to understand for a normal user who a nontechnical person. Previously, it was difficult to fix this issue for a normal person. But, nowadays it can resolve by connecting Thunderbird with MS Exchange server. For establishing this connection, one needs to have an Add-on named as ExQuilla's. This will help users in connecting with Thunderbird to Exchange server version 2010/2007. So, users have to install this addon by providing required server details. In the following section, we describe the method to install this Add-on with steps to setup Microsoft Exchange.
Prerequisites
One need to have following things to successfully resolve Thunderbird denied to connect to Exchange server error:
Exchange email account of version 2010 or 2007
Mozilla Thunderbird installed and configured
Users must be having EWS i.e., Exchange Web Services
Get Solution to Thunderbird Failed to Connect to Exchange Server
By Using ExQuilla Add-on:
Open Mozilla Thunderbird email client application
Then move towards Tools
Next, go to Add-ons
Now, in the search field, type Exchange and then press ExQuilla addon
After that, press Install and Restart Mozilla Thunderbird
And this add-on must get installed
Now, configuring new Exchange Web Services
After doing this, if the problem persists then users must try to move from their outdated ExQuilla's version which does not work properly. To perform this try to do by following steps:
Click and download new updated ExQuilla add-on to avoid Thunderbird Failed to Connect to Exchange Server Error
Open your Thunderbird email client
Move to Tools
After that to Add-ons
Then press the Tools drop-down
And now choose Install-from-File
Then navigate to where the file was saved
Select the desired path
And at last press the Install button
After that, you need to restart Mozilla Thunderbird again, by clicking "Restart-Now"
After countdown, press Install
Know How to Setup Account?
To perform the setup at first user need to find the EWS address and then solve the issue Thunderbird Failed to Connect to Exchange Server. After this user must fill the window with genuine credential then do the following steps:
First, Move to Tools
After that ExQuilla for Exchange
Then, select Add-Microsoft-Exchange-Account
When 1st wizard's window appears to provide email address as well as password
Give the option for "Login-with-Email-Address" checked
After that press Next
While email Authentication gets failed to move back and use the method of Domain \ Username
In the Microsoft Exchange address-setup-dialog, if its server has been configured for auto-discover, then you can press the switch for Do-Auto-Discover
Then after ExQuilla locates server address
However, if setup did not work for this auto discovery feature, then you have to manually enter your address
Then, press Manual key
And then provide URL to the server in the field of MS-Exchange-EWS-URL
Now, press Next
And then, provide your Name
Place both bottom checkboxes as checked
Pop-up window will list the created setup
Press Finish
Thunderbird Failed to Connect to Exchange Server: Automated Solution
Another best solution to this is to perform this without Thunderbird so the time that user spends on Thunderbird will be eliminated. To perform like this user have to Convert Thunderbird MBOX to PST.

Now import this obtained .pst files to Exchange Server with help of PST to Exchange Migration tool. This is really relevant if the users have Thunderbird email file on their local hard disk.

Conclusion
The above content says the problem faced by the normal user that is Thunderbird Failed to Connect to Exchange Server. So here we have discussed the solution as by the manual procedures. The method used here is a wide process so the third party tool is discussed in the above automated solution. This works really fast to move MBOX files to Exchange without Thunderbird.