Thunderbird
Effortlessly Repair Thunderbird Email Folders and Extract Emails to Outlook
Raj
| Modified: November 18th, 2022 | 5 Minutes Reading
Mozilla Thunderbird is a desktop-based email application (for free), which provides complete functionalists of emails in wide range. It was developed by Mozilla foundation with the aim of rending users a freeware to manage emails on their local machine. While accessing Thunderbird users may experience different kinds of errors like Thunderbird not responding, Thunderbird email not loading, unable to open attachments in Thunderbird, etc. Such type of errors occurs due to corruption in MBOX file of Thunderbird. Therefore, there is a need for a solution by which one can repair Thunderbird email folders and then recover corrupted messages. The recovered mails can be saved into PST file format so that users may not again experience email corruption in Thunderbird and manage electronic mail data in a secure manner on desktop itself. This will enable users to repair all the Thunderbird emails by simply extracting them to Outlook and accomplish their task.
Need to Extract Thunderbird Emails and Follow it With Exporting to Microsoft Outlook
Although Outlook is also a desktop-based email application (somewhat like Thunderbird) but, it also acts as a personal information management system for its clients. The program comprises of different items like appointments, calendar, task manager, contact, notes, journal, and web browsing. Therefore, Thunderbird email users can simply move to MS Outlook for having a more wonderful means to access emails on computers. Following are some more reasons for Thunderbird users to choose MS Outlook platform:
Create Backup of Thunderbird Data: After repairing Thunderbird corrupted emails and extracting data from it, a user can save data in some other file format (like PST). This will help users to create a copy of data on their local machine, which can later be accessed in Outlook.
Switch From Thunderbird to Outlook: If Thunderbird users are in search for a solution by which they can move data to Outlook then, this post is going to be useful for such type of Thunderbird clients also.
Solutions to Repair Thunderbird Email Folders and Export To Outlook
The solutions for the problem can be categorized in two ways i.e., manual and automated.
Solution 1: Two Steps Manual Procedure
If the emails of Thunderbird application are corrupted and you want to save them in Outlook file formats then, you need to perform following 2-steps procedure for the same:
Repair Thunderbird Email Folders, which are corrupted and extract data from them
Save extracted data of Step (1) in EML file format to access it in MS Outlook program
Step 1: Fix Corrupted Thunderbird Folder/Emails
Go through the following instructions for the same:
Notes: Before proceeding further, disable automatic mail checking feature of Mozilla Thunderbird
1. Right-click on the folder where corrupted emails are stored and due to which you are facing one or the other problem while working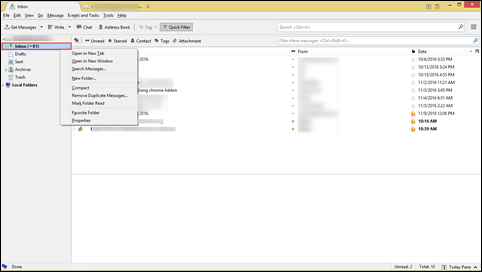 2. Select Properties option from the current menu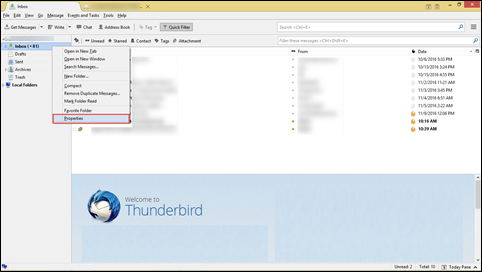 3. Click on General Information tab and then click on Repair Folder >> OK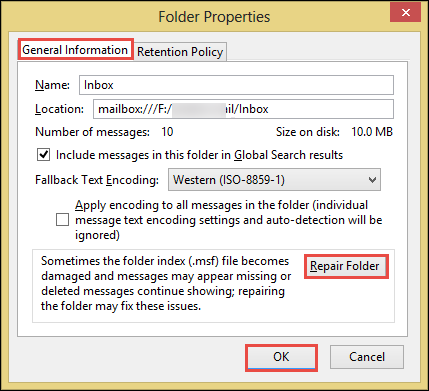 Step 2: Now Export The Emails to Outlook
After you repair Thunderbird email folders, next step is to move them to Microsoft Outlook platform. For this, follow the given steps carefully:
Launch Mozilla Thunderbird Email application on your PC
Open the folder in Thunderbird, which you repaired and now want to import in Outlook
Select entire emails from that folder by pressing Ctrl+A from keyboard
Right-click on the selected emails and choose Save As open from current menu
Browse the location where you want to save the messages of folder in EML format and then click on Select Folder to continue further
Close Thunderbird application and then launch MS Outlook app on your system
Right-click on Outlook folder and select New folder option from displayed list
Mention the name of the new folder in Name field and then click on OK to proceed further
Now select the newly created folder from Outlook and minimize the Outlook window
Go towards the location where your have saved EML files in step (e) and copy all of them by pressing Ctrl+C from machine keyboard
Restore Outlook application and then drag-n-drop all the copied emails in middle pane of it for importing all messages in newly created folder
After completion of importing procedure, you need to restart Outlook and then you can see emails repaired emails in Outlook interface
Solution 2: Automated Procedure
In above-mentioned approach, there are some following risk associated with them:
The procedure is irrelevant and time consuming for a large amount of emails in Thunderbird
It is not guaranteed that emails with attachment with also be migrated to Outlook
The chances of data loss are high in such type of manual strategies
Frequent probabilities of file corruption while performing conversion
To overcome risks, the better approach is to go for a professional and automated way i.e., MBOX to Outlook Converter. This software acts both as a recovery tool and converter. If an MBOX file is having corrupted emails in it then, it will repair those emails and recover data from it. From the same tool, you can continue your working of exporting the recovered files into PST file format. A client needs not to worry for any kinds of data loss and software guarantees that emails and its attachment will be migrated to Outlook without any modifications. Repair Thunderbird email folders and export them into Outlook data file.
For Windows
For Mac
Conclusion
Repair Thunderbird email folders and then extracting emails to Outlook is not going to be a difficult task if you are using an automated approach. It is the best-suited solution for the problem and users are recommended to use it for resolving Thunderbird errors without any hassle.