Mac Outlook
Microsoft Database Utility Keeps Rebuilding? Know How to Fix It
Summary: Are you facing issues with the damaged Mac Outlook database? Are you trying tool offered by Microsoft but unable to fix it? If yes, then you are in the right place as this article provides you the best solution if Microsoft Database Utility keeps Rebuilding the corrupted DB.
Microsoft Outlook for Mac uses User Data folder to save Identities / Profiles in it. These profiles are used to store mailbox items like emails, contacts, calendars, and other items. But users may encounter database corruption issues which will make Mac Outlook inaccessible. In these cases, users try to use Microsoft's database utility to fix corruption issues.
In such situations, users opt for Microsoft Database Utility and try to repair corruption issues from it. But in some scenarios, Microsoft Database Utility keeps rebuilding the profile and fails to provide DB in a healthy state. As a result, Mac Outlook will have some performance issues and can hamper the user's workflow.
Thus, in this write up, we will discuss the indications which can be the reason of the corrupted Mac Outlook database. Following that, this article contains an alternative solution to remove corruption.
How to Check if Database is Damaged or Not?
There can be various possible signs which can show that it can be due to corruption in Mac Outlook Database. We have listed some of the indications which can show you that the DB is corrupted.

Fix Microsoft Database Utility Keeps Rebuilding Issue with Ease
When a user begins to encounter corruption issues when using Outlook for Mac OS, it really makes email communication difficult. They are unable to send and receive emails, calendar events if something is wrong with the database. In this situation, users try to use the Microsoft Database Utility for Mac OS, which helps them fix any corruption problems.
However, this is not a 100% reliable and guaranteed solution as some users may encounter corruption even after using the utility offered by Microsoft. Therefore, to solve this problem, we come up with a solution, namely the Mac Outlook Database Rebuild Utility.
This is the best software if the Microsoft Database Utility keeps rebuilding and cannot remove corruption from the database. The application has many features and a simple graphical interface that makes the whole task extremely simple and complex. Let's look at some of its prominent functions:
Advanced Features of the Software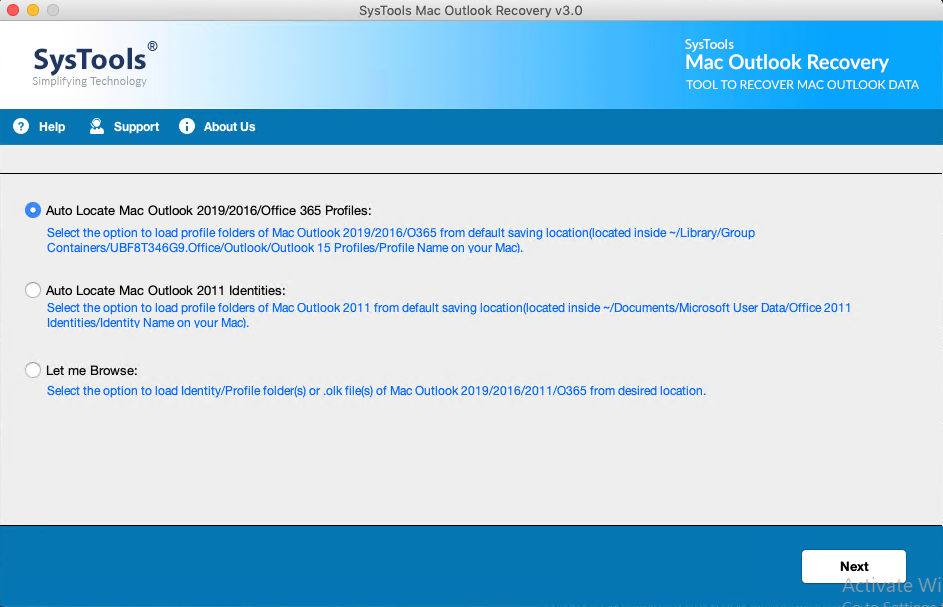 1. Performs Deep Level Scan on Database – The application thoroughly analyzes your Mac Outlook identity and repairs damaged profiles. Additionally, you have the option to automatically locate configured profiles from the default location. Users can also manually search for OLK files and carry out the recovery process.
2. Multiple Options to Export Data – After completing the scanning process, the application offers 8+ file formats for saving emails and other mailbox items on the system. The export options include PST, EML, MSG, MBOX, and many more formats. After that, the resultant file can be used in any compatible e-mail and other applications.
3. Preserve Folder Structure – Another useful feature this software has to offer is that it allows users to keep the folder hierarchy of mailbox intact. This is an optional feature, so users can enable the checkbox and the application will maintain the original folder structure.
4. Filter Data using Date-Filter – This software also enables users to apply date-range filter as well. With the help of this feature, users can mention a time period from which the users want to save data. This feature helps users to export only required data and saves a lot of time of users.
Conclusion
Microsoft Outlook for Mac is of great importance in today's professional life. If for some reason your database is not working properly and users cannot access your critical data, your working life will be interrupted. Therefore, users can check the above-mentioned application and fix the damaged Outlook Mac database. If Microsoft Database Utility keeps rebuilding the database and users are unable to remove corruption, then they should give the third-party a try.