Mac Outlook
How to Open Outlook Temp Folder With or Without Mac OS X?
Admin
| Modified: 2020-12-25T15:36:46+05:30 | 2 Minutes Reading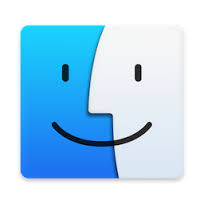 Many Microsoft Office users may need to open Outlook Temp folder with or without Mac OS X, which is used to store all attachment content, as well as cached versions of processed items only, sent from Outlook as attachments.
Let us quickly understand how to open Outlook Temp folder and the files that you may have saved for that directory, whether it is the files you are using, various email attachments, HTML signatures, images, PDFs, documents or other content.
How to Open Outlook Temp Folder With Mac OS X?
Follow the below mentioned steps to open Outlook Temp folder with all versions of Mac OS X:
1. Go to "Finder" in Mac OS X, regardless of whether it's the desktop or the folder
2. Drag down the "Go" menu and select "Go to Folder" (If you want keystrokes, press Command Shift G)
3. Enter the below mentioned path:
~/Library/Caches/TemporaryItems/Outlook Temp/
4. Click the "Go" button to open Outlook Temp cache folder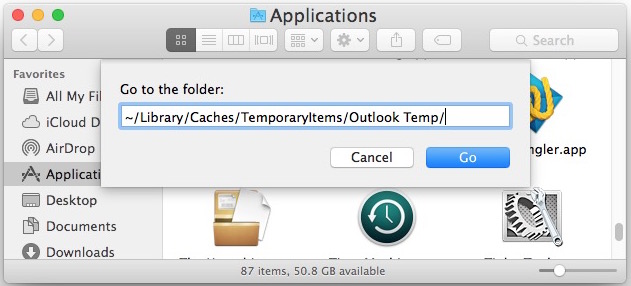 The Outlook Temp folder contains attachments and other articles. These attachments are caches created by Outlook and used with Outlook. Some are user-centered, and some are not.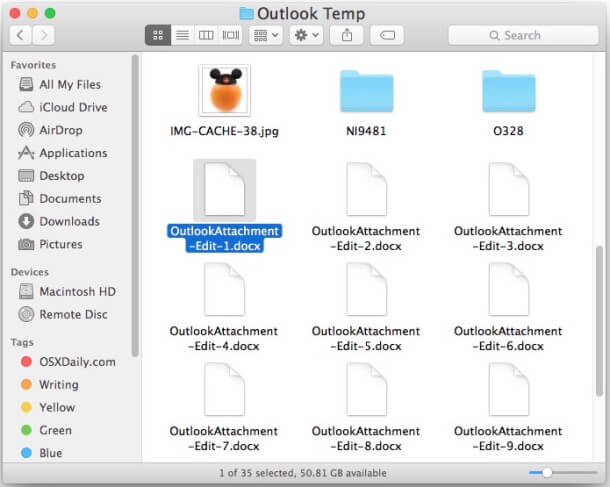 In the Outlook Temp folder on your Mac, you can find the files you need, whether it's attachments you're editing, attachments to copy, or any other files.
How to View Outlook Temp OLK Folder Without Mac OS X?
Free OLK Viewer allows you to repeatedly open .olk files and related attachments. OLK files are primarily used to store temporary files of Mac Outlook 2019, 2016, and 2011 versions.
This tool browses all .olk, .olk14message, .olk14msgsource and olk15message file data in the original format without changing the file structure.
This free software can open and read Mac Outlook .olk14message and .olk14msgsource and all emails with related attachments such as DOC, PPT, PDF, images, etc.
Full Version of the Software can convert OLK files to PST regardless of whether the Microsoft Outlook application is installed or not on Windows and Mac operating systems.
Conclusion
By the way, this is a temporary folder dedicated to accessing the Outlook app, which is not applicable to the Outlook.com account used in the Mail application of Mac OS X, because it's temporary folder is unique and different. by the Mail application Used for caching.