Outlook Tips
How to Increase Outlook Mailbox Size in Latest Outlook Versions: Troubleshoot Query
Outlook users are very well aware of the fact that PST files have size limitations imposed. One cannot exceed the imposed size limitation because it might lead to error occurrence. Older editions of Outlook like 2002 or earlier versions are having PST file size limits of 2GB. Talking about recent editions then, users get enough storage space i.e., 20GB to 50GB. So, it is a major challenge to increase Outlook mailbox size and decrease the size of the PST file.
Sometimes a situation occurs where clients find it difficult to manage data in the provided space. This leads to a challenge where users have to deal with size constraint of Outlook. Therefore, in this blog, we are going to discover measures on how to increase Outlook mailbox size in latest Outlook editions.
About PST Files with Their Types
MS Outlook email client saves its data in PST file format on local machine. There are two types of PST files available i.e., UNICODE and ANSI. An ANSI PST was used in Outlook 2002 and below versions. On the other hand, UNICODE PST files are used to save mailboxes of Outlook 2003 and above versions. The only difference between both these types of PST files is their size.
An ANSI PST file is having capability of storing data up to 2GB. Whereas, a Unicode PST is having maximum size limit of 20GB in Outlook 2003, 2007, and 2010. In remaining editions, the file size limitation is 50 GB. So, it is now cleared that a Unicode PST file provides more storage space than that of ANSI PST.
In today's date, many clients are using recent versions of Outlook. This means that they are working with Unicode PST file. Well, this type of file renders enough storage but, sometimes a condition might arise where users want to increase the existing file size. If the provided limitation is at the completion stage then, there are high chances of error occurrence in Outlook. One can even face the worst condition i.e., corruption. An oversize PST file means a PST that reached or exceeded the maximum size limit.
Solution to Increase Outlook Mailbox Size Limit
This query is arisen by the majority of Outlook users because they get stuck by this file size limitation issue. For having more mailbox storage, one has to go through the manual solution provided in the blog. Remember one thing as per the Outlook edition, users have to define the PST file size limit. So, let's begin!
1. Open Registry Editor on your system by pressing Win + R key and entering regedit text in search box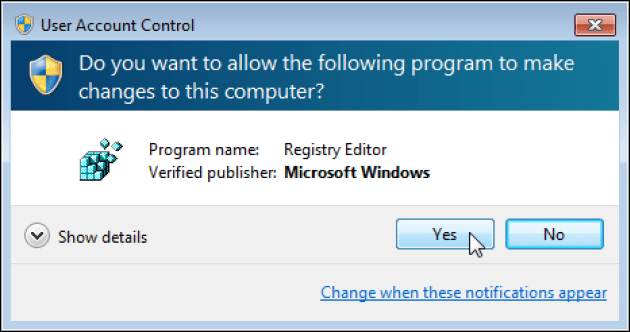 2. Several folders in the tree-like structure will be displayed in the Registry Editor wizard. In this list, expand HKEY_CURRENT_USER folder entry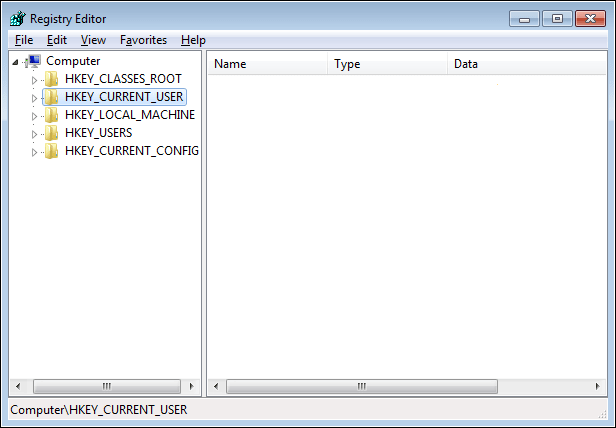 3. Depending on the Outlook version upon which you are working, go to any of the following registry path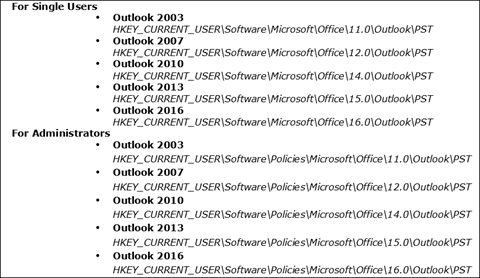 4. After successfully searching the PST, you will see something provided in the screenshot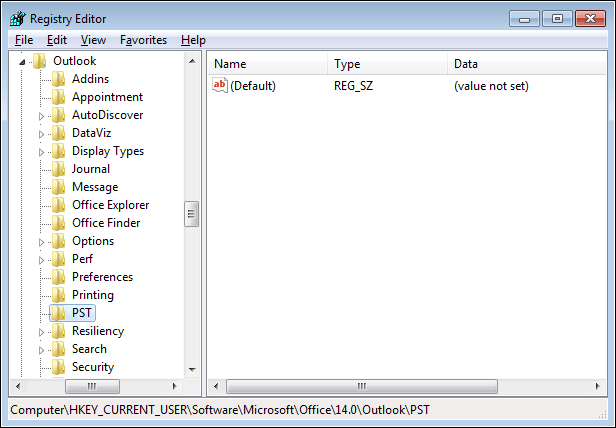 5. Search for following two values:
MaxLargeFileSize
WarnLargeFileSize
If you don't found these values then, create them manually by further steps
6. Right-click on the blank space and click on New >> DWORD (32-bit) Value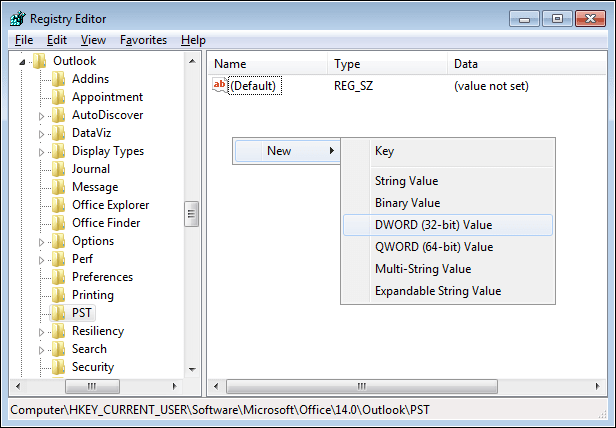 Note: If you are using Outlook of 64-bit edition then, choose the QWORD (64-bit) option.
7. Provide a name to new entry in the directory i.e., MaxLargeFileSize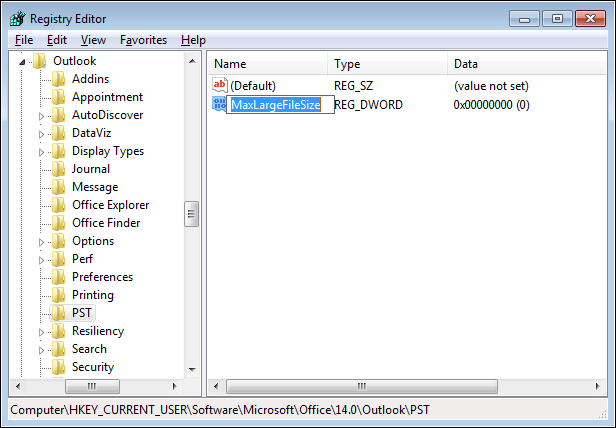 8. Now create another value by right clicking on blank screen and selecting New >> DWORD (32-bit) Value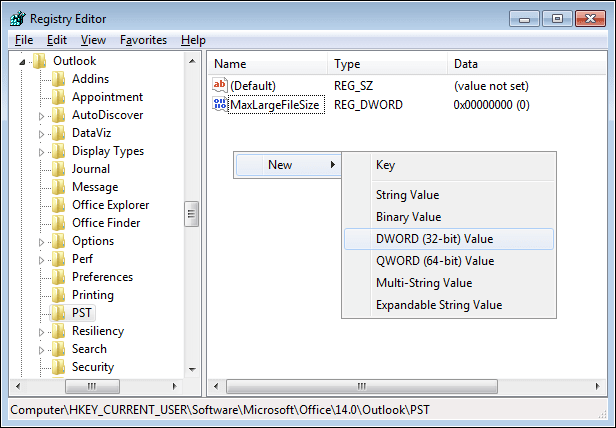 9. Give current entry name as WarnLargeFileSize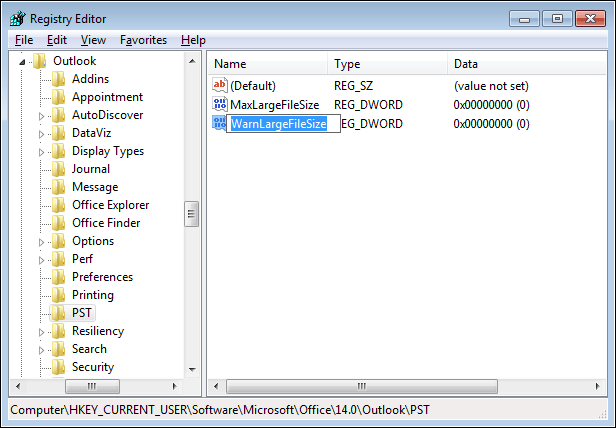 10. Double-click on MaxLargeFileSize entry and enter the value data in MB. After this, define the base type as Decimal and click OK to save changes
Note: The value must be more than the maximum size of the Outlook PST file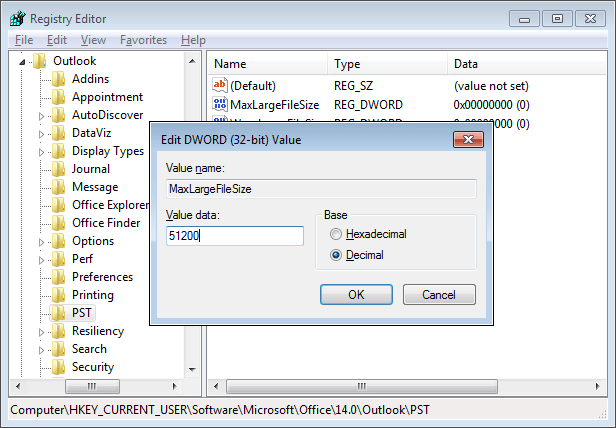 11. Double-click on WarnLargeFileSize entry and mention the value in the first box. Choose Decimal option in the Base type section and hit on OK
Note: In the value section, users have to enter time that must be at least 95% of the MaxLargeFileSize value.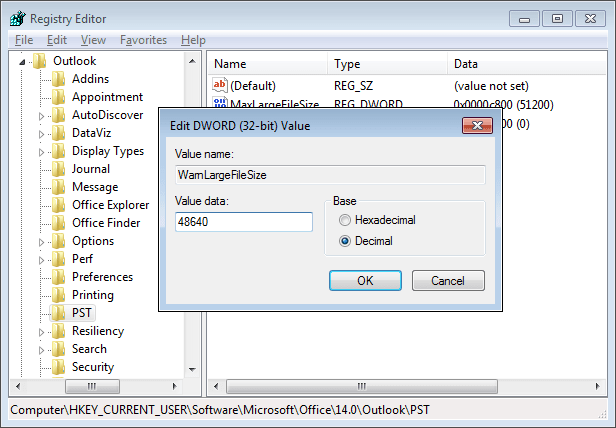 12. Finally, all changes are made to increase the PST file size of Outlook accordingly. Close Registry editor on your machine
Try Best Alternative Solution
If you are facing a space problem in Outlook and you don't want to change any Registry settings, then you can try  Outlook PST Compress Tool. This tool gives you the option to compress a large PST file and helps you to reduce the size of a large PST file easily.
The tool is compatible with all versions of Outlook data files as well as it supports all versions of Windows OS.
Conclusion
How to increase Outlook mailbox size in the latest Outlook editions – this query is now completely resolved by this blog. The resolution recommended here is practically implemented before delivering. Without any worry, users can implement the procedure to exceed the PST file size limit.