Know the Smart Method to Import Outlook Mail to Thunderbird
Outlook and Thunderbird both are the popular email service provider. Users are often seen switching between these platforms depending on their needs. This data transfer usually takes place when users stop using MS Outlook email and start using Mozilla Thunderbird. To start with, we will see the causes of this data migration. Then we will move on to discuss different ways that the readers can implement for Microsoft Outlook to Mozilla Thunderbird Migration. Therefore, in this post, we will disclose the cost-effective solution to import Outlook mail to Thunderbird.
Why Users Want to Import Emails from Outlook to Thunderbird?
Here are some of the basic reasons behind people's need to move Outlook mail to Thunderbird in a precise way.
Financial Benefit: No matter how many attractive features it has, Outlook is, after all, a paid email client. Many users do not want to pay for the email services and they may wish to switch to a free client like Thunderbird.
Sharing and Synchronizing: If users want to share their Outlook 2016, 2013 data with someone who uses Thunderbird, then it is wise to convert the data migration process. Moreover, it also requires data synchronization.
How to Import Outlook Mail to Thunderbird Using Manual Way?
Users can take the help of either the traditional method or the contemporary method for transferring Outlook data. First, have a look at the steps of the manual technique.
Traditional Method to Transfer Outlook Emails to Thunderbird
This method can be used when users have to transfer data between Outlook and Thunderbird located on the same system.
To begin with. click on Start button from the Windows OS>> Default Programs and then hit on Set your default program
Select Outlook from the appeared list and click to Set this program as default option. After which, Outlook will become the default email client of the system
Now, launch Mozilla Thunderbird on the same machine and navigate to Tools>> Import to move Outlook mail to Thunderbird
In the next window, select the radio button corresponding to Mail option and hit the Next button to proceed further
Then, choose Outlook from the next wizard and click Next followed by clicking the Finish button
If you wish to export any other components of MS Outlook, repeat the same process. For instance, choose the Address Book option in place of Mail to import PST to Thunderbird application
At this point, you have to open the Default Programs window again. Now, make Thunderbird as your default email of this system
Is There A Better Option Available To Import Emails from Outlook to Thunderbird?
As you can see, this aforesaid technique is only feasible in case if both the emails accounts are located in the same system. If Outlook and Thunderbird email programs are situated on two different systems, then this method will not work. Moreover, this is a time taking process wherein users need to dedicate a sufficient amount of time. Thus, users these days are looking for some smart yet trustworthy automated tool like Outlook PST to MBOX Converter tool.
Steps to Import Outlook Mail to Thunderbird Using a Modern Method
Following these simple steps, users can transfer emails from Outlook to Thunderbird.
1. Launch the software. Before that, it will check if the system has all the application prerequisites. Click OK on that dialog box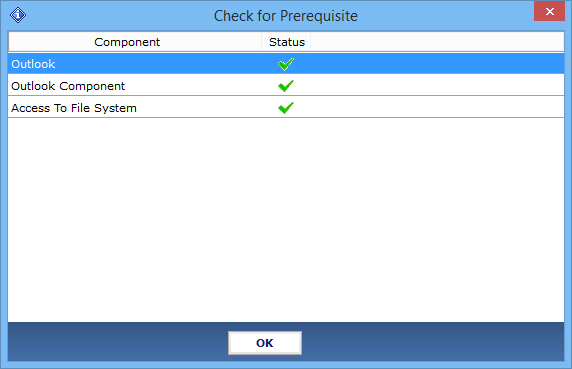 2. The program will start and users need to click on Open button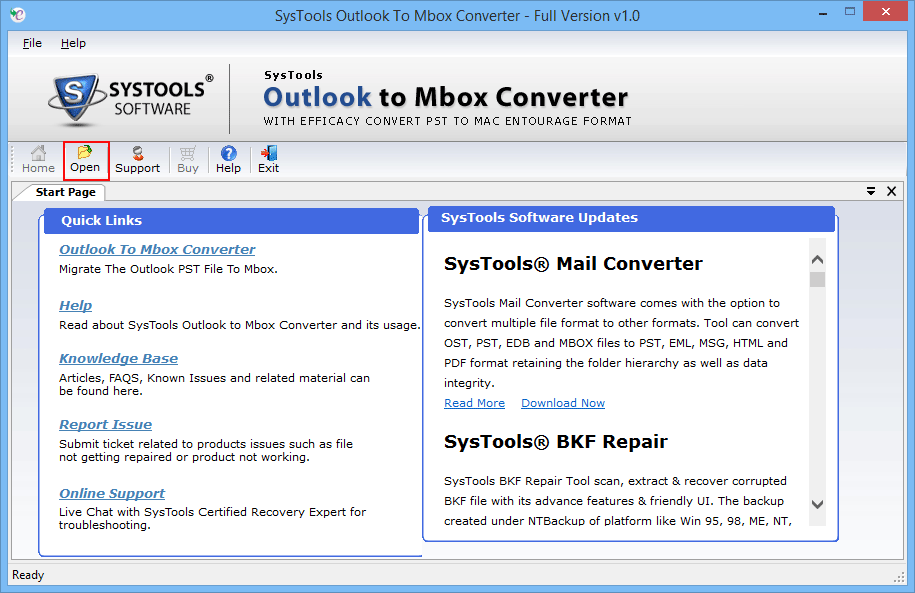 3. Click on Browse located beside Select PST File Path option to import PST to Thunderbird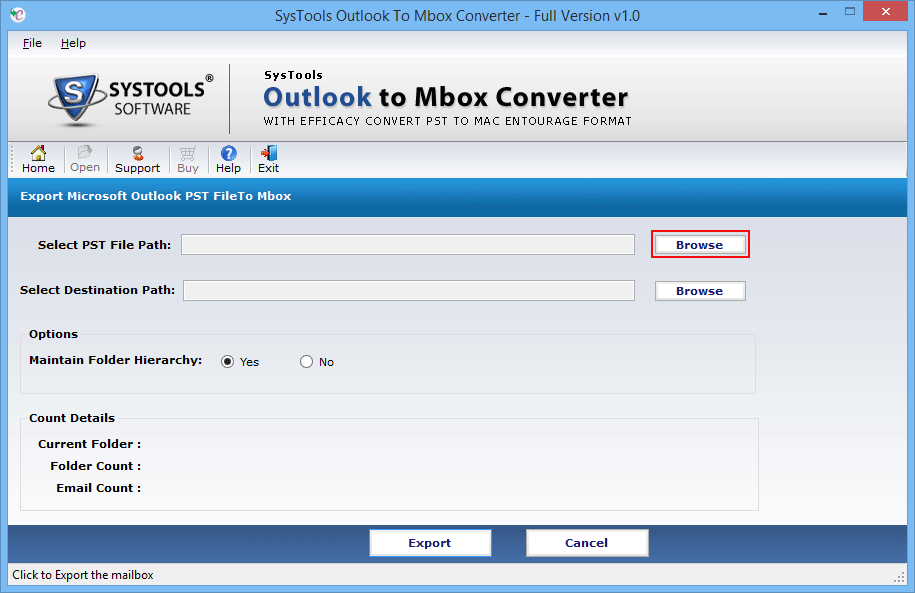 4. Select the Outlook PST file and click on Open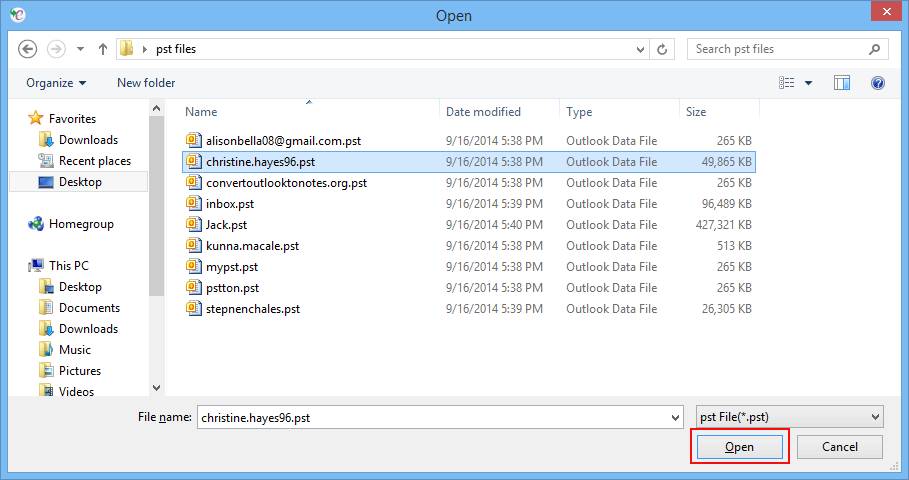 5. Now, click on the Browse button beside Select Destination Path and select the location where you wish to save the MBOX file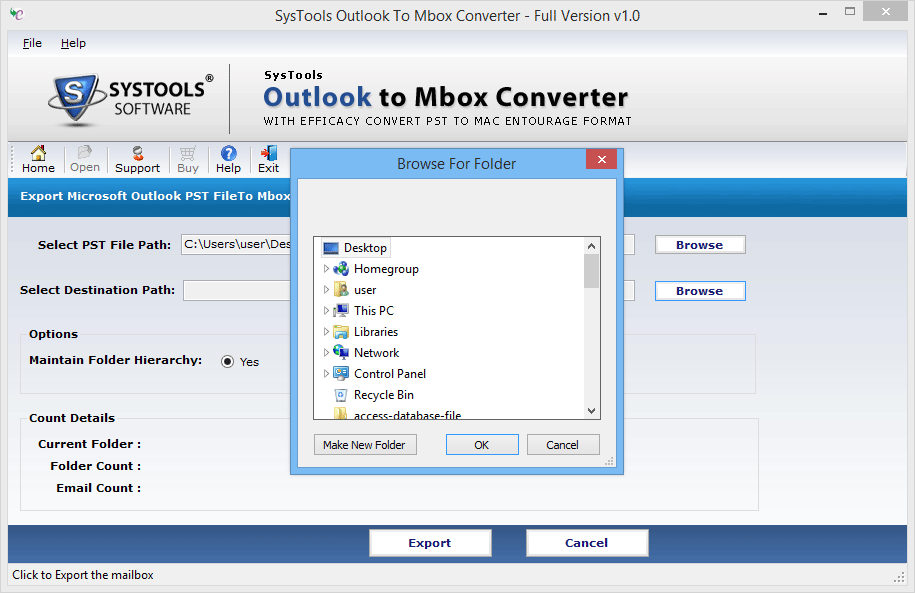 6. To retain the folder hierarchy of Outlook PST file, select Yes radio button under Maintain Folder Hierarchy option. Else, select No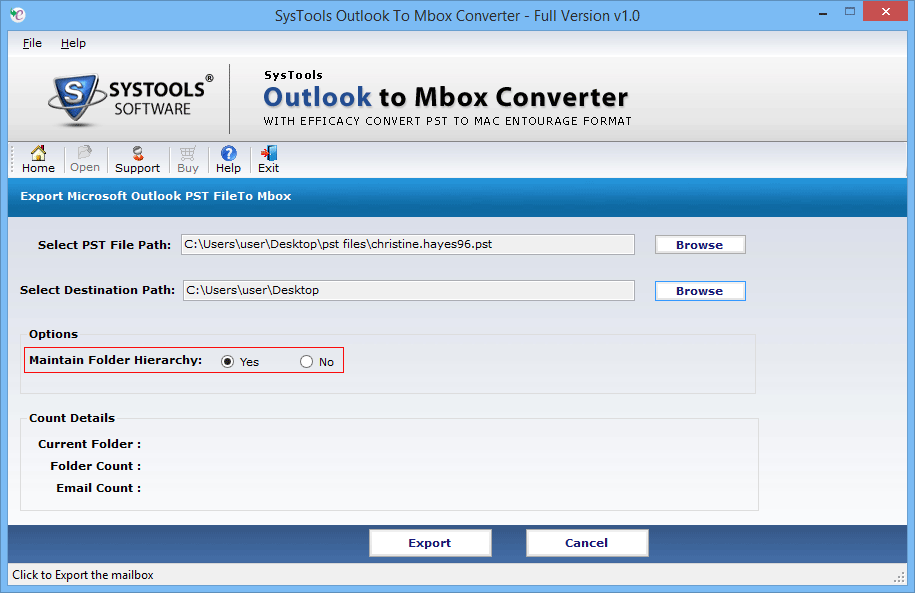 7. Click on Export button
8. The conversion will start. The progress of the conversion process can be tracked, thanks to the live report of the tool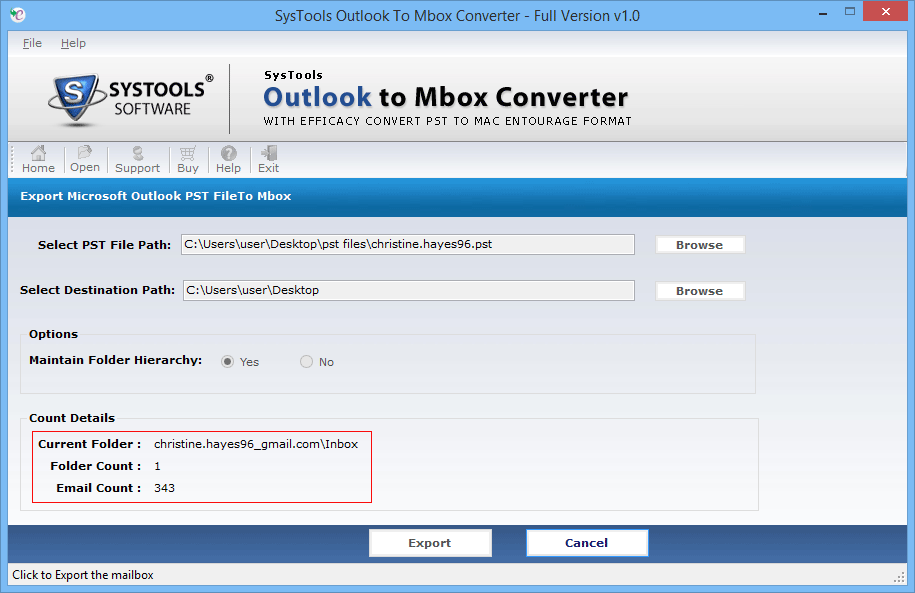 9. When the export process is done, users will be notified for the same as displayed in the following image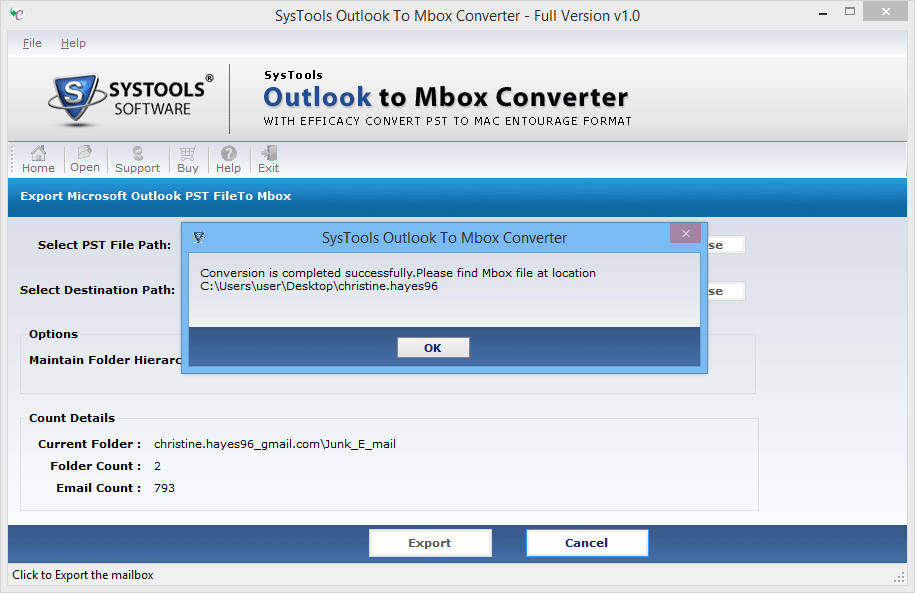 10. Open the chosen path to locate the MBOX file. In that folder, the MBOX file can be found. Users can import that file to any Thunderbird profile.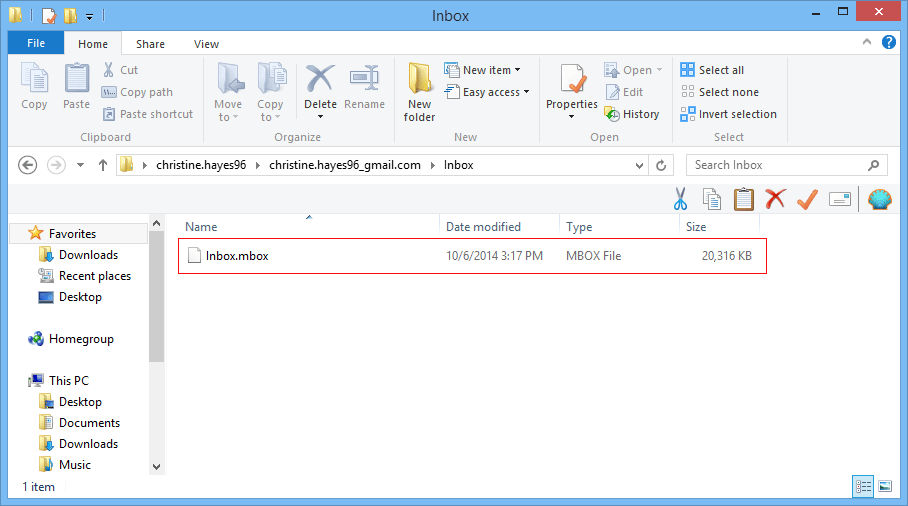 Outlook Conversion Tool: The Ideal Choice for Outlook Data Conversion
This tool comprises of some unique features that make it the ultimate choice for the users:
All PST File Compatibility: Whether the PST file is ANSI or Unicode, the software has the ability to process it.
Suitable for All MBOX Supported Emails: Besides Thunderbird, the resultant MBOX file can be imported in any MBOX supported email clients like Eudora Mail, Pocomail, Apple Mail, etc.
No File Size Limitation: PST file of any given size can be saved in MBOX format with the help of this software.
Concluding Words
If you are looking for the way to import Outlook Mail to Thunderbird, then this post states the perfect solution for the same. Here, we have discussed two different approaches i.e., the manual and professional technique. Considering all the benefits of Outlook to MBOX Converter, the modern technique of using the software can be labeled as the most suitable one. This tool is a sure-shot approach to import emails from Outlook to Thunderbird in all respects.