Mac Outlook
Export Outlook 2011 Contacts to vCard in Mac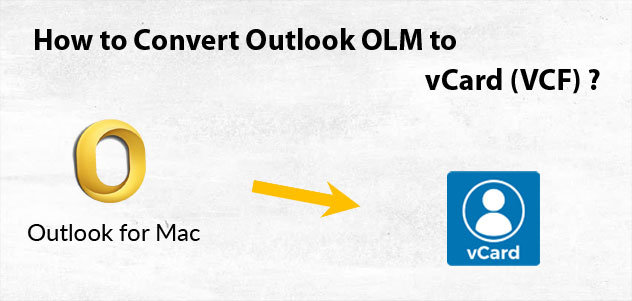 Mac Computers are the most demanding computers in the current century. Everyday the number of users are increasing. The Mac Outlook is useful email client, which is mostly used by business and personal users. But, due to some reasons various users search for methods that how to Export Outlook Contacts to vCard format in Mac .
If you have few contacts in your Outlook for Mac 2011 and wishes to transfer to another application or platform, then you can perform the appropriate steps to export the contact's manually. The major problem arises when the user has thousands of contacts and hence, desires to move the contacts to another application. To avoid such circumstances we are here to help you to transfer Mac Outlook 2011 contacts into vCard in batch with the help of automated solution also. Thus, in this blog we will explain you the methods through which you can easily export mac outlook contacts to .vcf file.
User Scenario:
"Hello Everyone! I am a Manager of Redvelvet Pvt. Ltd. and I handle large number of clients and employees daily. Due to which I have bulk of contacts in my Mac Outlook 2011 account. I wish to access these contacts in my android phone to have an easy access of them. I have searched and found that Android phones save the contacts in vCard. Hence, I am looking for the best solution to export multiple contacts from outlook to vcf in Mac. Any help will be appreciated!"
Topics Covered in this Article
Best Methods to Export Outlook Contacts to vCard (VCF)
You can now explore the best methods through which you can easily convert OLM to VCF file format:
Method 1: Export Outlook Contacts to VCF with Drag & Drop
1.Launch Mac Outlook 2011 and then click on Contacts Menu at bottom left of Screen as shown.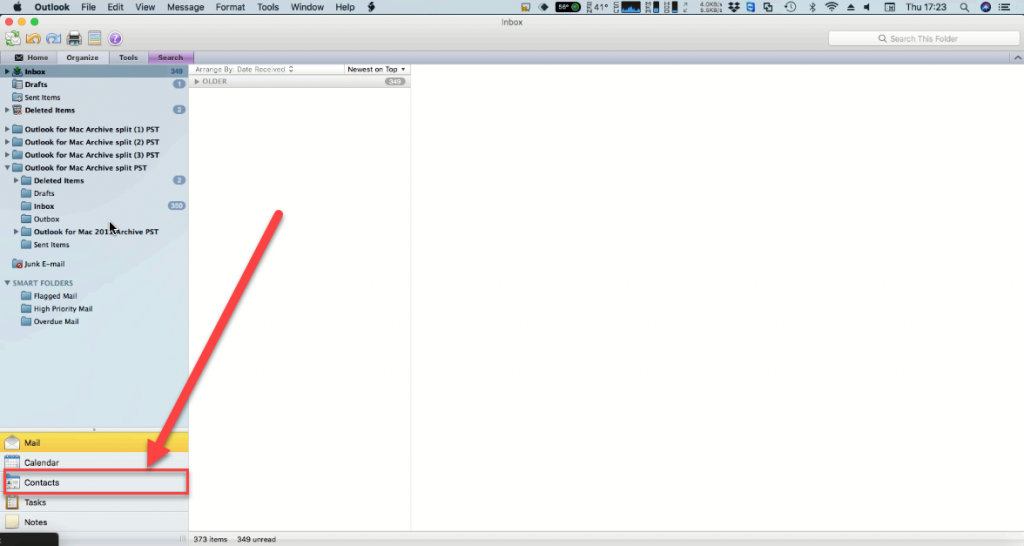 2.In Contact view, Use left sidebar to select contacts you desire to export.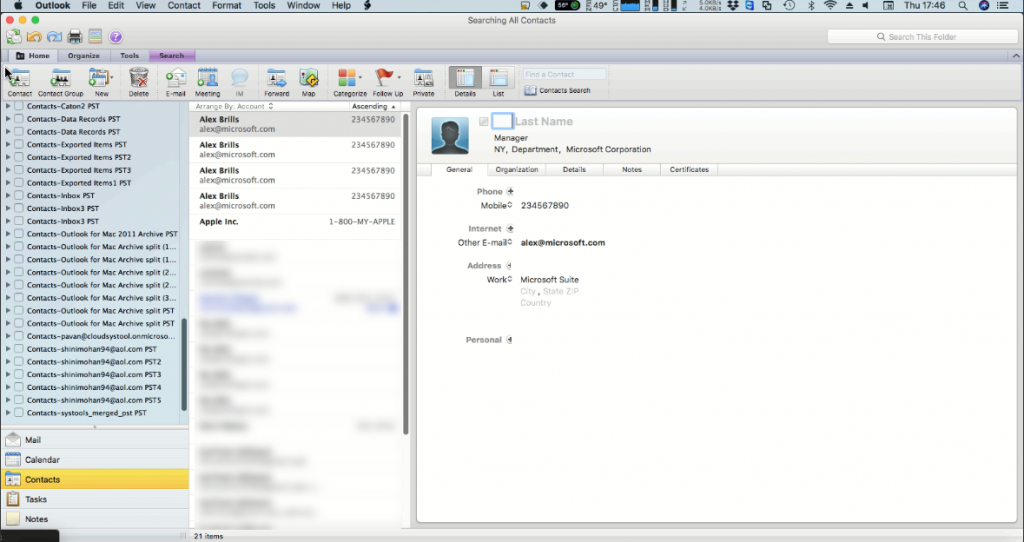 3. Select a Contact from the list and drag and drop it at your desktop.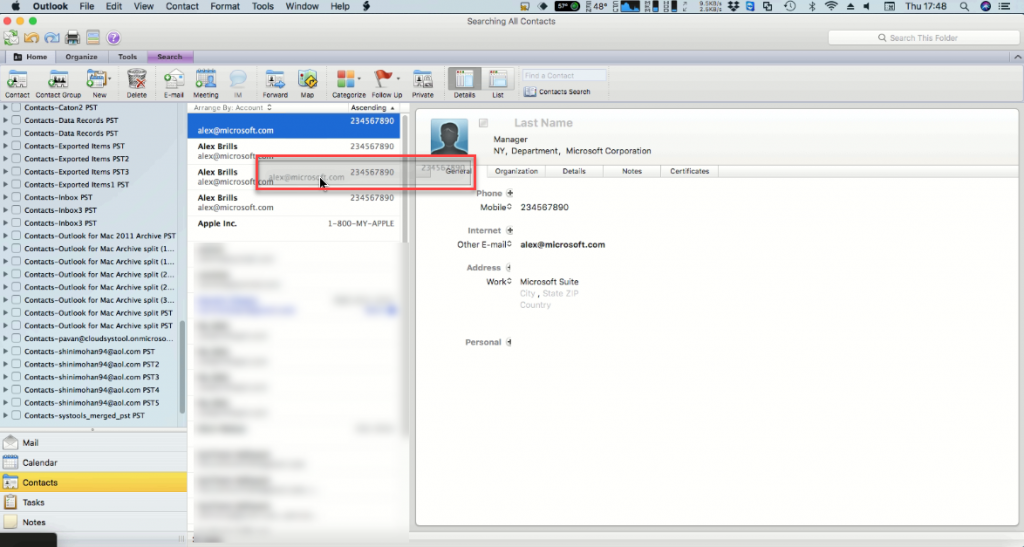 4. After dragging the contacts to the desktop, you will see that it gets saved in .vcf file format.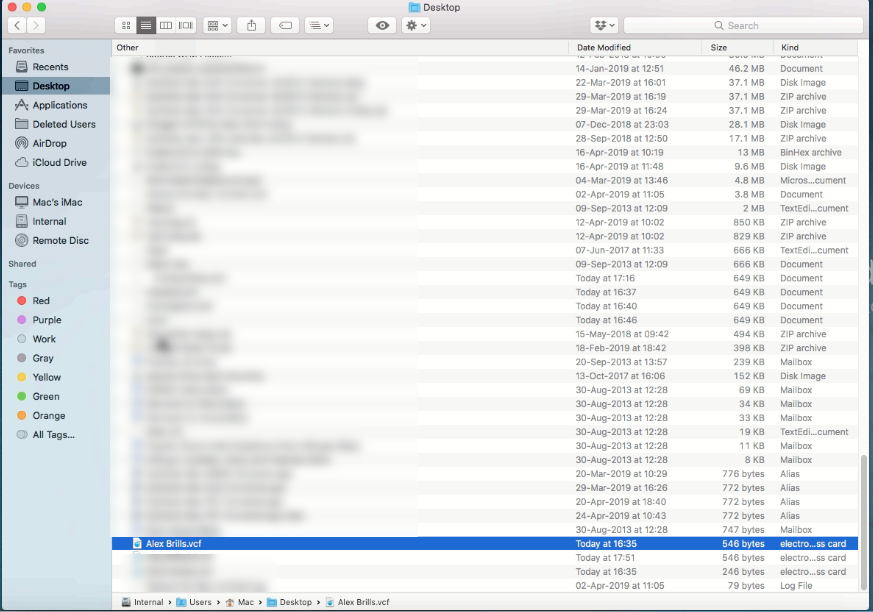 Important Note: Using this method you can drag and drop only one file at a time. It gets cumbersome when user wants to Export multiple contacts from Outlook to VCF.
Method 2: Export Contacts from Outlook to VCF – Automated Solution
The most efficient method to convert OLM to VCF file format in Mac without any data loss is to use Mac OLM Converter . This is the best reliable software to easily Export Outlook Contacts to vCard in bulk.
For Windows
For Mac
Following steps will guide you to convert olm to vcard file in few easy steps.
1. Launch Mac Outlook 2011 and Click the Export Option in Menu.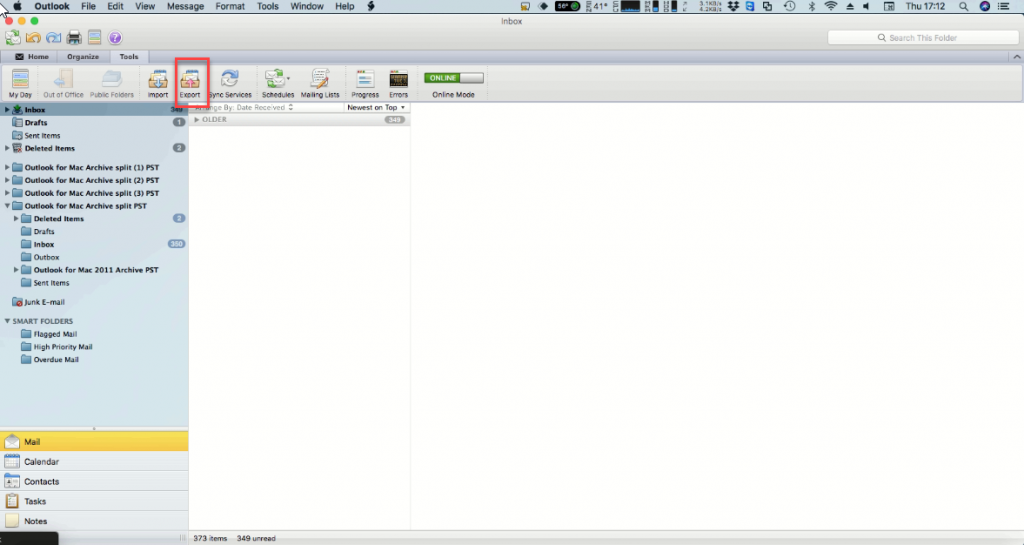 2. A popup will appear and Select Outlook for Mac Data File(.olm), then choose Contacts, click on next.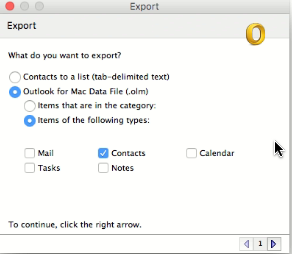 3. Choose "No, do no delete items" option, then click next.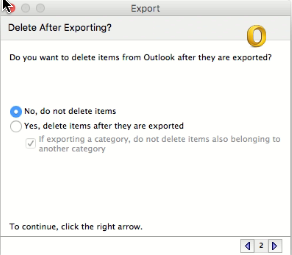 4. Select the Destination location and then, Click the Save Button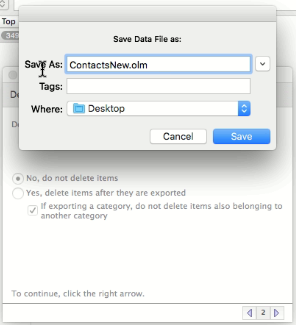 5. Click on Done, Your OLM file will get saved at the destination location.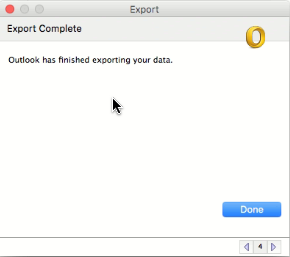 Note: All your Mac Outlook 2011 contacts are now exported in .olm file format.
By following the above method all your contacts are saved in .olm file format. With the help of OLM to PST Converter for Mac you can easily convert OLM to VCF file format.
6. Install and launch the software. Following screen will be shown: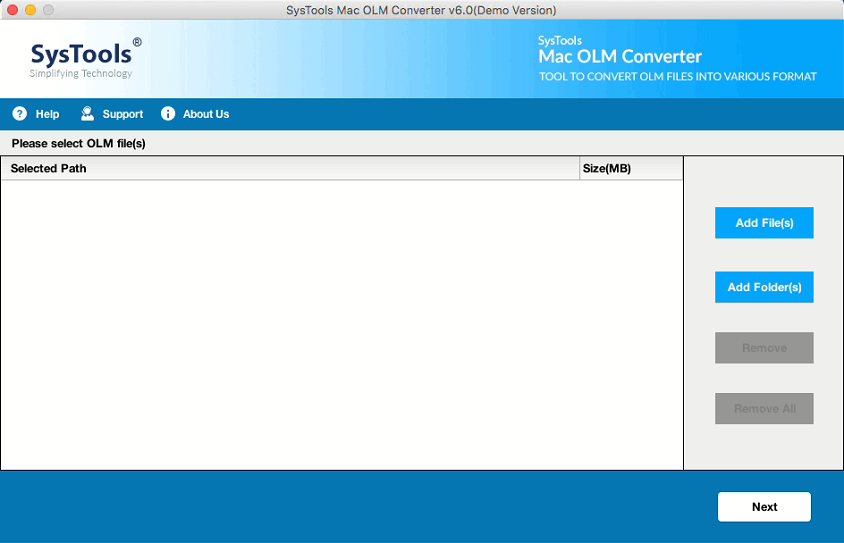 7. Click on Add Files/Add Folders and select the File/Folder where .olm file was saved.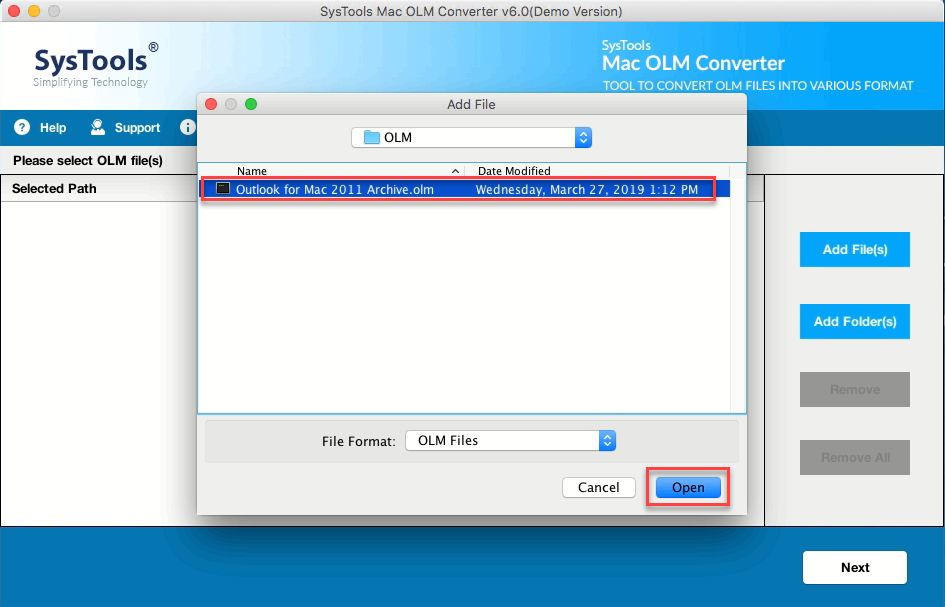 8. Choose the file/folder and press open, then click Next.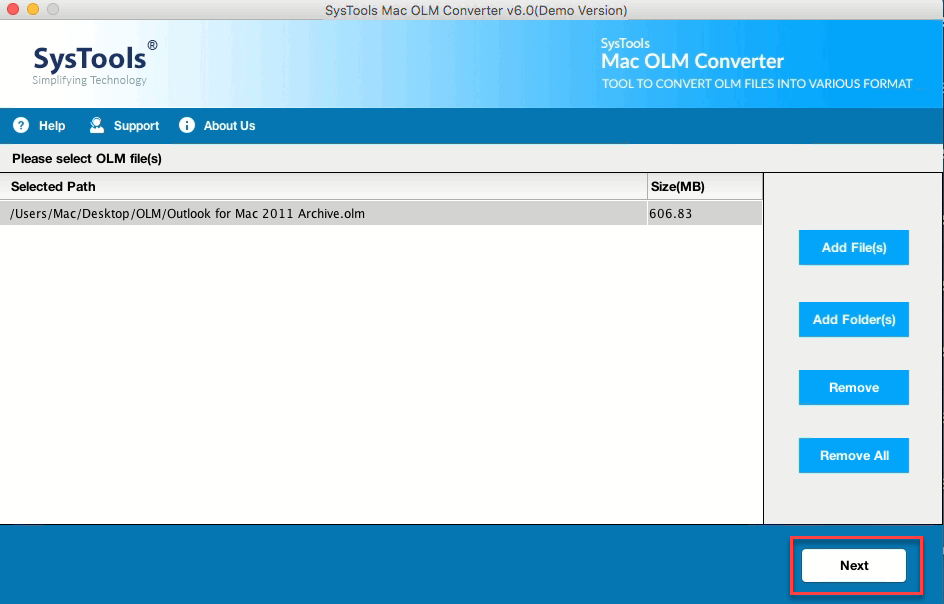 9. Now click on VCF Radio button to export the contacts in .vcf file format. After that, click on the Change button to choose the destination location for the exported vCard file.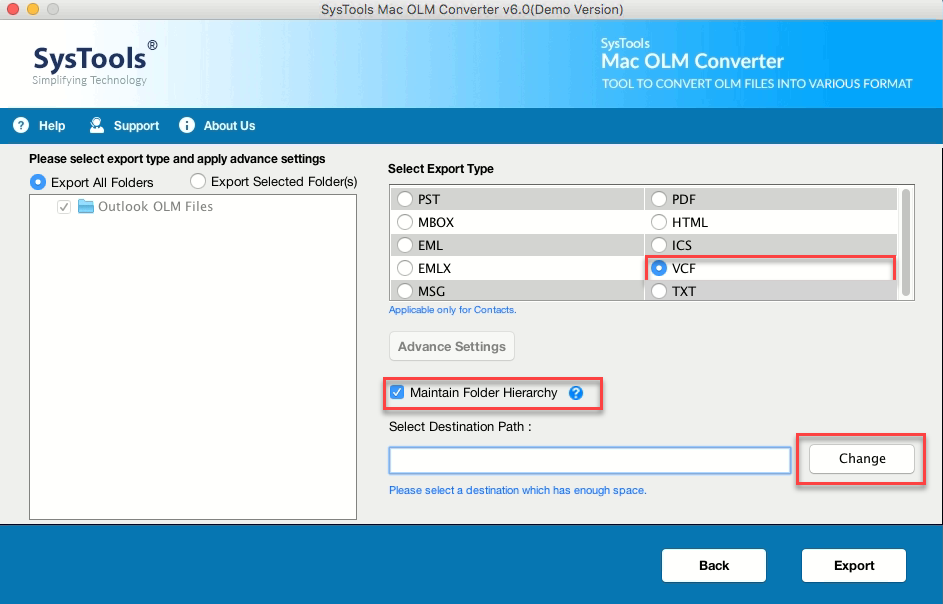 10. Click on, Export to start the transfer of contacts.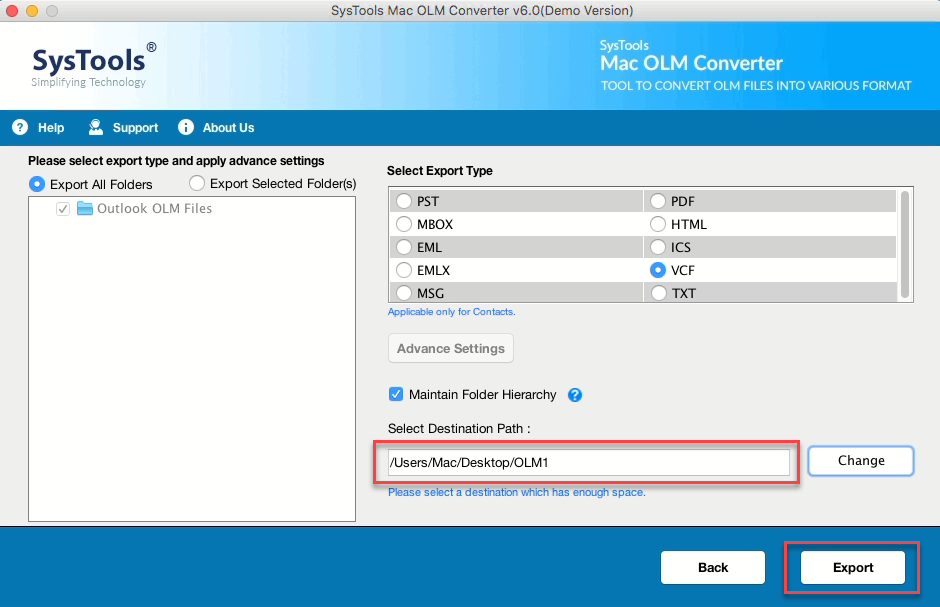 11. A screen will appear showing the successful transfer of OLM contacts to vCard.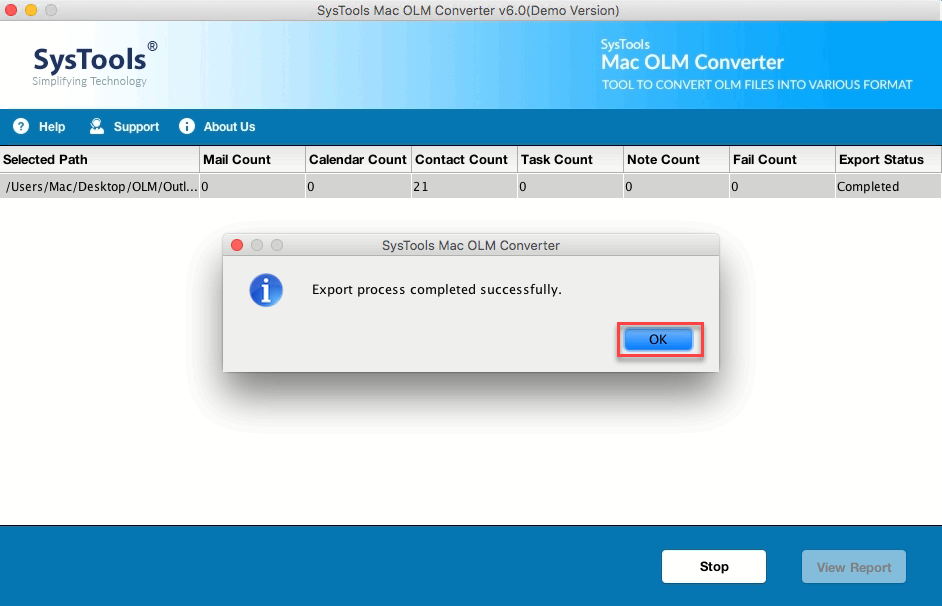 Also Read:
The Final Verdict!
We have described the best possible methods to Export Outlook Contacts to vCard format. And, according to the research, we found that Method 2 is the best possible method to convert multiple contacts from Mac outlook OLM to VCF file format without any data loss. You can try the above-mentioned solutions by downloading the demo version of the software. Rest assured, Data integrity and security are both aspects that are preserved in the best possible way.