Thunderbird
How to Import OLM File to Thunderbird Mac Profile Without Any Hassle?
Raj
| Modified: April 15th, 2022 | 5 Minutes Reading
Nowadays, there are multiple email applications offering advanced features which can ease the work. With the changing needs of the user according to their requirement, users are more prone to switch to an advanced email application from the default email client. For users who are looking out for the solution to import OLM file to Thunderbird Mac Profile. Here is the solution of the same in a simple and understandable way.
User Queries
There could be various reasons for the user to migrate OLM file to Thunderbird. Let's have a quick glance at the below-given queries for a better understanding.
"I have been using Apple iPad since long days which is having a large number of emails. Due to business reasons, I need to move to a Thunderbird profile. But, both emails clients work on a different platform. Hence, I am not able to export email database from Mac Outlook to Thunderbird. Could anyone guide some solution to import OLM file to Thunderbird Mac profile?"
"For official reasons, I also need to work from home. Recently, my organization decided to switch to Thunderbird. I work on MacBook Pro having Outlook installed, so I copied all the OLM files to a folder. But, I am not able to open those files on the Thunderbird account. Could someone suggest me a reliable converter tool which can import OLM file to Thunderbird Mac profile in the easiest way? Please suggest at the earliest, thank you!"
Absolute Solution to Import OLM File to Thunderbird Mac Profile
A user can easily import the OLM file to a Thunderbird account using Mac OLM converter software. This automated tool is an ultimate solution to convert OLM file to MBOX format so that you can easily import it into Thunderbird account in an efficient way. It is a highly recommended tool by experts which is compatible with all latest versions of Mac OS X.
For Windows
For Mac
Step-by-Step Guide to Convert OLM file to Thunderbird Mac Profile
Download and install Mac OLM Converter on your system
Launch the software and click on Add File (s) or Add Folder (s) option
Browse and navigate the files to be exported in MBOX file format
Once the OLM file is added, it is then displayed on the user interface of the product and click Next
Under Export Type option, select the radio button corresponding to MBOX option
A customized filter can be applied to the resultant exported file according to the requirement

Date Filter – A selective date range can be applied on the To and From field. By this, only the files under the specified date will be exported
Naming Convention – Name the MBOX files after conversion as per requirements
Categories – Select the OLM data items that you wish to convert to the output MBOX files
Click Change and specify the desired location into which the exported file will be saved
After the location is specified, click on the Export button
Once the process is completed successfully, an export report will be generated, click OK to proceed
The export report can be viewed by clicking on the View Report button
Now, the exported MBOX file will be saved on the specified destination location
Now given below is the complete process to import OLM file to Thunderbird Mac and Windows. Users may choose any process as per requirement.
Process to Import the MBOX File to Windows Thunderbird
Once the files are exported to MBOX format, now import the converted MBOX file to Thunderbird. Follow the below steps to do this in Windows Thunderbird:
Download and install ImportExportTools NG add-on on your system
Open Thunderbird account and go to Tools >> ImportExportTools NG >> Import MBOX file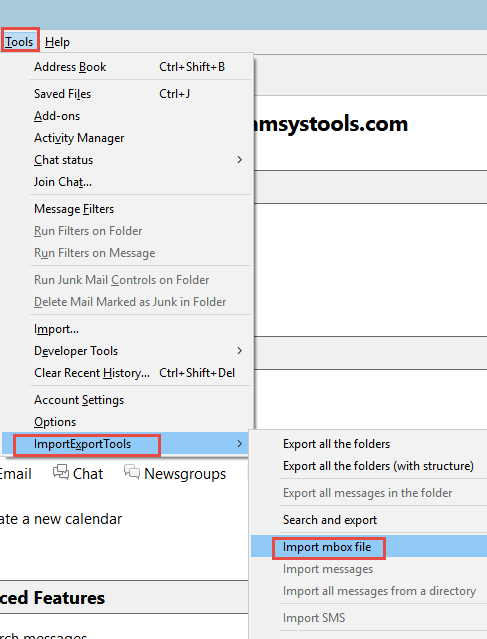 By this, all the OLM files which are in MBOX format can be viewed on the Thunderbird profile
Import Process For Mac Thunderbird Variant
The steps are divided in two phases:
Import the MBOX file in Apple Mail
Then, import Apple Mail MBOX file to Thunderbird Mac
Step I. Transfer Converted File to Apple Mail
Go to File menu in Apple Mail and hit the Import Mailboxes option
Select Files in mbox format option
Browse the converter MBOX file and import it in Apple Mail.
Step II. Import OLM file to Thunderbird Mac via Apple Mail mailbox
In Thunderbird for Mac, go to Tools menu and select the Import option
Now, select Mail > Apple Mail and hit the Next button
The mailboxes of Apple Mail will be imported into Thunderbird. Users can find the converted OLM data here as well.
Read More:
Conclusion
During the process to import OLM file to Thunderbird Mac, there arises a need to convert the file type. As the manual method is quite complex, it is advised to use Mac OLM Converter tool a user-friendly software which easily helps to migrate OLM files to Thunderbird Mac profile in just a few clicks.