Exchange Server
Migrate Exchange Server to Exchange Online Automatically
Do you want to know how to migrate Exchange Server to Exchange Online? Have you found any relevant method till yet for the same? If your answer is negative, then do not worry. We have come with an automated solution to move Exchange Server mailboxes to Exchange Online. Before, that let us go through a manual approach to complete the process.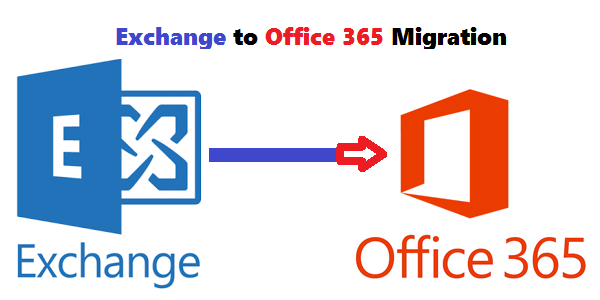 Manual Method for Migrating from Exchange Server to Exchange Online
This method can be divided into three 4 steps. Follow one after the other to finish the process to migrate Exchange Server to Exchange Online:
Step 1: Planning
The process of planning includes these steps as mentioned below:
First, open the site of Exchange Deployment Assistant
As soon as the site is launched, you would have 3 options. For cutover migration, you need to choose Cloud Only option. Therefore, click on Cloud Only
Now, you need to answer all the questions that are asked by you
Once it is done, click on the Next arrow
This Exchange Deployment Assistant will create a step by step guide for you, which you need to follow.
Step 2: Testing the Existing Setup
Now, with the help of the guide provided by Exchange Deployment Assistant, you need to be sure that Exchange Server infrastructure supports Outlook Anywhere & Autodiscover. Once this step is completed, you can go for the next stage of this process.
Firstly, open the site of Microsoft Remote Connectivity Analyzer
Choose MS Outlook Anywhere (RPC over HTTP) test and click on Next
Enter the requested information. You need to confirm that you are using Autodiscover for the detection of server settings.
Now, type in the Verification code and click on Perform Test.
In case the test fails, use the report generated & the Exchange Deployment Assistant for the resolution of the issues.
Step 3: Configure Cutover Migration
Firstly, open Internet Explorer and then log in to the Admin Center of Office 365
Now, open Exchange Admin Center and click on Migration
Then, click on the drop down menu & choose Migrate to Exchange Online
You need to choose Cutover migration followed by a click on Next
Now, enter the credentials of on-premises account credentials and click Next. At the time of proper configuration, Autodiscover should resolve the on-premise Exchange Server & the RPC Proxy Server
Then, click on Next and enter the name for New Migration Batch. Click on Next once again
In this step, you need to choose a user who will get the report after the migration. You can select multiple accounts. Now, if you are prepared to begin the migration, then start the batch automatically. If not, then select manually start the batch later.
Click on New. The new migration batch will be created
You have to wait for some time for the completion of the process. To see the details of migration, click on View Details option.
Step 4: Completion of the Migration
Once the synchronization from Exchange Server to Exchange Online is completed and all accounts are provisioned, a report will be emailed to you. Now, as soon as you get the report, you can proceed to the completion of the process.
Migrate Public Folders: This means the migration of Exchange Public folders to Exchange Online.
Assign Office 365 licenses to all the users.
After the completion of migration of all the emails to Office 365 and replication of MX record DNS, you can stop the process of migration.
Manual Method: A Complex Procedure
The above-mentioned manual method is a process in, which users cannot rely on. As there is a chance of loss of data in Exchange Server to Exchange Online migration method, users have to devote much time to complete it, for some users it is not easy to understand, etc.
Expert Solution
Considering the limitations associated with manual approach, there is an alternative method to migrate Exchange Server mailboxes to Exchange Online. The name of this utility is Exchange to Office 365 Migration Tool. With this utility, the process of moving from Microsoft Exchange to Exchange Online becomes very easy and simple. The tool moves the data along with the items and attributes. It is compatible with all the versions of Windows Operating System and has no file size limitation.
Steps for Exchange Server to Exchange Online Migration
1. Launch this software and Select Source platform and Destination Platform.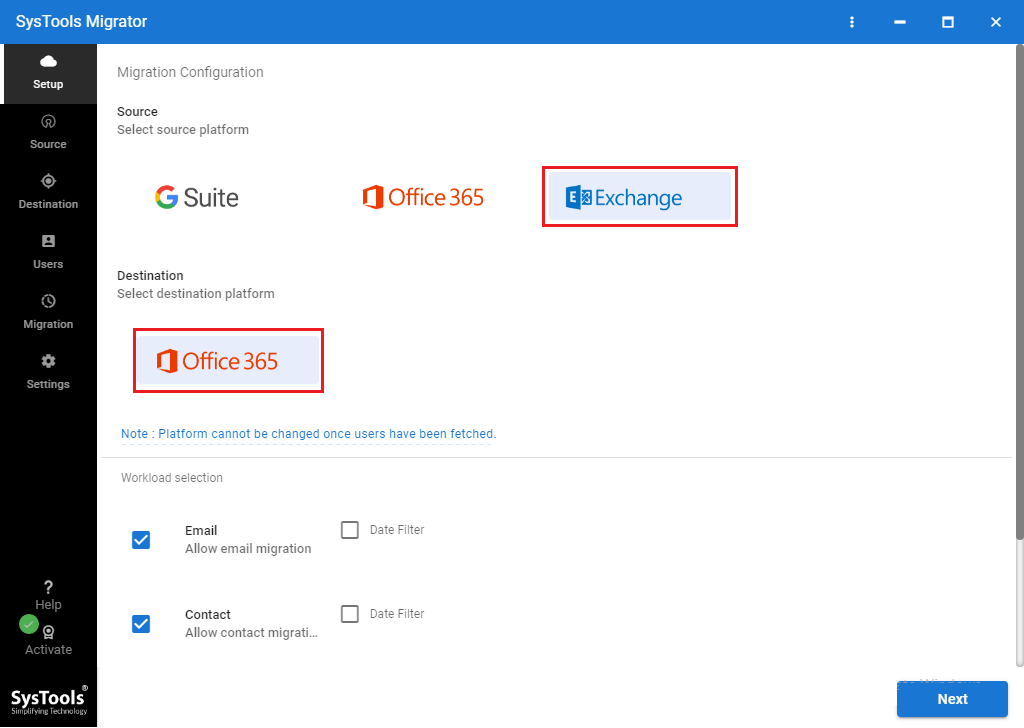 2. Select / Deselect data items and apply date filter if required.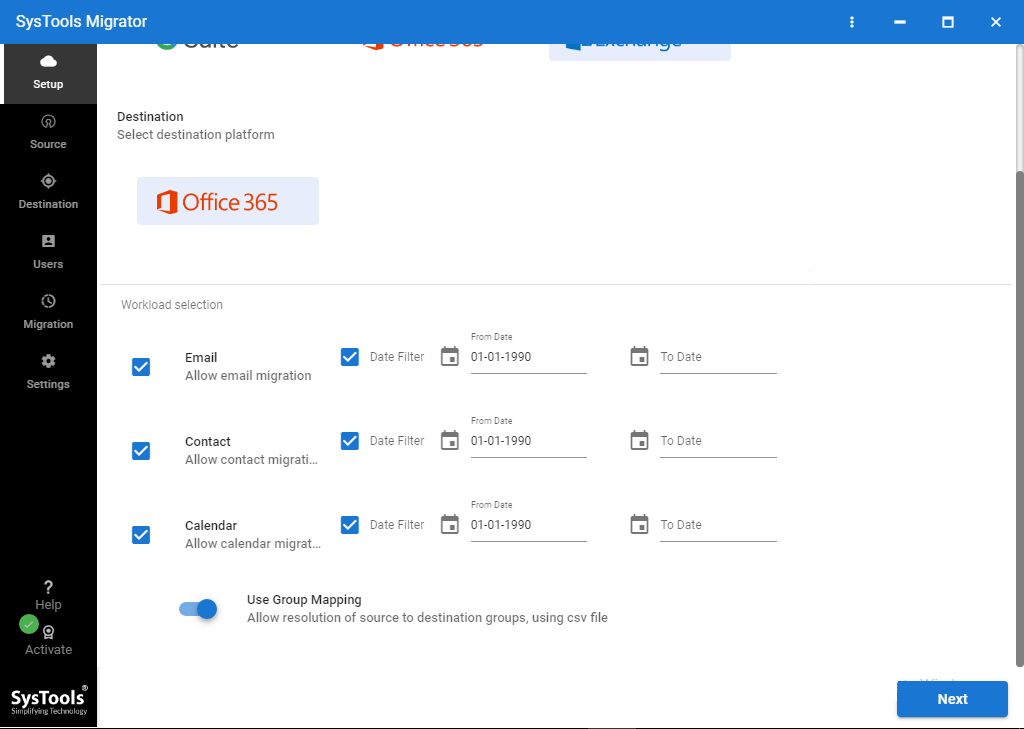 3. Select Exchange Server Version and enter other required details here.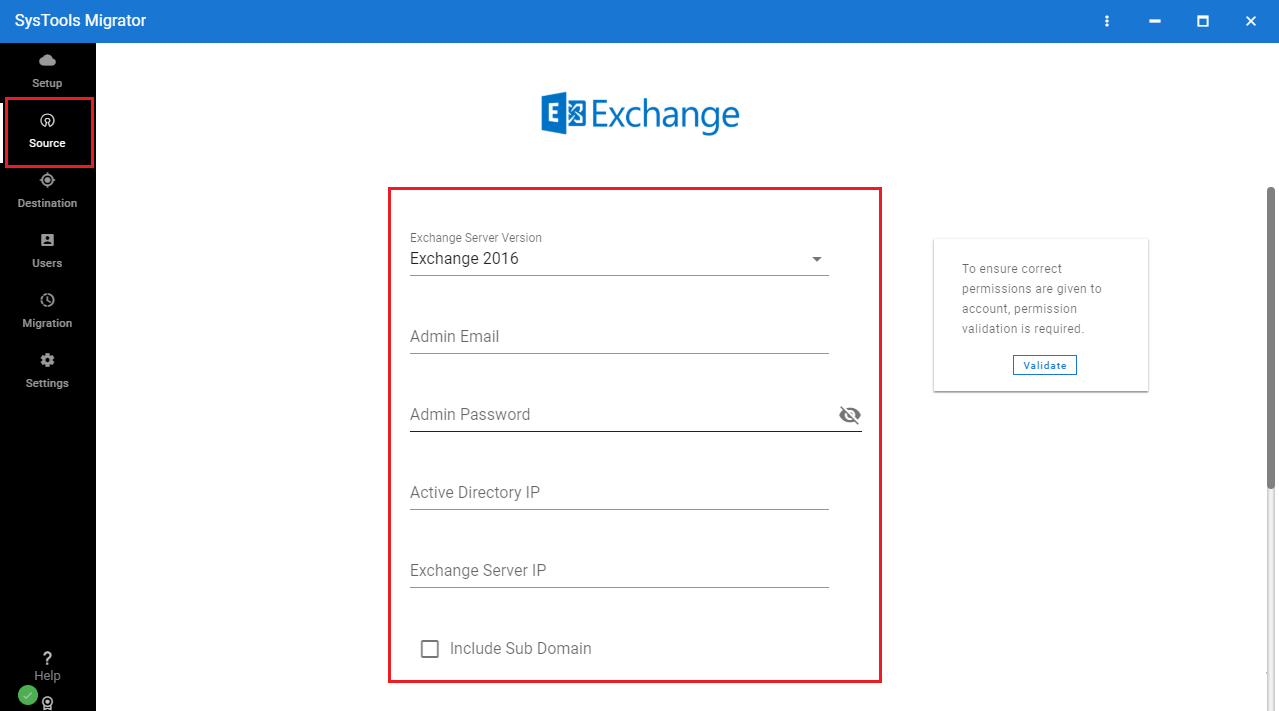 4. In the following window, you need to enter Office 365 Admin Email and Application ID.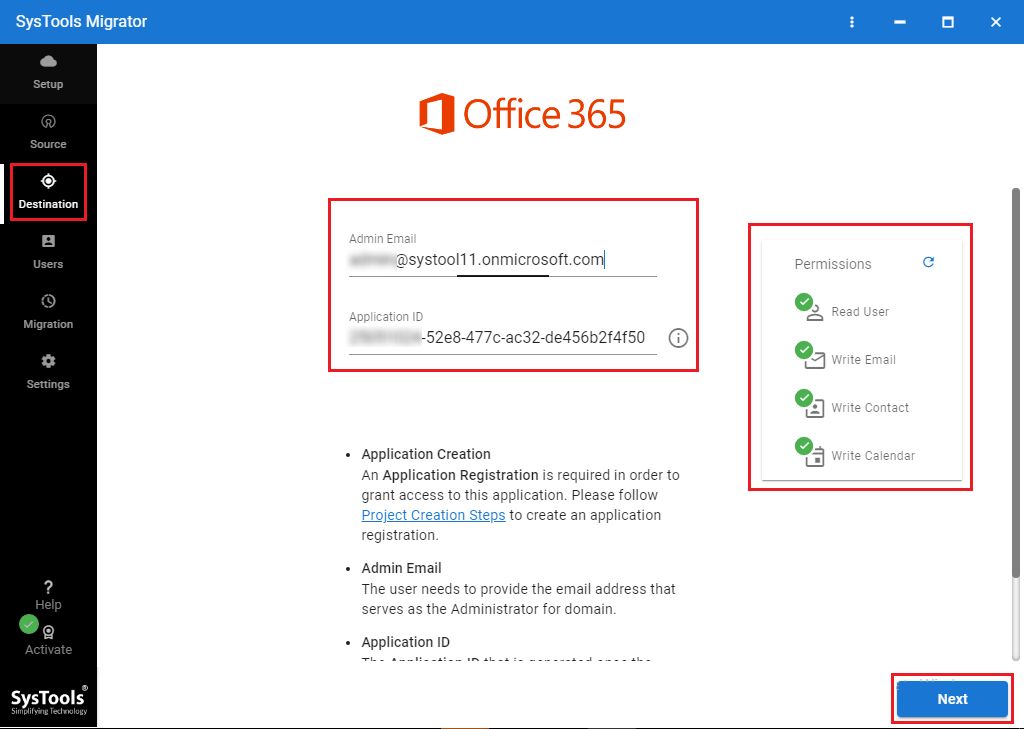 5. Now, you have to mention Source Users. For that, you can either fetch users or Import users via CSV file. The CSV file template can be downloaded from tool itself.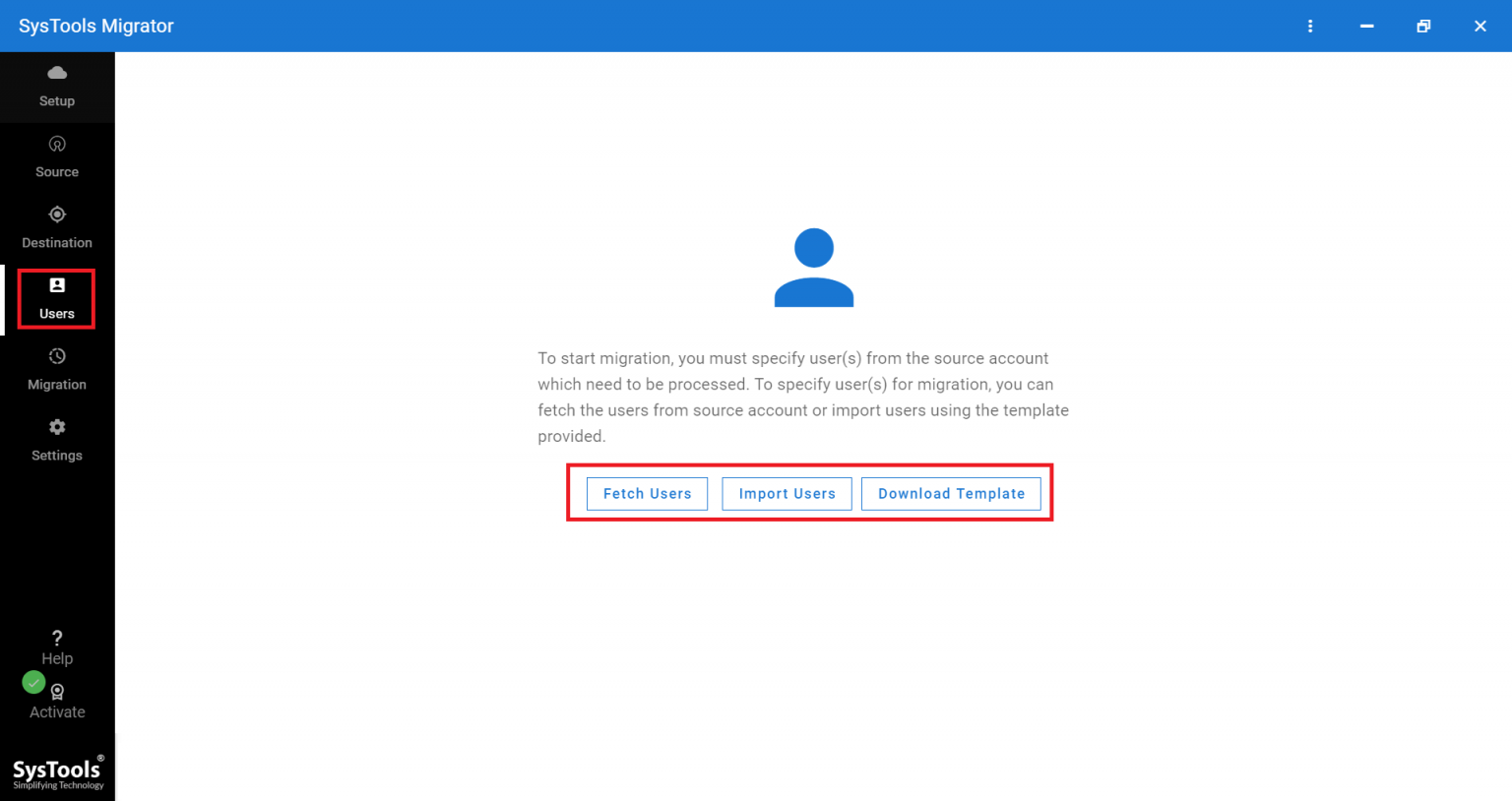 6. Map Source mailboxes with destination mailboxes and validate them.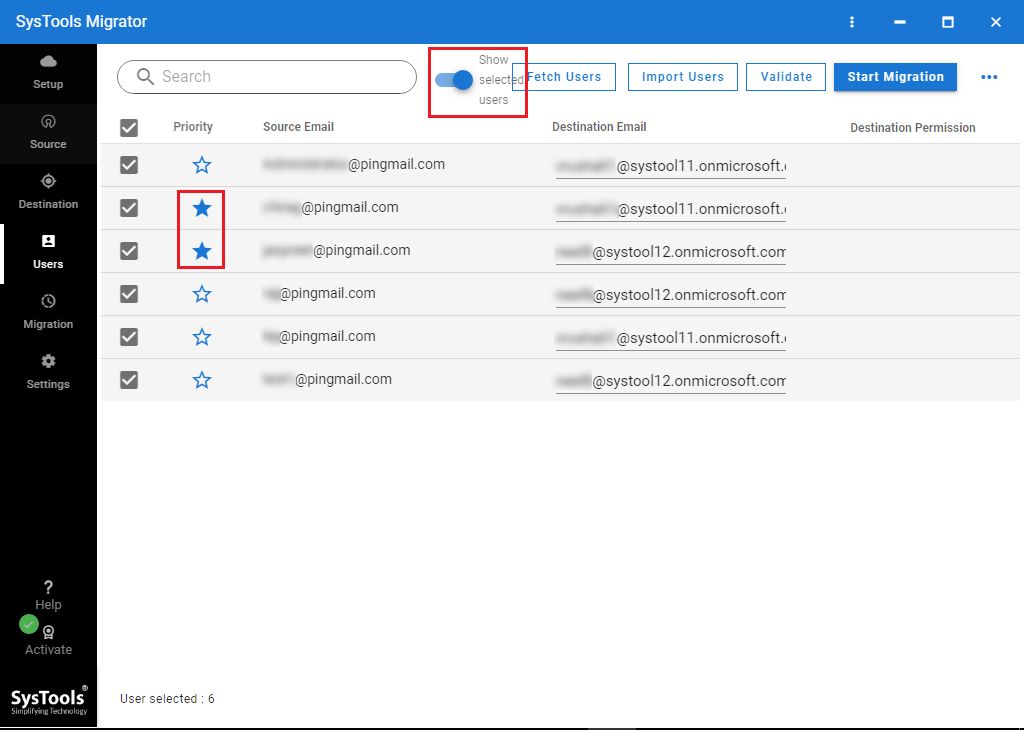 7. Hit Start Migration button and the tool will start the migration process.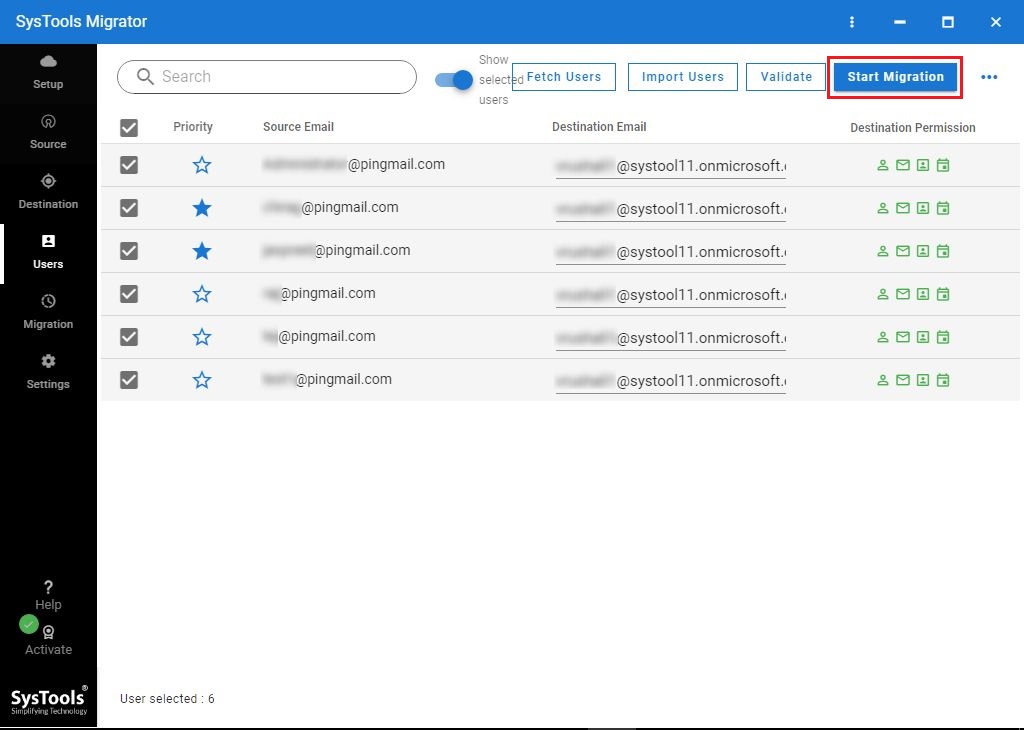 Final Words
Switching from one platform to another has always been a critical challenge for organizations. Therefore, there should be proper planning and deployment so that you don't lose important data during the migration from Exchange Server to Exchange Online. Therefore, we mention the issues organizations face and the manual solutions for them. But these solutions also have their limitations. Therefore, it is recommended that you select a third-party application and a seamless migration.