Exchange Server
Access Exchange Mailbox Database & Troubleshoot Server Errors
Admin
| Modified: 2020-04-10T12:40:16+05:30 | 4 Minutes Reading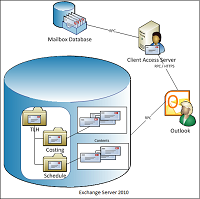 Consider the following scenario to understand the access Exchange mailbox database & troubleshoot server problem, which is to be discussed in further content:
"Suppose you are having the server installed on your machine and you are using Exchange Mailboxes to accomplish your task. While accessing an Exchange mailbox you face a problem in which you are not able to mount the database on a server and facing one or another error while working. Even if you remove the mailbox (for fixing the problem) then also, you will be unable to operate mailboxes in Exchange Server"
In such situation, how to access Exchange mailbox is a general question asked by the server users. Therefore, there is need for a means through which users become aware from all possible ways to fix this problem. This blog is that way by which one can easily resolve this problem without any complications

Cause of the Access Exchange Mailbox Database Problem
There are many reasons due to which one is unable to access Exchange Mailbox store database and those are mentioned-below:
One reason might be the server cookies, which are present in user's mailbox database GUID and on the CAS (Client Access server) side, these have been added to the server cache
If antivirus application of your machine deletes or isolate the current Exchange LDF file then, you might be unable to access Exchange database
Unable to access Exchange mailbox problem also occurs because when a mailbox is not found, DSAccess caches a questionable statement for disconnected mailbox.
If the above-mentioned technical reasons are not responsible for the cause, then the only reason for such error is corruption in Exchange EDB file.
Troubleshoot The Exchange Server Errors
Solutions to resolve Exchange server errors are totally dependent upon the reason behind error occurrence. Therefore, you can go for any one of the following approach to fix this problem:
1. Using A cmdlet to Resolve Error
Execute Clean-MailboxDatabase cmdlet of database for scanning Active Directory so as to disconnect mailboxes and then modify the mailbox status in the Exchange store.
2. Examine Antivirus Programs
Before proceeding further, make sure that antivirus programs are not scanning the Exchange server directories. If Antivirus applications are scanning the server database file then, disable such functioning of the program and then proceed further after examining the fact:
1. Take a review of antivirus logs files and examine whether log files were isolated or eliminated
2. If log files were isolated then, follow below set of instructions:
Retrieve the Exchange log files to a folder, which comprises of log files production
Launch Microsoft Exchange Information Store server to view, whether the files are restored or not
3. If a log file is eliminated or deleted then, continue with further steps:
Transfer entire database (which is inconsistent) to a backup folder
If a new log file (E00.log) was generated, then move that newly created file to backup folder along with E00.chck file
Also copy existing log files to a backup folder
At last, rename E00*.log to E00.log file
With help of backup folder, restore entire database and replay all log files. This procedure will bring database from inconsistent state to consistent state.
3. Troubleshoot Problem By Restarting Server
To ignore this error, you can use hit-and-trial method in which you have to delete entire cookies of the server and then restart MSExchangeOWAAppPool and MSExchangeSyncAppPool application to remove caches of the server
Limitation of Above-Mentioned Tricks: The strategies discussed above cannot be easily handled and accessed by normal users. Either a proper guidance or a technician is required to solve problem with these method. In addition, there are high chances of change in default server settings.
4. An Automated Solution to Fix the Server Errors
The best-suited approach to troubleshoot Exchange errors is EDB Recovery. This software will repair corrupted Exchange mailbox and then open Exchange mailbox with attachment. Even if the server is not currently available then, also you can view Exchange mailbox in offline mode with help of this utility. Some of the error-free features provided with the software includes:
Advance scanning option to repair severely corrupted Exchange EDB files
In-depth analysis of emails without affecting overall database mailbox
Retrieve deleted items from source Exchange EDB file and load it on screen
The software is an independent utility to open and view emails of Exchange mailboxes with attachment.
Time to Conclude
How to access Exchange database and view EDB file on the server, used to be a big question for normal computer users. It is so because manual strategies require proper knowledge about the Exchange server for operating. Therefore, the easiest and reliable solution to fix your problem is to go for an automated approach. This method involves usage of an additional utility i.e., EDB Recovery.