IMAP
How to Convert SquirrelMail Account to Outlook? Complete Method
SquirrelMail is one of the well-known email clients that has been used for email communication purposes. The latest version of SquirrelMail was released at the end of May 2013. We all know that by using a webmail email client, we can gain a better user experience and there will not be any kind of foundation.
Hence, a new webmail client cPanel that had replaced SquirrelMail because of some of the most-common reasons. That's the main reason, users want to convert SquirrelMail to Outlook properly with no issue and convenience.
Since we all know converting data from one email client to another is a difficult task. In the case of SquirrelMail, it is also difficult. And, there is no manual solution that exists on the Internet for the same. So, we are here to tell you the complete and entire procedure within a single attempt.
The approach we are going to discuss also helps clients to deal with multiple other problems that will not impose any limitations. Just stay with us till the end, and get the solution that matches your concern.
Why to Convert SquirrelMail to Outlook?
Why is it so hard to add a SquirrelMail account to Outlook, without any excellent business solutions? Moreover, why do users are willing to convert SquirrelMail accounts to Outlook? So, here are the best points behind this conversion:
Users are required to log in with the hosted website to get into the SquirrelMail account. However, with MS outlook users can access their emails in any situation easily.
Also, SquirrelMail is not providing such good features. This is why users want to export SquirrelMail to Outlook.
Microsoft Outlook has rich and proficient advanced features. It has a unique GUI that can manage the user's mailbox effortlessly. On the other hand, this cannot be done via SquirrelMail.
So, let's start our today's topic without wasting any time…
How to Add SquirrelMail Account to Outlook?

Open the Microsoft Outlook email client and go to Account Settings option.
Configure the SquirrelMail account in the Outlook application.
Go to File >> Open & Export >> Import/Export.
Select the Export to a file option.
Get the resultant exported PST files.
Professional Approach to Convert SquirrelMail to Outlook
In order to understand the complete concept while converting your emails to Outlook, we also need a utility i.e., FreeViewer IMAP Backup Software. The tool is one of the sustainable utilities that has been tested properly by most of professional experts. It also handles a large amount of data within a single attempt.
Moreover, it is simple for users to easily execute the task for all the users without any technical guidance. Even novice users can also authenticate on it. Also, the hierarchy of all the SquirrelMail files and folders is maintained throughout the conversion process. What we need to do, is go to SquirrelMail and backup all SquirrelMail emails into PST, and then import those emails into the Outlook application.
The tool is only compatible with all the versions of Mac OS such as Mac 12.0, Mac 11.0, Mac 10.8, and others. Without wasting much time, let us free download the demo version of SquirrelMail to Outlook Converter and start the process.
Complete Process for SquirrelMail to Outlook Conversion
Use the below mentioned steps to export SquirrelMail to Outlook PST format:
Run the tool in your existing Mac OS system. There, choose the Host as Others.
Then, enter the login credentials of your SquirrelMail account there. The IMAP Server and port no. will be filled automatically.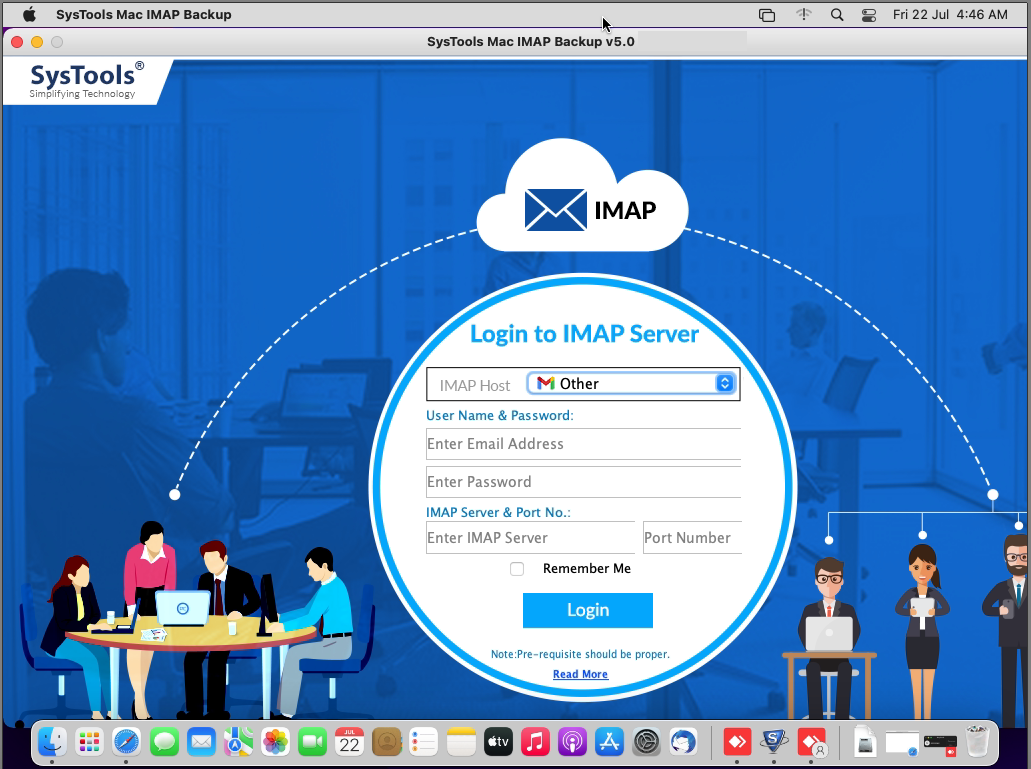 After that, choose the mailbox files and folders that are displayed on the panel.
Now, select the Export type as PST file format from the list of formats.
If you want to delete emails from the server after download, then choose the option "Delete After Download".
Enter the destination location where you want to store your downloaded SquirrelMail emails into PST. Click on Start Backup.
Wait for a couple of minutes, and the software will display the successful exported message. Go to the destination location and get the resultant PST files there.
Import PST Files to Outlook

Go to Outlook account.
Click on File Menu >> Open & Export >> Import / Export.
From there, click on "Import from another program or file".
Choose PST option and upload the files directly.
Final Words
While solving a query – how to convert SquirrelMail to Outlook? It is recommended to use a well-automated approach that has been discussed above. Using the above solution, users can easily carry out the best results with 100% accuracy. Moreover, we can also work on the bulk number of data using this tool without any file size limitations. For more information, you can anytime connect with our technical experts.