Outlook
Solve Unable to See Email Contents in Outlook Issue Effortlessly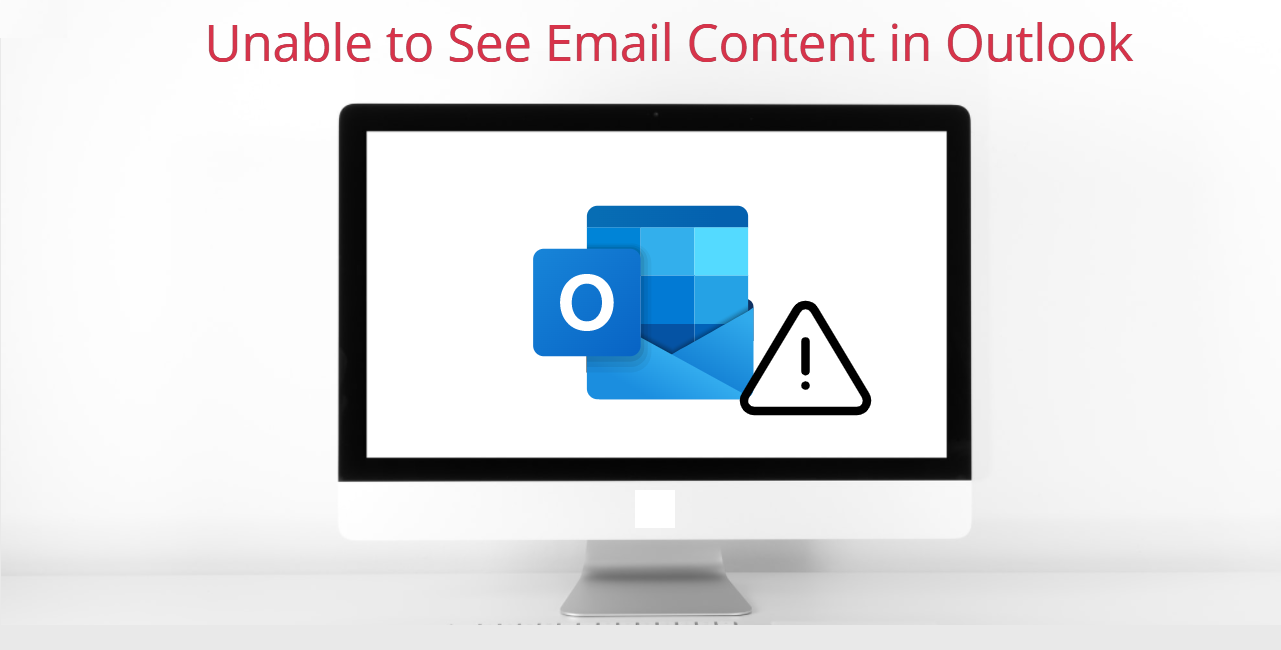 Have you ever come across a situation where you are unable to see email contents in the Outlook email application? And this is giving you stress because it contains all your crucial data info. if your answer is affirmative, then this write-up is for you.
It will surely help you to resolve your issue. In this article, you will also get to know the manual as well as the professional approach to viewing the email contents.
But, before directly jumping to the solution let us first see the user's query
" Hey everyone! I am Mack working as an Assistant Manager in a Multinational Company. Yesterday morning I opened my Outlook for office work, serious instance happens the body of emails not showing. After seeing this I am very stressed because it has my whole crucial data. I am able to preview the emails but when I want to open and read those emails it goes blank. As I said I am very stressed and need help. I want my it is very important to me. Please suggest to me the best and most accurate solution as soon as possible to view the content of Outlook 2016. Thanks in advance".
Why Users Unable to See Email Contents in Outlook Application?
There are no such specific reasons for the issue. But after considering most of the user's queries, we have mentioned two of them below:
If there is unstable internet connectivity
PST file is corrupt or fully damaged
After knowing the reasons behind the issues, let us now discuss the techniques to resolve the issues in an efficient manner. In this blog, we are providing you with the manual and the professional solution.
Manual Technique to View Email Contents in Outlook
Important Note: Before executing the manual method first check the internet connectivity if it is stable or not. Implement this method only if you have a stable internet connection otherwise, there are chances that you may lose your important data.
Implement the Procedure, if the Emails are in Plain Text
Go to File >> Open >> Mail >> Stationery and Fonts
For Composing and reading the plain text mail messages, choose Font >> Font color >> tap on Automatic
Use the Below Steps if the Email Message body is Fully Blank
Before applying this, firstly user has to enable the Add-ins
Open File >> Options >> Add-ins
After this, select COM Add-ins and hit the Go icon to fix the issue
Next, uncheck the Add-ins, that you are not using and click on OK.
Most Trusted and Preferred Solution to See Email Contents in Outlook Application
Users can use the manual approach to fix the issue of being unable to see email Contents in Outlook. But this technique has a number of complexities and does not give you the guarantee for a safe and secure procedure. To see the email contents in Outlook one can avail PST Viewer Software. This is the ultimate and best solution to preview email content without installing the Outlook application in your system.
However, if one is having corrupted or fully damaged files then, one must use the an advanced PST Repair Tool. It can efficiently scan and read emails out of the corrupted PST files including calendars, contacts, notes, journals, etc. in a stress-free manner.
To know the working of the Software click on the Video
Now, Import that healthy PST File to Outlook Email Application
Once you successfully export a healthy PST file now, open the resultant file by launching Outlook
Go to the File Menu
Then, click on Open & Export
Now, Open Outlook Data File
At last, Browse the PST File
Some Key Features of the Utility
PST Repair Tool can recover permanently deleted emails, contacts, calendars, tasks, journals etc.
The tool doesn't impose oversized PST files restrictions
The software does not require Outlook installation in your system
Tool restores archive Outlook data file in PST format
The utility supports all types of views such as Hex, MIME, Message Header, HTML, etc.
Advanced Features Of the Automated Software
Recover Outlook Data File
When the user has fully damaged or corrupt and wants to repair that file as it contains important data, then this tool is a lifesaver. It will recover all your data within a second. The software has an amazing feature of Quick Scan that will quickly scan your corrupted PST file and repair it within a blink of an eye.
Repair File with all its Attributes
The tool is well designed, it will preserve the original formatting of all the data items during the repairing procedure. Moreover, it also maintains the metadata like size, cc, from, date, etc.
Save PST File in Multiple File Format
After recovering the file using this software, one can save the recovered file in multiple file formats such as MSG, HTML, EML, etc. However, by exporting recovered Outlook data files a user can easily open and read files in other supporting applications as well.
Recover Deleted Items
The software is capable enough to recover deleted emails, contacts, etc from Outlook data files in just a few clicks. It also offers a preview of all attachments.
Conclusion
In the above write-up, we have explained every possible detail to solve the query ' Unable to see Email Contents in Outlook' application. In this blog, a manual as well as the professional approach is mentioned along with its merits and demerits and also with its working step-by-step guide. As mentioned, the manual method has some risks. Thus, we will suggest you use the professional approach.