Outlook Tips
Top Outlook Contacts Tricks and Tips
Outlook email client works great as contact management system which you can share with your organization or the concerned individual.You can easily organize contacts based on the priority or type of contacts (family, business or colleagues).
Adding a contact in 2010
Adding contact in Outlook 2010 is easy just go to the navigation Pane and click on "Contacts"
Click on New Contacts which will open a contact dialog box where you can feed all the information that you want to store.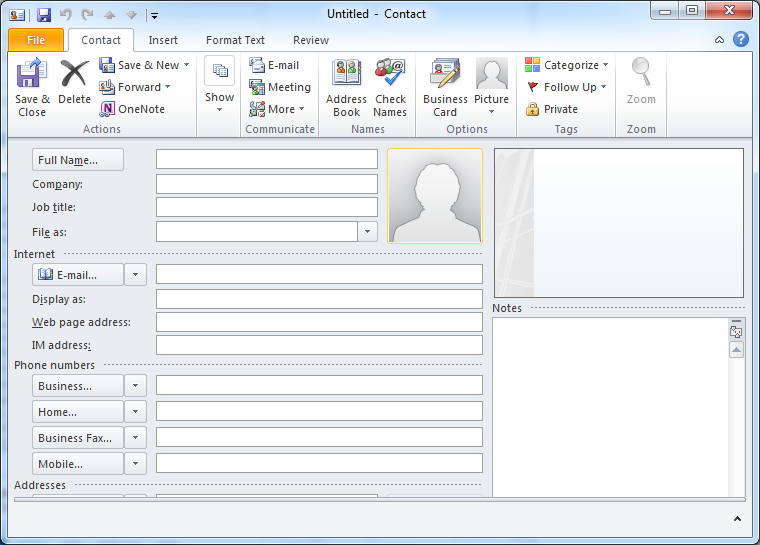 If you have image of that person you can also add it here by just clicking on this icon

If you want to remove or delete some specific contact you can do that in multiple ways

Right click your mouse and in the option choose delete
In the navigation panel there is big cross just select it and the contact will get deleted
How to import Contacts to Outlook 2010
Select File Menu
Click on Open button, and
Click on Import which will launch the "Import and Export Wizard"
Select Import a VCARD file (.vcf) file option. Click next>> provide the location of the contact file and the outlook will add the contacts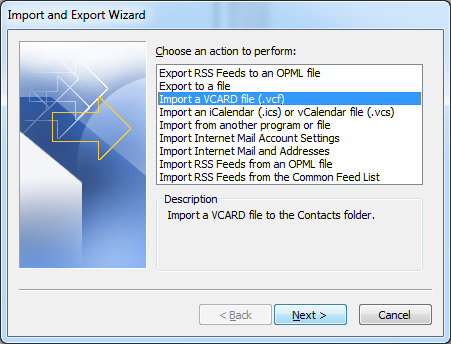 Updating contacts is also easier: just double click the contact you want to update which will open up the editing panel and you can then easily edit the information of the concerned individual.
Share your contacts: You can easily share your contacts to anyone you like, just right click and select "forward contacts" and choose from either
"As a Business Card" or
"As an Outlook Contact".
Tip: you can also send the contact as a SMS if you have text messaging account configured. If you want to send the contact just select the final option of "Forward as Text Message".
Create a contact Group in Outlook
1) Click Contacts
2) In the navigation panel click New Contact Group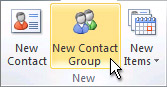 3) Provide the name of the contact group (e.g. "my friend circle").
Start adding people to that contact group by clicking "Add Member" and selecting the member from your outlook contacts or address book. You can also add a new member if it does not exits by selecting "New E-mail Contacts" .