Outlook
Top Ways For Splitting Oversized PST File Manually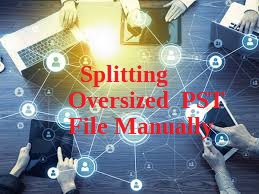 In this technical arena, large number of users rely on MS Outlook for their sending and receiving email messages, organizing calendar details, contact information, and much more. It means a large number of users have bulk data stored in their Outlook data file named as PST. So, the large-sized PST file slows down Outlook performance.
However, to avoid Outlook Archive .pst has reached the maximum size issue, we have come up with different solutions. Simply read the complete blog to get techniques for splitting oversized PST files manually.
Instant Way For Splitting an Oversized Outlook Data File

Sometimes the free manual solution becomes unable to divide an oversized PST file into multiple smaller parts. In this situation, you can use an eminent third-party application. The utility consists several features to provide a secure breaking up PST file procedure. Free install and use the tool by clicking the download button.
Splitting Oversized PST File Manually
The free method is obtainable in two different workarounds. Both ways are effectively described. You just have to execute any one of them.
Workaround 1: Mailbox Clean Up Built-in Utility
1. Initially click on the File tab and select the Info option
2. Now, choose the Tools option and hit on Mailbox Cleanup option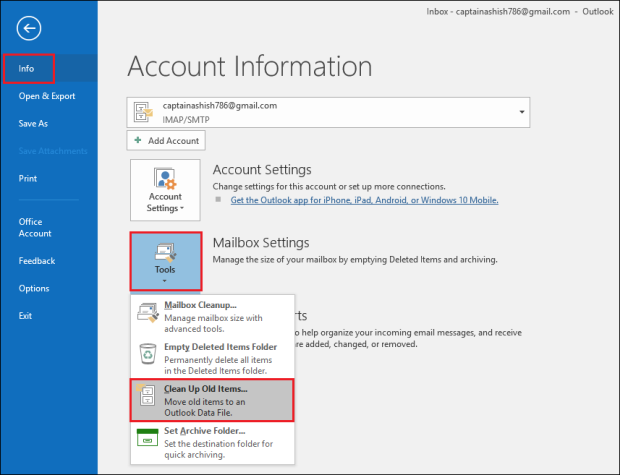 3. Then, you become able to view multiple options like View Mailbox Size, View Deleted Items Size, Find items larger than, View Conflicts Size, Empty Deleted Items, and Empty conflict.
4. Ultimately, you can go with any option as per your requirement.
Workaround 2: Using Compact Now Functionality
1. Firstly, select the File tab and click on a Data File Management option
2. Double click on the Data File option and select the targeted file
3. Now, select the Settings option and click on the Compact Now button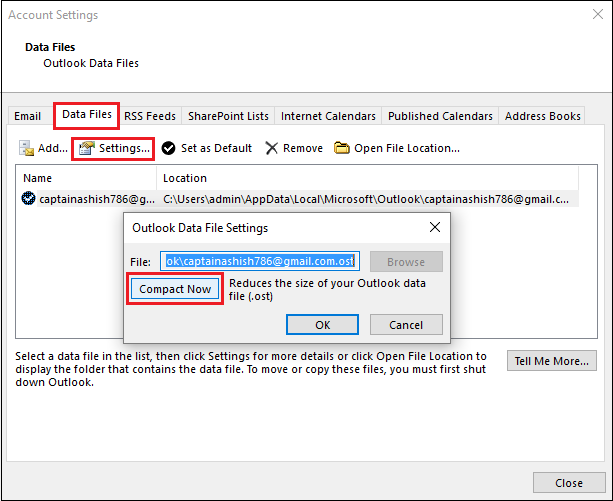 4. Lastly, hit on OK to exit.
Outlook Version 2016, 2013, and 2010
1. Navigate to the File tab and click on the Info option.
2. Now, opt the Account Settings option and again click on the Account Settings option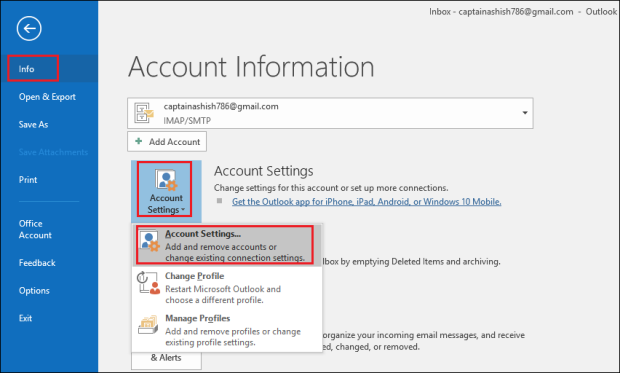 3. Next, choose Data Files option and Settings >> opt the preferred file. After that, click on Compact Now to move forward.
4. Hit on the OK button to finish the procedure.
What If Manual Solution Fails?
The above-stated manual solution does not have the ability to resolve Outlook archive does not reduce mailbox size. Also, to divide Outlook data file Outlook installation is required. So, in this situation, it is better to go with an automated approach. Simply proceed further to get the best technique to break large-sized PST files without any hassle.
Approach For Splitting Oversized PST File Without Data Loss
There are multiple techniques are present to split oversized PST files. But, when we are talking about the best, then "PST Splitter" is the only name comes in mind. The utility is specially designed to divide oversized PST file by size, year, folder, date, email id and category. Also, it supports to break corrupted Outlook PST file without any data loss.

The tool easily split an oversized PST data file without MS Outlook installation. Moreover, the tool is completely Windows-based. So, you can install this on any Windows Operating system. It breaks a large PST file without any compatibility issues.
Below here, we are going to explain instructions to break an oversized PST file without any hindrance. Let's begin:
Step 1: Download and run the PST split utility on your local machine.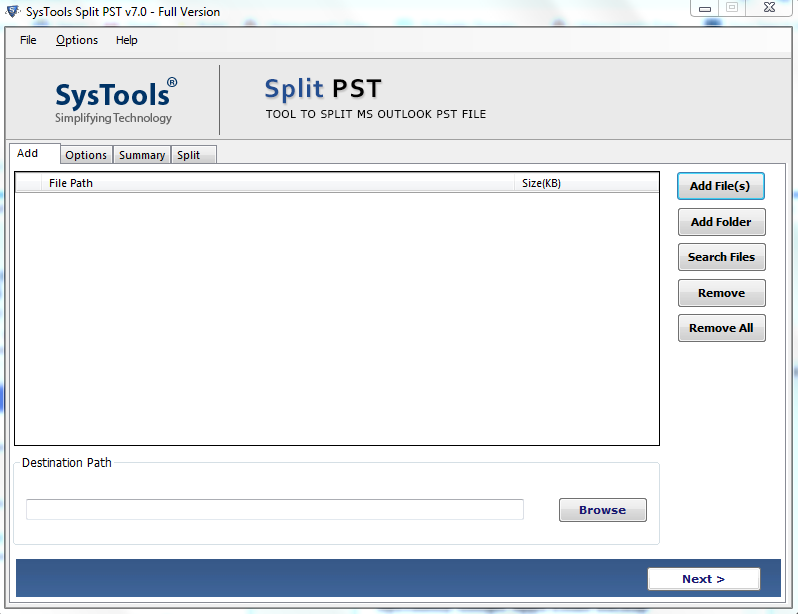 Step 2: Add PST file/folder(s) and browse destination location.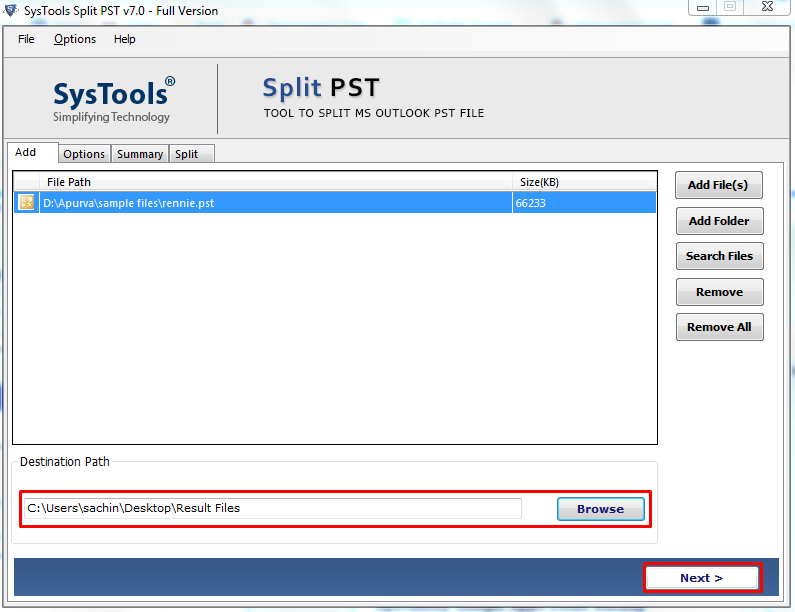 Step 3: Choose required split option (split by size, folder, date, year, email id and category.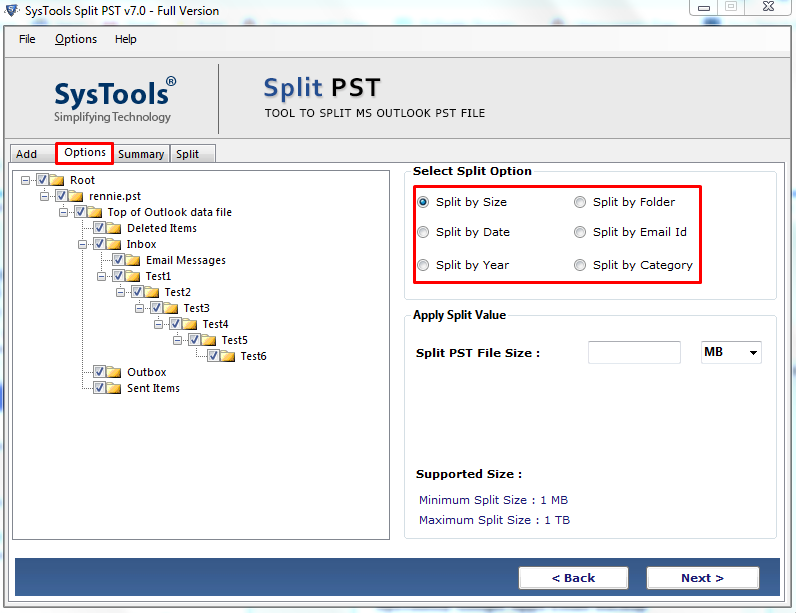 Step 4: Now check summary of split information and click Next to proceed.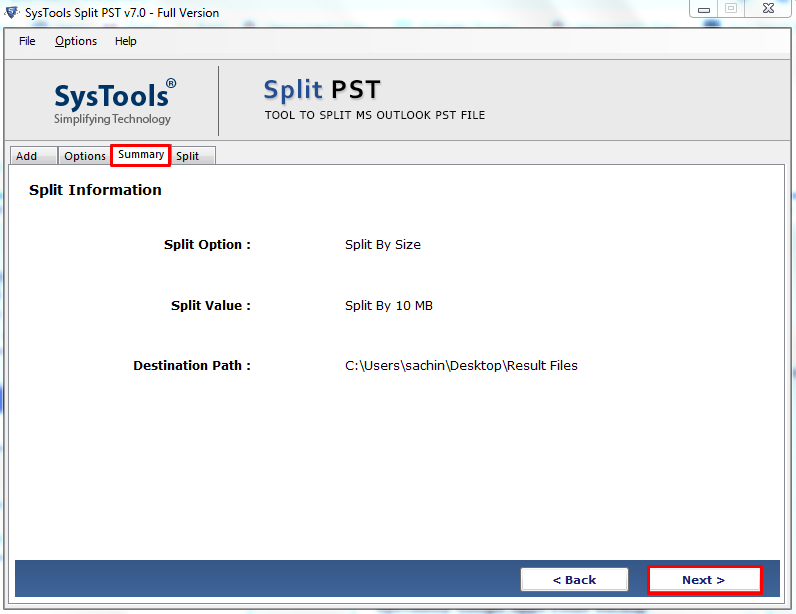 Step 5: Finally, the process to split information is completed.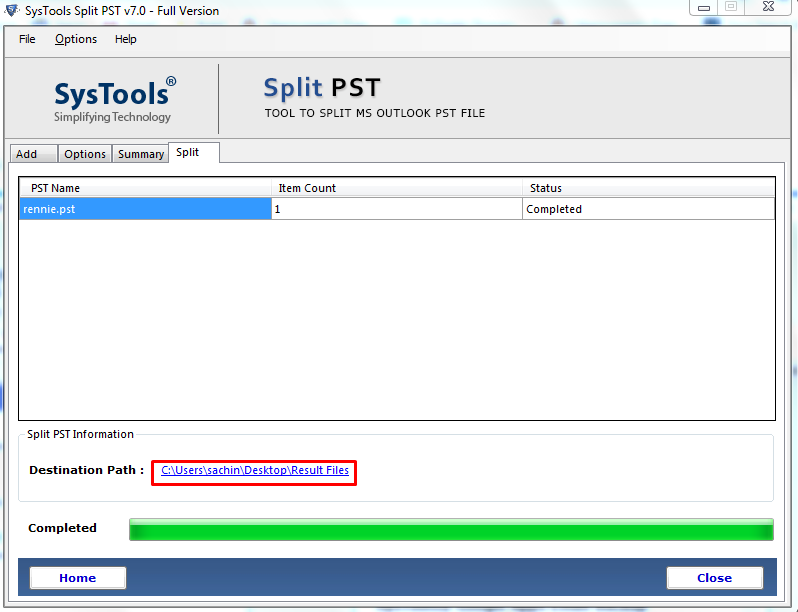 Concluding Thoughts
There are many MS Outlook users are searching splitting oversized PST file manually. Even many solutions are available over the internet for the same. But, before executing the free method to split Outlook PST file, keep one thing in mind that is the free manual does not support corrupt PST file. If in case, you need to split PST file without Outlook installation, then we highly recommend selecting the above-suggested third-party application.