File Conversion
How to Export Emails from Roundcube to Outlook? Easy Approach
Admin
| Modified: 2020-06-24T17:01:52+05:30 | 4 Minutes Reading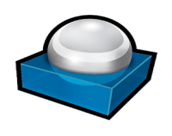 The Roundcube is a webmail application which has manage emails, contacts, etc. Roundcube webmail provides full functionality that a user expects from webmail, including MIME support, address book, folder manipulation, message searching and spells checking. In this article, we discuss how to export emails from Roundcube to Outlook by manual approaches. We are enclosing some manual methods to export single email, multiple folders, and contacts from Roundcube.
Some of Roundcube user wants to migrate into Outlook platform because it provides full functionality to manage emails, contacts and provides calendar, task, notes and lots more features. You don't need to worry about your important data because Outlook offers store mailbox in online as well as offline mode. For migration from Roundcube to Outlook, a user need to export all mail folder including Inbox, Drafts, Sent, etc and Address book. In the following article, we will discuss the process to export Roundcube to Outlook.
Best Approach to Convert Roundcube to Outlook
We are enclosing best approaches to migrate Roundcube to Outlook, first method is exporting all emails from Roundcube, second method is exporting Address Book contacts.
Manual Method to Export Single Email from Roundcube
Step 1. Log-in into Roundcube webmail
Step 2. Click on single email which you want to save

Step 3. Click on More button to explore options

Step 4. Select Download (.eml) from the drop down list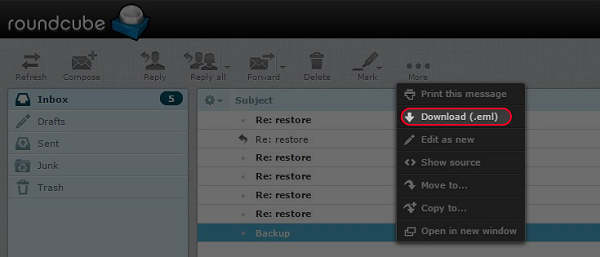 Step 5. Single Email download in .eml format.
A user must be save each email into .eml format one by one, another solution to export all emails from Roundcube is not available.
How to Convert Roundcube Emails into PST Format?
Now, the user can easily convert the Roundcube emails into PST format via an automated FreeViewer tool that is EML to PST Converter. With this utility, one can convert EML files along with attachments into Outlook PST format. The software maintains the EML message formatting and preserves the attributes associated with the EML message. The on-disk folder hierarchy is also maintained by the utility while saving EML files into PST format. One can easily work with the utility due to its user-friendly interface. Moreover, the software is designed with robust security algorithms so no data loss and security issue will occur while EML to PST conversion. Some of the beneficial features of EML to PST Converter are explained below:
Conversion of EML messages along with attachments into PST format
The tool provides multiple preview styles to view EML emails
Preserve the on-disk folder hierarchy while EML to PST conversion
Easy-to-use interface with advanced options such as split PST file, selective export etc.
Allows sorting EML emails according to attributes such as To, From, Subject etc.
Support EML files of multiple email clients such as Thunderbird, Eudora, Windows Live Mail etc.
Export Roundcube Address Book Contacts Manually
Step 1. Log-in into Roundcube webmail
Step 2. On Roundcube, Click on Address Book option from the top screen
Step 3. Once Address Book opened then click on Export button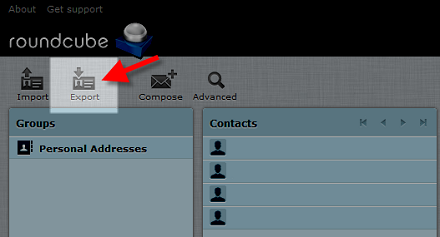 Step 4. Pop Up Window will open, select Save File then click OK.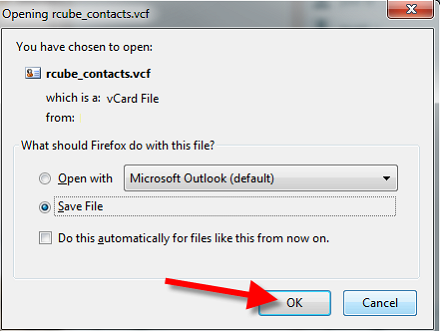 Now you have all emails and contacts now go for import these items into Microsoft Outlook.
Process to Import Roundcube Emails & Contacts to Outlook
Now we describe the complete process to import Roundcube mailbox and address book contacts into Microsoft Outlook. Manual methods for each process (Mailbox and Address Book).
Approach 1: Import Converted PST File to MS Outlook
Step 1. Open MS Outlook (2013 or 2016). Select File option
Step 2. In opened screen click on Open & Export option then choose Import/Export
Step 3. Select Import from another program or file then clicks on Next button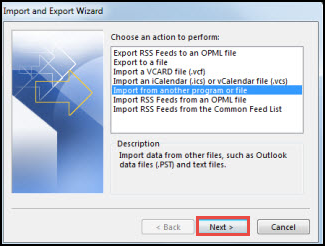 Step 4. Click on Browse button to open converted Roundcube mailbox in .pst extension then click on Next tab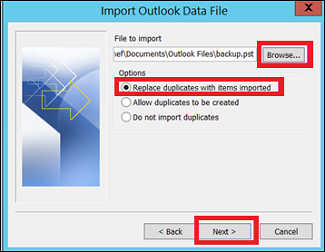 Step 5. In next wizard click Finish and start working with Microsoft Outlook.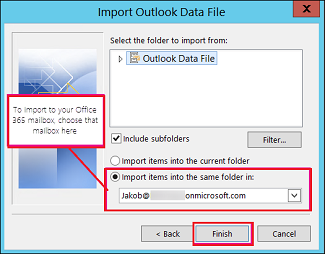 Approach 2: Import Roundcube Address Book to Outlook
Step 1. Open MS Outlook and select File > Import and Export
Step 2. Selected Import a vCard file (.vcf) option then click on Next button
Step 3. Navigate and select the location of the .vcf or vCard file, click Open
Step 4. Click on your contacts in the left navigation panel. Your new vCard should be available and visible.
Now you have completed the process to migrate Roundcube to Outlook with complete mailbox and address book contacts.
Conclusion
In this article, we have enclosed all manual methods to convert Roundcube to Outlook with single emails, complete mailbox, and address book contacts. Now a user discovers the simplified techniques to migrate Roundcube to Outlook by multiple approaches. Try it yourself and explore more challenges!