Outlook
Learn How Recover Data from Corrupt PST File Here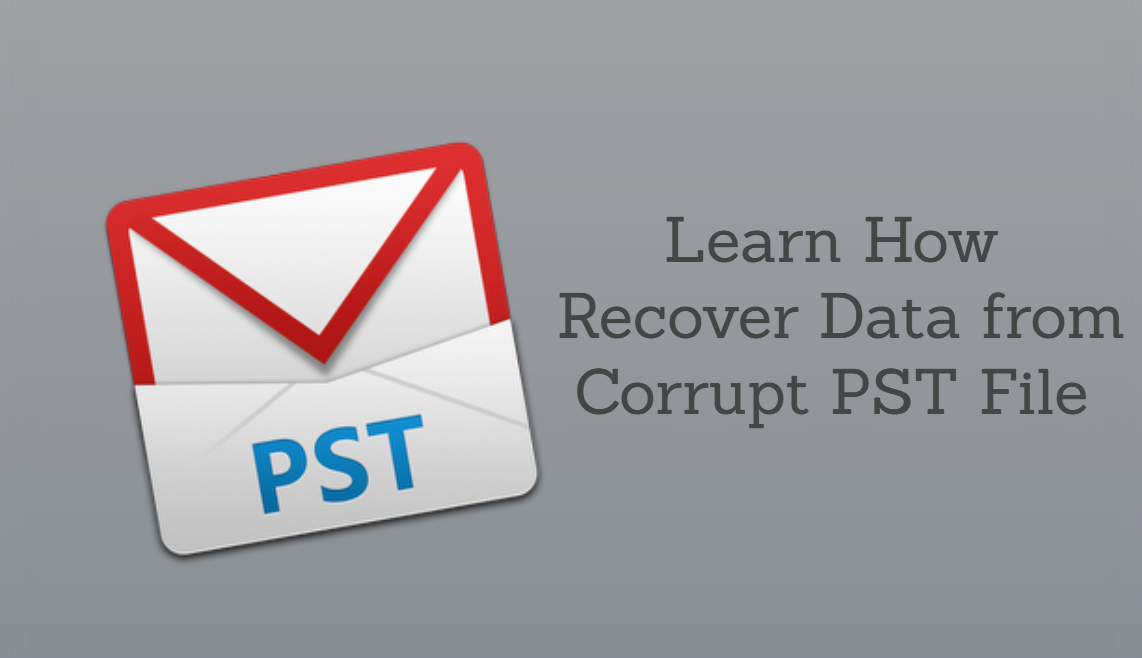 When you use Microsoft Outlook for emailing, the application uses a personal storage table (.PST) file to save a copy of your emails, contacts, calendar items, and other data. However, if this PST file gets corrupt, you will not be able to access your data.
There are a number of reasons why a PST file could get corrupt, such as virus infection, program crash, power outage, etc. Fortunately, there are some methods that you can use to recover data from a corrupt PST file.
In this article, we will show you how to recover data from corrupt PST file. So Keep reading to find out how! But before this let's find out the reason for the Outlook data corruption so that in the future you can avoid data loss due to the corruption of Outlook PST File.
Reason for Outlook Data File Corruption
There are several reasons why an Outlook Data File (PST file) can become corrupt. Some common causes of corruption include:
Sudden Power Loss: If a computer loses power while Outlook is open and a PST file is being accessed, the file can become corrupt.
Over-Sized PST: When PST file size reaches its limit (around 2 GB for older versions of Outlook and around 50 GB for the newest versions), it will start to become unstable and may get corrupted.
Improper Shutdown of Outlook: If Outlook is closed improperly, for example by using the Task Manager or shutting down the computer without first properly closing Outlook, it can cause the PST file to become corrupt.
Virus or Malware: If a computer is infected with a virus or malware, it can corrupt files on the hard drive, including PST files.
Hard Drive Issues: If a hard drive is failing or has bad sectors, it can cause files to become corrupt.
Network Issues: When a PST file is stored on a network drive and network connectivity is lost while Outlook is accessing the file, it can cause the file to become corrupt.
Human Error: Accidentally deleting or moving a PST file can cause it to become corrupt.
Software bugs or errors: Bugs or errors during an update, upgrade, or patching of the Outlook program can lead to data file corruption.
It is not one but a combination of factors that can cause PST file corruption, it is important to be aware of these potential issues and to take steps to prevent them, such as regularly backing up PST files, running virus and malware scans, and properly shutting down Outlook before shutting down the computer.
Prime Solution to Recover Data From Corrupt PST File
Here in this section, we are going to elaborate you the instant and reliable solution to restore data from corrupted PST files. You can try Outlook Repair Software, it is a software tool designed to recover lost or deleted data from Microsoft Outlook. It can recover emails, contacts, calendar items, tasks, notes, and journals from corrupt or damaged PST files. The software supports both ANSI and Unicode PST files, which means it can work with PST files created in any version of Outlook.
The software is easy to use and provides a simple interface for users to navigate. It can recover data from password-protected and encrypted PST files. The software also includes an option to split large PST files into smaller ones, which can help to prevent future corruption.
The software also allows users to export the recovered data to various formats such as PST, MSG, EML, RTF, PDF, HTML, and vCard. It also allows users to preview the recovered data and recover selective data from the corrupt PST file.
It is a popular tool among the user that works on both Windows and Mac systems and supports the latest versions of Outlook including Outlook 2019 and 2016.
Working on the Tool
1. First, install the software and launch it
2. Select the corrupt PST and click on Add Files to add a file.
3. Preview the data before proceeding with the recovery process
4. Now, select the Advance Scan process to start the scanning process.
5. Once the scanning is completed you can see the recovered data in Red color.
6. Select the data that needs to be recovered.
7. Choose a saving format like PST.
8. After all the settings are done click on the Export button to complete the task.
Free Way to Recover Data From Corrupt PST File
Scanpst which is also known as Inbox Repair Tool is a utility included with Microsoft Outlook. This utility can be used to repair and recover data from a corrupted PST file. The tool scans the PST file and attempts to identify and fix any errors that may be causing the file to become corrupt.
So here in this section, we are going to explain to you the step-by-step procedure to use the scanpst and recover data from corrupt PST file.
Note: Locate the Scanpst.exe file on your computer. The location of the file can vary depending on your version of Outlook and your operating system. On Windows computers, it's usually located in the following folder: C:\Program Files (x86)\Microsoft Office\root\Office16 (replace Office16 with your version)
1. Double-click the Scanpst.exe file to launch the Inbox Repair Tool.
2. Click the Browse button and navigate to the location of the PST file that you want to repair.
3. Select the PST file and click the Open button.
4. Click the Start button to begin the scan.
5. When the scan is complete, the tool will display a message indicating whether errors were found and whether they were able to be repaired.
Note: If the tool was able to repair the PST file, you will see a message asking if you want to make a backup of the repaired file. It is highly recommended to make a backup copy of the file before you continue.
6. After this click on the Repair button to repair the Outlook PST file and recover data.
Conclusion
It's important to remember that when a PST file is corrupted, there is no guarantee that all data can be recovered, using the manual method. But automated tools can increase the chances of a successful recovery. And in the above blog post we have introduced one such tool to recover data from corrupt PST file so try the demo version of the tool without any cost.