Outlook
Outlook 2016 Randomly Crashes When Composing Email [Solved]
Admin
| Modified: 2020-04-03T16:42:05+05:30 | 4 Minutes Reading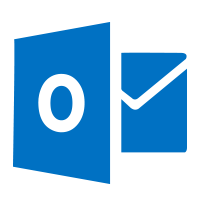 Microsoft Outlook has obviously enabled business communication easy. The famous email client served not only Windows users but other popular operating systems, such as Apple's Mac OS (named Outlook for Mac). Outlook 2016 randomly crashes when composing a new email is a common error.
But the same with Microsoft Outlook, as the reverse of the coin, is not always shining. Although there are many problems with Outlook due to sudden shock, many users face the problem on a daily basis.
It is a hot topic on the Internet that Outlook 2016 crashes happen randomly while composing an email. And while most Outlook freeze issues cause an application crash, the exact reason that explains why it happens is still a mystery.
For this reason, this article explored a number of solutions and compiled a number of ways to ensure the immediate resolution of the problem.
Solution 1: Create a New Microsoft Outlook Profile
As you know, you cannot use Outlook without a user profile. For many unknown reasons behind the Outlook 2016 randomly crashes cause, you can try reconstructing your Outlook profile to fix the error. Here's how to create a new Microsoft Outlook profile:
1. First, Open Microsoft Outlook 2016
2. Go to File -> Account Settings -> Manage Profiles

3. In a Dialog Box, Click on Show Profiles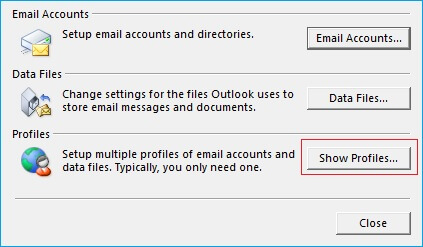 4. Next, follow the steps carefully, click on Add (1), Enter a Name (2) in Profile Name Text Field, click OK (3), again click OK (4)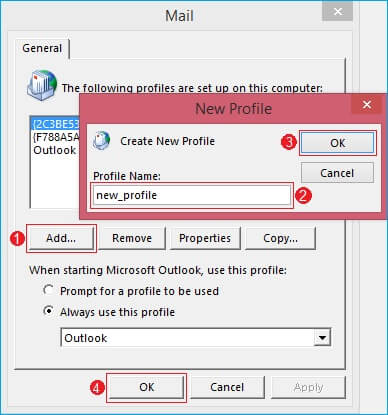 5. After performing the above steps, Close and Restart Outlook then check.
Solution 2: Fix Outlook Randomly Crashes – Send / Receive Settings
The random crash could be caused by a problem with the configuration file (.srs) of the sending / receiving function. In this case, Outlook crashes using a send / receive function.
In this case, the problem could be solved by deleting the SRS configuration file, but deleting the file is not the best option if you made any customizations in the file, you need to make the same changes again.
Therefore, instead of deleting the SRS file, rename it. Give the accident time to resolve the problem or troubleshoot.
Note: Give the SRS file an arbitrary name. You do not need to specify anything.
To delete or rename a send / receive settings file, go to the file folder. Below are the file settings for different versions of Windows:
Windows XP: C:\Documents and Settings\username\Application Data\Microsoft\Outlook
Windows 7 & Vista: C:\Users\username\AppData\Roaming\Microsoft\Outlook
Windows 8, 8.1, 10: C:\Users\username\AppData\Roaming\Microsoft\Outlook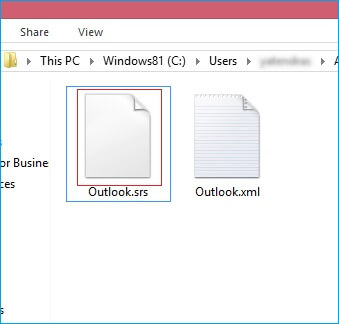 You can enter the location / path of the folder above in the RUN bar (press Win + R key).
Note: The AppData folder is hidden, so click the View tab in the Explorer menu bar and turn on the Hidden Folder option.
If you delete the SRS file, you do not have to panic. Outlook automatically creates another file with default settings.
Solution 3: Fix mspst32.dll for Outlook 2016 Randomly Crashes Issue
The mspst32.dll file refers to the incident or error log and indicates any PST files that may be corrupted.
To solve the PST file corruption problem natively, you can use built-in utility. Using SCANPST can also categorize problems when scanning files (although a complete solution is not guaranteed).
However, if the SCANPST utility fails and stops working halfway, make sure the file mspst32.dll is not in the following way:
C:\WINDOWS\system32\mspst32.dll
If you find the file in the navigation folder above, rename the file to .old or delete it.
If Microsoft Outlook does not start properly, in such cases you can refer to the mspst32.dll file located in the same directory as scanpst.exe. Again, rename the file to .old or delete the file.
Outlook starts the repair process at startup and recreates the file in the last place of the version of Outlook running on the system.
When Outlook is used, issues and issue tracking don't stop, random issues and error messages occur such as not seeing an old email like Outlook 2016. Very difficult. Even if you decide to find a reason, spend a lot of time in hell.
In these cases, the best option is to use a specialized tool instead of choosing a native way to solve the problem. Outlook PST Recovery is an advanced tool for repairing Outlook PST file and successfully recovering data with unlimited file size. This Outlook PST recovery tool provides not only repair but also multi-platform email migration that supports a wide variety of different versions of the Windows operating system.
Conclusion
It is not clear if native methods can help solve the problem, but a specialized tool in the same place is better than all native methods. Outlook PST Recovery can fix issues related to corrupted or corrupted Outlook PST files.