Lotus Notes
,
Outlook
How to Read NSF Files in Outlook 2019, 2016, 2013, 2010, 2007?
Email migration has grown to be quite common nowadays. Organizations are switching from costly and complex Lotus Notes to an overall better email client such as Outlook. This gives rise to a query: How to read NSF files in Outlook. The article focuses on the entirety of such an issue and provides relevant answers. Read the complete article to open NSF files in Outlook easily.
Introduction: Lotus Notes is a highly secure email client used in multiple organizations. Recently, a new and improved Lotus Notes 10 has been released which incorporates further features to enhance data security. However, it lacks some basic user necessities when compared to other cost-effective applications such as MS Outlook. Working on Lotus Notes is too complicated and a new user cannot get started on it right away. It saves its data in NSF format.
MS Outlook, on the other hand, is the spearhead of email clients – the most popular among individuals and organizations alike. It is largely due to its easy-to-use interface and powerful data management capabilities but affordability. Outlook saves its data in PST format.
Some Related Queries:

How to Open NSF file in Outlook?
Can Outlook open NSF file?
Can Outlook read NSF files?
How to Read .nsf files in Outlook?
Can I open .nsf file in Outlook?
Open Lotus Notes NSF file in Outlook?
How to open NSF files without Lotus Notes?

Why the Need to Open and View NSF files in Outlook?
When an organization decides to undergo Lotus Notes to Outlook migration, it automatically generates the need for opening NSF files in Outlook. Because NSF files are the sole mailbox storage format of IBM Lotus Notes. Thus in order to perform the data migration easily, it is required to move the NSF files in Outlook first.
Some common reasons that require users to read NSF file in Outlook are:
MS Outlook has a user-friendly interface that is unique to the user's needs.
Outlook offers better data management capabilities on an overall basis.
Outlook allows opening email data in smart devices like phones and tabs.
Lotus Notes has a slow system connection compared to MS Outlook.
In terms of price, Lotus Notes is very costly to purchase and maintain.
How to Read .nsf Files in Outlook?
As per the web, there are two methods that can help readers view the Lotus Notes NSF data in MS Outlook. Find them below:
Manual Method using native Import/Export options of IBM Notes and Outlook.
Using a Lotus Notes NSF to Outlook conversion tool. Go to
First, we will be explaining the manual method. Make sure to keep a copy of NSF files as a backup in case of emergencies. There are chances of corruption, and losing the data is not advisable. The manual process has two phases:
Exporting the Lotus Notes NSF data
Importing NSF data in Outlook
Find both the phases in detail below:
First Phase
Start by launching Lotus Notes and opening the required NSF file database first. Once it's done, follow the given steps:
Click on the File menu and select the Export option. A new dialog box will appear.
Select Comma Separated Value as the saving option (supported by MS Outlook).
Provide additional details in the CSV Export dialog box and proceed with the instructions to read the NSF file in Outlook by selecting the OK button.
Finish the export process by clicking the Export button.
The files in CSV format will be present in the saved location. The next phase will import these files into MS Outlook application.
Second Phase
Start by closing Lotus Notes and opening Outlook email client. Now, follow the given steps to proceed with reading NSF file in Outlook:
Go to the File menu and click on the Open & Export option followed by Import/Export.
Choose Import from another program or file option and hit the Next button to proceed.
Select the format you previously exported data into, i.e., Comma Separated Values (Windows).
Browse the location where the Lotus Notes exported files are saved and hit the Next button.
Proceed with the process and click on the Finish button at the end.
The CSV data will be imported into Outlook, and as everyone on the web says, you should be able to read NSF files in Outlook.
Important Note: After the careful implementation of this procedure in our lab, we found many issues that defame the entire manual method on the web. Here we will explain them individually:
#Issue 1: The exported file has no extension which hinders the import option in MS Outlook
When trying to import the exported Lotus Notes file in MS Outlook, the application cannot locate the Notes file. This is because the exported file has no extension attached to it.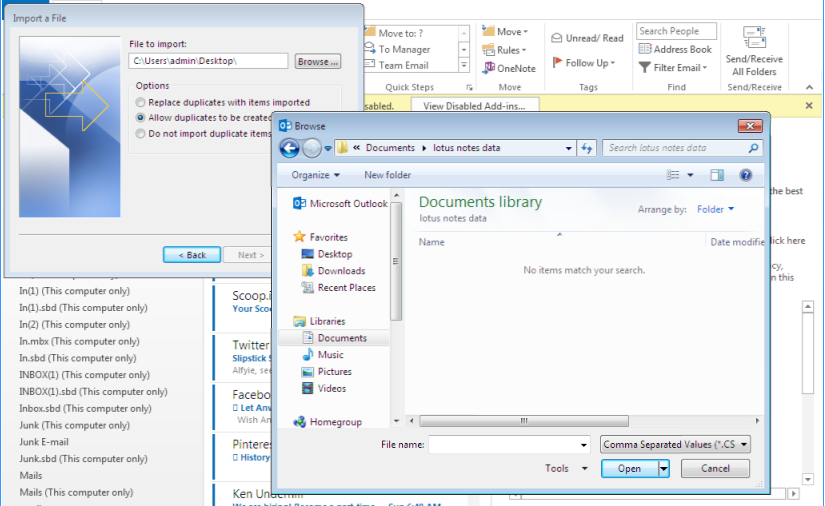 #Issue 2: Problems in Mapping of CSV files after renaming the extension
The common notion to overcome the previous error is by renaming the extension of exported notes file into .csv.

But even after doing that, there will be problems while mapping the values during Outlook Import function. Several texts in the message body appearing as "***" signifies the compromise in the formatting of emails.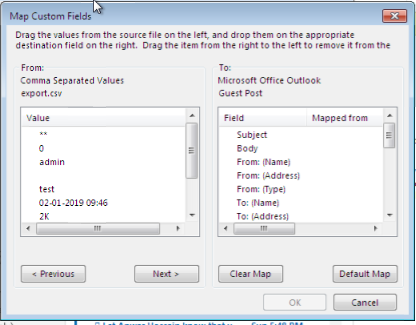 #Issue 3: Loss of Data Integrity and Email Attributes
Even the mapping of items is done and the file's data is imported successfully, the result will be several emails missing headers, formatting issues, and broken images.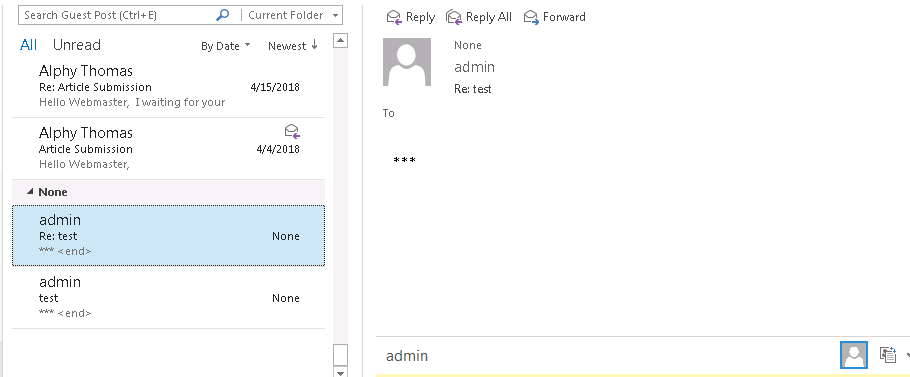 The reason all these issues are appearing is that CSV files are used for contacts and reports, and not for storing hundreds of emails. Other than this, the process is a monotonous one, as only one account data can be moved at a time.
To overcome such issues, the use of a third-party software application is required. It will allow users to read NSF files in Outlook in bulk without the formatting and missing attributes issue.
Trustworthy Conversion Tool to View NSF files in Outlook
It is clear that the above-defined process is a complex one and involves many issues. It is also not feasible to export bulk emails from Lotus Notes into the readable format of MS Outlook application. Thus, in order to ensure data integrity and save both user's time and effort, it is recommended to use NSF to PST Converter. This automated conversion tool can convert all the Lotus Notes NSF database files into PST format. Then, simply open this PST file in Outlook application. This allows users to know how to read NSF files in Outlook 2019, 2016, 2013, 2010, 2007, 2003. The tool ensures data safety and integrity and prevents any kind of data loss from occurring.
Some features that are quite helpful to users:
Ability to export both the NSF file and names.nsf file.
Capable of migrating emails, contacts, calendars, tasks & journals at once
Can also export selected mailbox items/folders from Lotus Notes NSF file
Provide filter options for each item i.e., mails, calendars, tasks, etc.
Allows opening encrypted NSF files in Outlook as well.
Supports NSF data file of Lotus Notes 10, 9, 8.5, 8,0, 7 & 6.
Read NSF file in Outlook & migrate Lotus Notes to Exchange, Office 365.
Purchase Now
The demo version of the software can be downloaded absolutely free. It will allow users to experience the functioning and results of the tool up close.
Final Words
Switching from Lotus Notes to a cheaper yet better email client i.e., Outlook is a complex procedure. This is because of the advertised manual method, which has a lot of issues while trying to open NSF files in Outlook. We summarized those issues with proper screenshots and followed up with an alternative tool. This automated software solution allows users to read NSF file in Outlook while preventing loss of data and email attributes. It will not only save valuable time for users but also provide them with a powerful and fast conversion tool.