Apple Mail
,
Backup
,
Email
,
Yahoo Mail
[Solved Thread] How to Move Yahoo Mail Folder to Desktop on Mac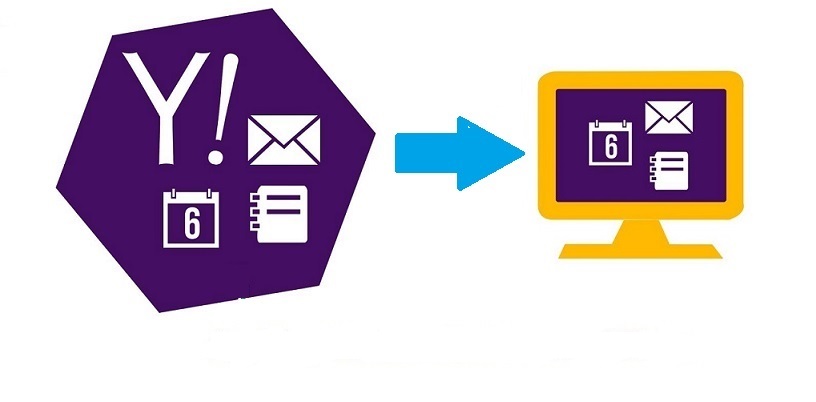 In the article below we will be learning how to move Yahoo mail folder to desktop on Mac OS. Different methods are provided to export Yahoo emails to Mac hard drive successfully. You can go through each process and try the best which fits you the best.
Yahoo mail is a widely used mail client across the world. And you know, at present, Yahoo mail is having a lot of issues regarding the mail management. Yahoo is trying its best to work out all the email issues. When the Server Outage strikes Yahoo, they shut down for a time period and this creates trouble for many Yahoo mail users.
Either you have come here with the above-stated reason or any other, it doesn't matter. But you will have your results from the below sections. It's a belief by my side. So let's move down and check out how to move Yahoo mail folder to desktop on Mac.
How Do I Export Yahoo Emails to Mac Hard Drive?
In the Mac system, not all process work and you may be familiar that not all applications work on the Mac system. So keeping this in the note, we are here providing you the efficient solutions to transfer Yahoo mail folders to Mac. Go through each for your good.
1. Freeviewer Mac Yahoo Backup Software
2. Configure Yahoo Mail to Apple Mail
Each one is discussed in detail in the upcoming sections.
Method 1# Mac Yahoo Backup Software
The application is exclusively designed to work on the Mac platform. You can easily download and install the application on your system. Afterward, perform a simple process to move / export Yahoo email folders to the local system or a flash drive connected on Mac. There are many functions provided which makes our backup more efficient and easy. You can find the features in the section below. The downside is the process displayed to transfer Yahoo mail folders to Mac.
Simple Steps to Export Yahoo Emails to Mac
Step 1: Download and Run Mac Yahoo email Export Wizard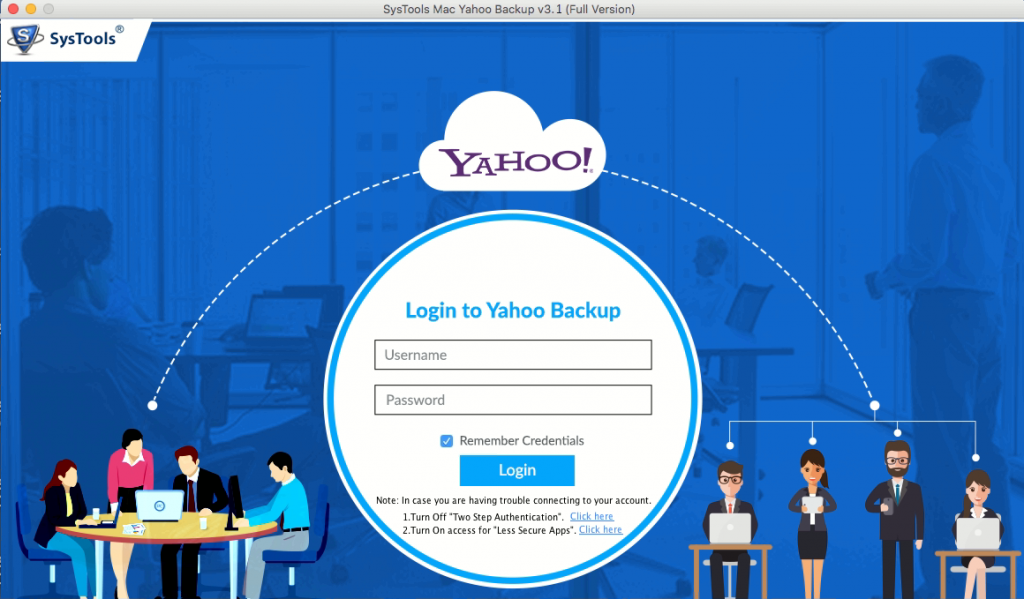 Step 2: Login with Yahoo account (personal/ business mail account)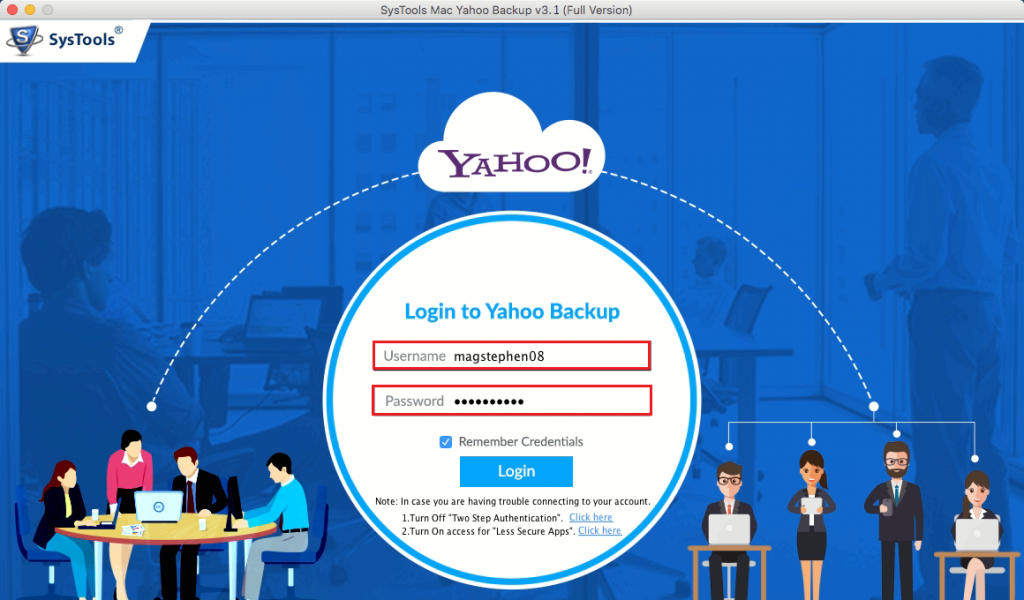 Step 3: Select file format (PST/ EML/ EMLX/ MBOX/ MSG)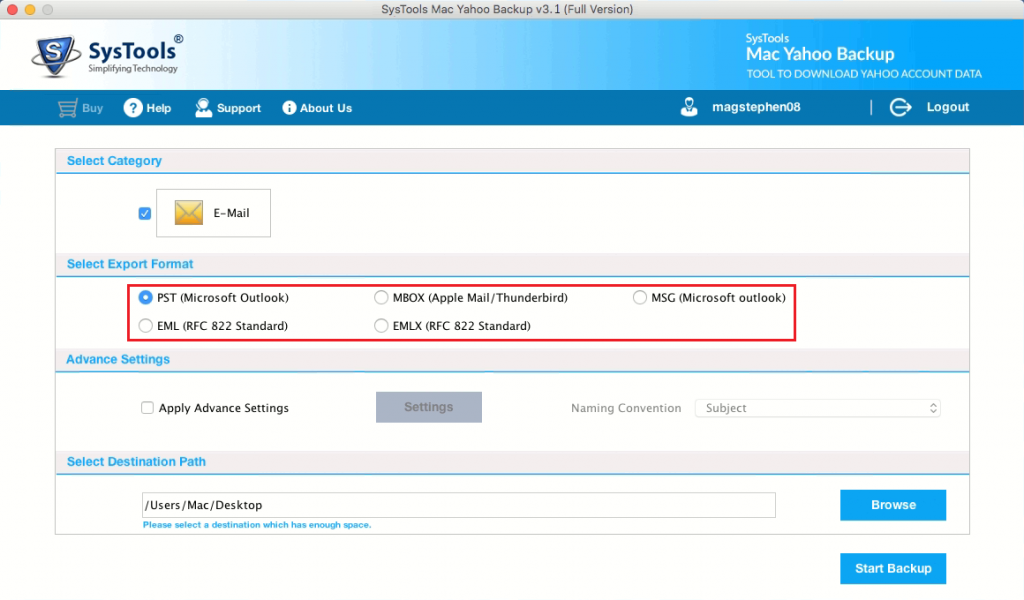 Step 4: Click on Browse and select a file saving location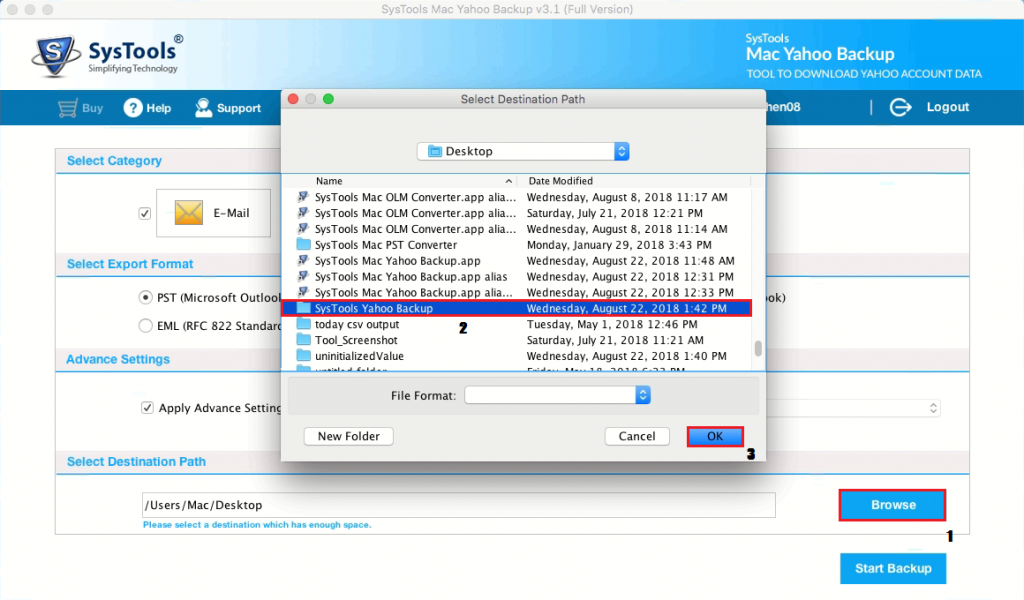 Step 5: Click on Start Backup option to export Yahoo emails on mac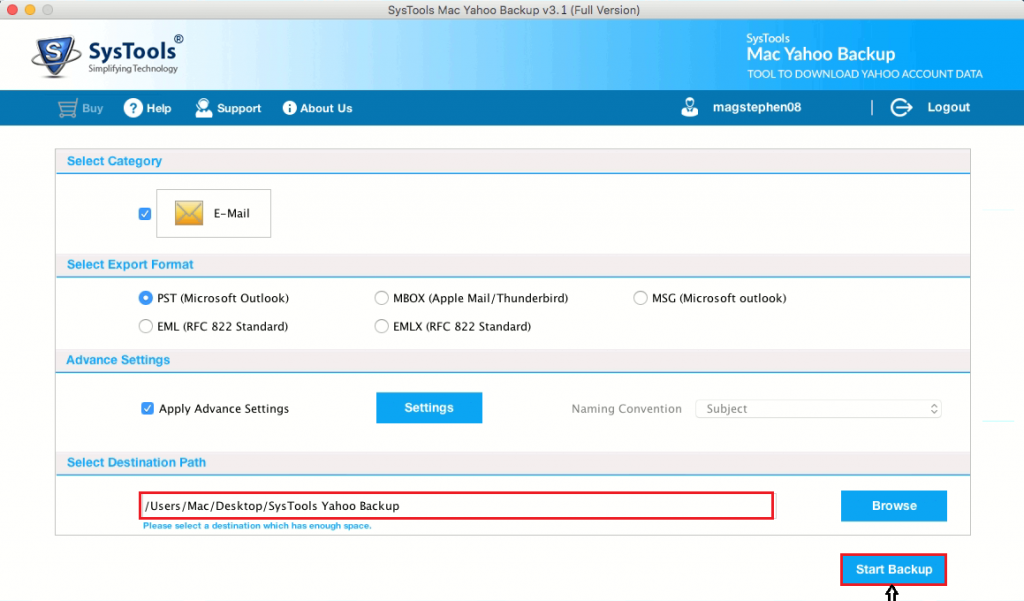 There is an advanced setting that includes multiple features to save Yahoo emails in a different (efficient) manner. Check out the features downside.
Multiple Facilities to Export Yahoo Emails to Mac
The Mac Yahoo email download application has various options for efficient mail backup. Some among them are described below:
Emails Filtering Option:
The utility has the option to filter emails from the whole email account. This helps to save time and the required emails are downloaded on the Mac system.
Archive Yahoo Emails to Local Hard Drive:
This option helps you download a copy of your Yahoo emails on the local hard drive. Afterward, it will remove the emails exported to hard drive from the yahoo account and permanently delete it from the Yahoo mail server. This is helpful for users who want to free account storage and safeguard important emails at the local end.
Include/ Exclude Folder:
You have the option to select email folders for exporting Yahoo emails on the Mac system. The folders included in the text are only taken up for the email download process. You can use the Include Folder option to select email folders for the selective email export. One important feature is the exclude functionality. You have the option to remove the Sent and Deleted Items Folder from the export process.
Multiple Email formats Backup Available:
This Mac Yahoo Email backup tool offers to export Yahoo emails in 5 different file formats. This is rarely seen in any application. You can copy your Yahoo mail data in Outlook PST/ MSG, Apple Mail EMLX, Thunderbird EML, MBOX formats.
Manage Direct Yahoo Mail Backup to Mac:
The Wizard offers the option to manage the live backup of data with Pause and Resume options. The Pause button will discontinue the backup process, while the Resume button will restore the process. These options are available to manage the interruptions held during the backup.
There are some features of the application. Now we move to the next process of transferring Yahoo mail folders to Mac.
Method 2# How to Move Yahoo Mail Folder to Desktop on Mac Manually?
In the next technique of Yahoo mail download to Mac hard drive, you need to have Apple Mail installed and configured in your Mac machine. I assume this pre-requisite is held by your side. With this belief, let us start the process to export Yahoo email to Mac hard drive.
In here, you have to configure your Yahoo mail on Apple Mail. Once this is completed, you can easily download the Yahoo mail data on Mac drive in EMLX and MBOX format. Move down to know the process of adding Yahoo mail in Apple Mail.
Procedure to Configure Yahoo Mail in Apple Mail
Click on Mail and then select Preferences option
Move to the Accounts tab and click on '+' sign
In the Description box, enter Yahoo.
In the Email Address box, enter Yahoo email address. Then, enter your Full Name
Provide the following details:
Incoming Mail Server: imap.mail.yahoo.com
User Name: Yahoo mail Email Address
Password: Yahoo account password
Click on the Advanced tab. Enter 993 beside the Port box
Close the window and click on Save option on the pop-up screen
This will complete the configuration of the Yahoo mail setup on Apple Mail. Now you can easily save the emails from the Apple Mail on the Mac hard drive.
Wrapping It All Together!!
In the article above, you will learn procedures on how to move Yahoo mail folder to desktop on Mac. There are multiple processes provided. You can have each tested and take the best solution to transfer Yahoo mail folders to Mac.
Common User Queries
How to Transfer Emails from Yahoo Mail to Mac?
Steps to Transfer Yahoo Emails to Mac
Step 1: Run Mac Yahoo Backup Tool
Step 2: Login with Yahoo account
Step 3: Select emails format
Step 4: Browse location
Step 5: Start the process to transfer Yahoo emails to Mac