Consumer Tutorial
How to Get AOL Email in Gmail Account – Get Fortunate Methods to Resolve
Admin
| Modified: 2020-09-15T16:42:10+05:30 | 4 Minutes Reading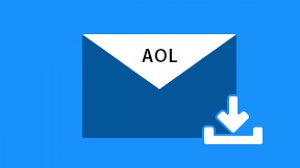 These days, Gmail is popularly used email application. So, AOL users start searching an immediate way for how to get AOL email in Gmail account. Today, we consider this issue and come up with the multiple solutions to forward AOL Mail to G Suite within few clicks.
Read the complete article to understand this topic more clearly.
How to Get AOL Email in Gmail Account on Windows OS?
Here in this section, we will reveal a competent way to add AOL to Gmail. You must follow all instructions sequentially to get the preferred results. Let's start:
Step 1: First, you must copy all the messages you need to import from the AOL sent mail and spam folders to the desired folder.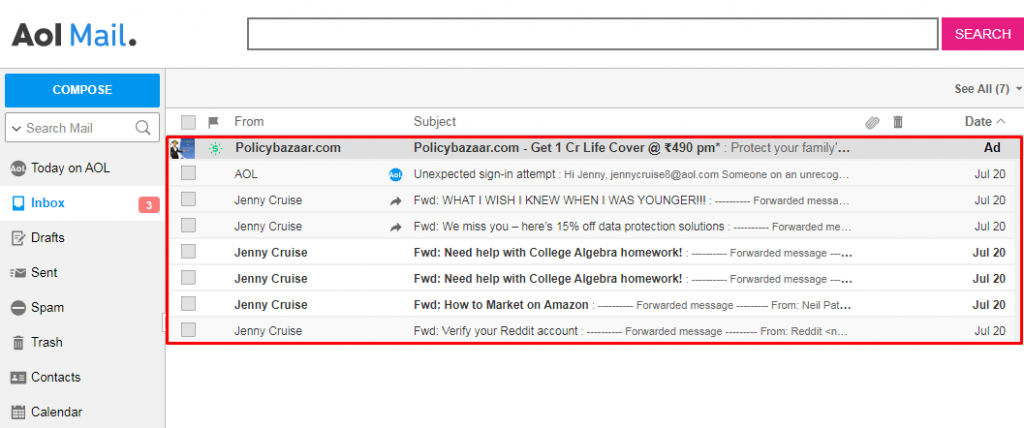 Step 2: Now, log in to your Gmail account and click on the Settings gear in the upper left corner. Then choose the See all settings option.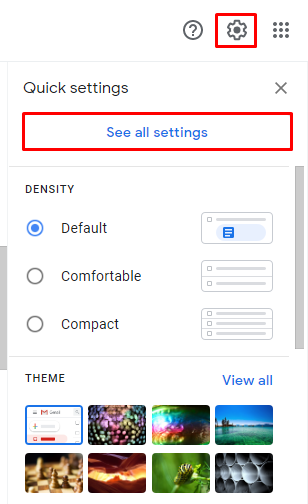 Step 4: Choose the Accounts and Import tab to continue.

Step 5: After that, choose the Import email and contacts option. If you have imported mail, choose Import from another address.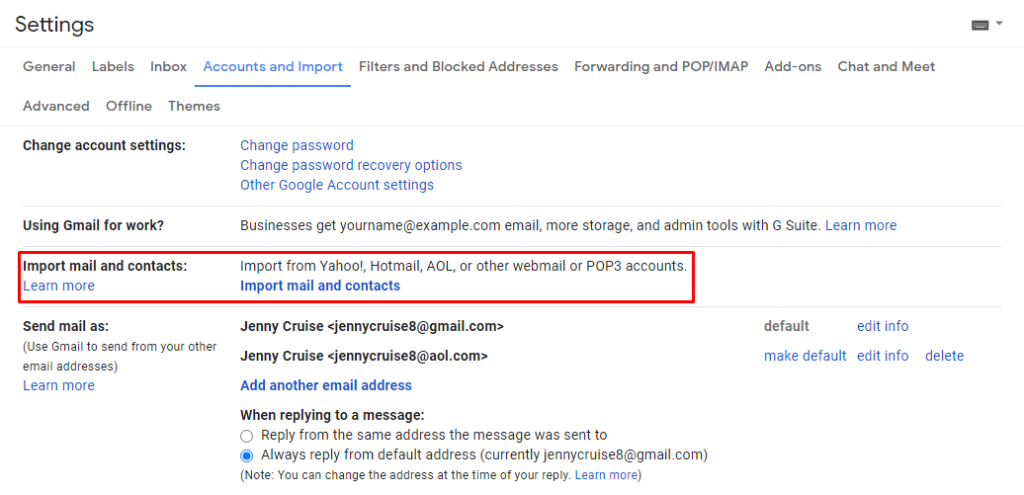 Step 6: Then, the Import dialog box will open. Under What account do you want to import from?, you must add your AOL email address. Click Continue.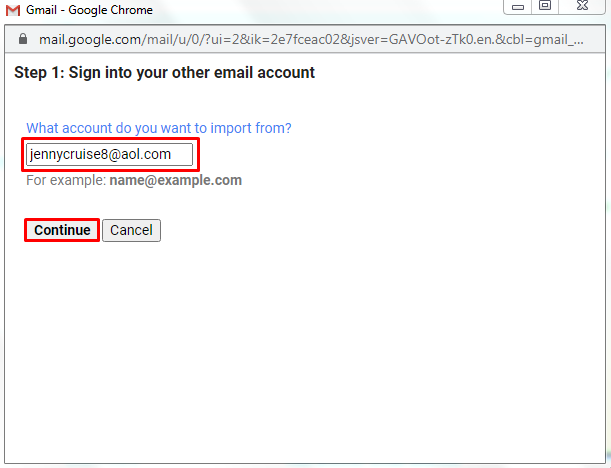 Step 8: Now, add your AOL email password in the Enter password section. Click on the Continue button.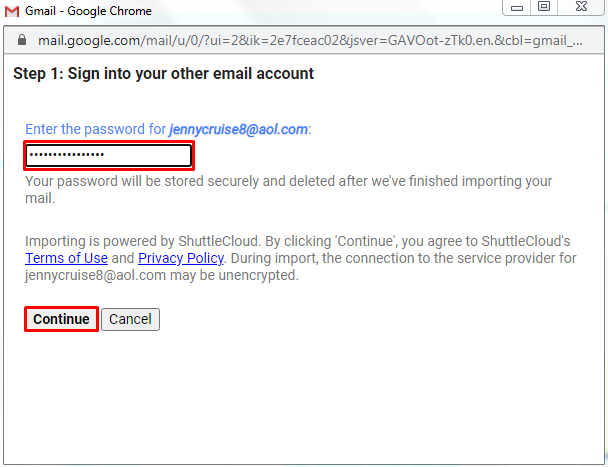 Step 10: Make sure you have selected Make sure Import contacts and Import mail. For, the messages you receive in your AOL account will be automatically copied to the Gmail inbox. Choose to Start Import.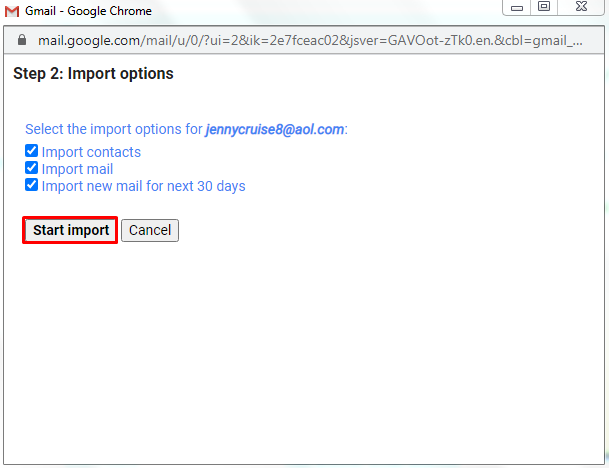 Step 11: Lastly, click the OK button when AOL to Gmail migration completes successfully.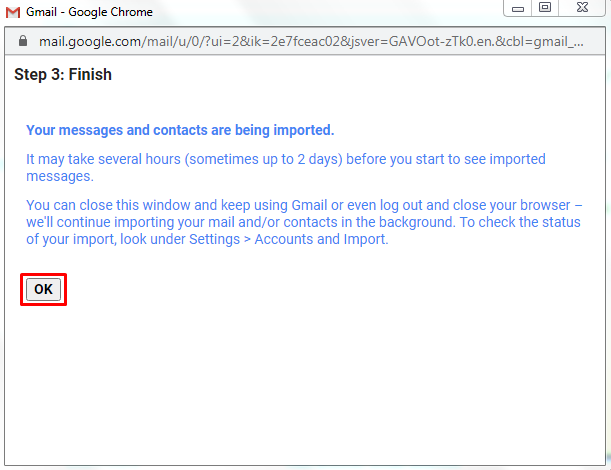 What's Next?
What happens if above mentioned free solution to get AOL email in Gmail account fails? We can imagine the situation. Therefore we consider this and present an alternative technique to forward AOL Mail to G Suite.
Here, in the next section, we will discuss an efficient method to add AOL to Gmail. Let's take a quick look:
An Efficient Method to Get AOL Email in Gmail Account
To save the AOL email in the G Suite account, it is divided into two steps. Therefore, you must follow both of them to complete the AOL to Gmail migration process. Let us begin:
#Step 1: Get AOL Emails to PST Format
Use AOL Backup Tool to import emails from AOL to G Suite. Follow these simple steps to implement AOL emails to PST format saving process.
1. Install and run the fortunate tool on your system.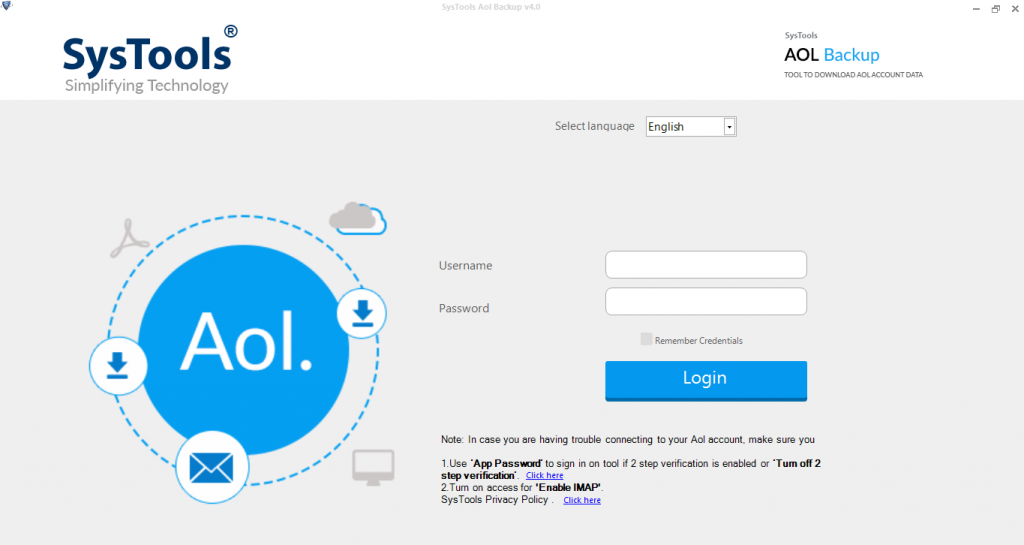 2. Now, add credentials and login to AOL account.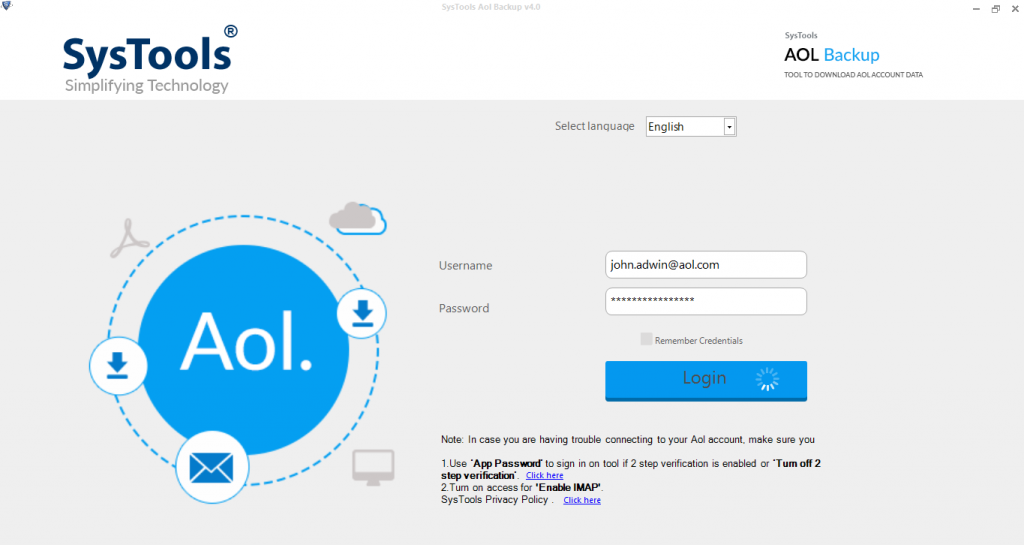 3. Then, choose the PST format and browse destination location.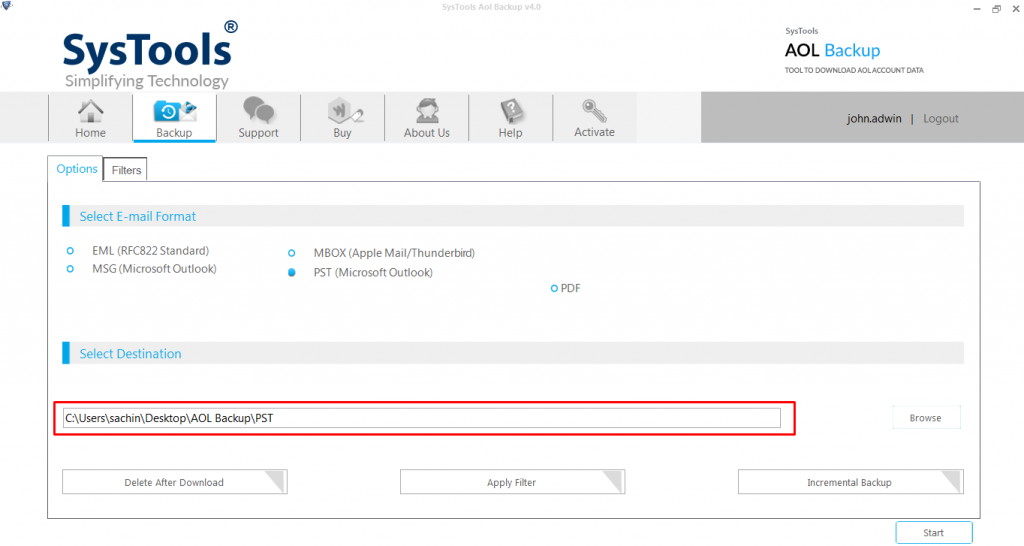 4. Select Apply filter option to sort out selected emails.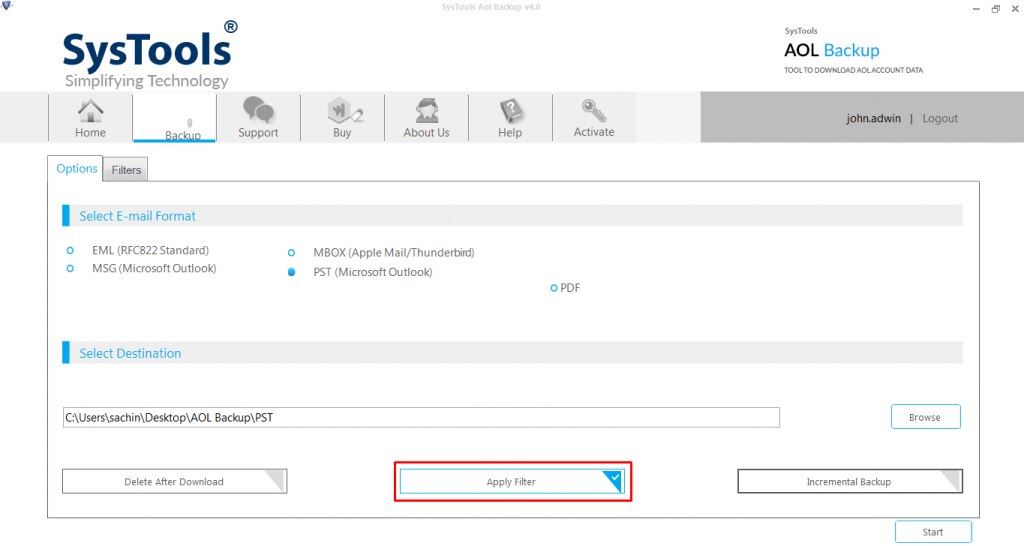 5. Click on the Start button to begin save AOL mail process.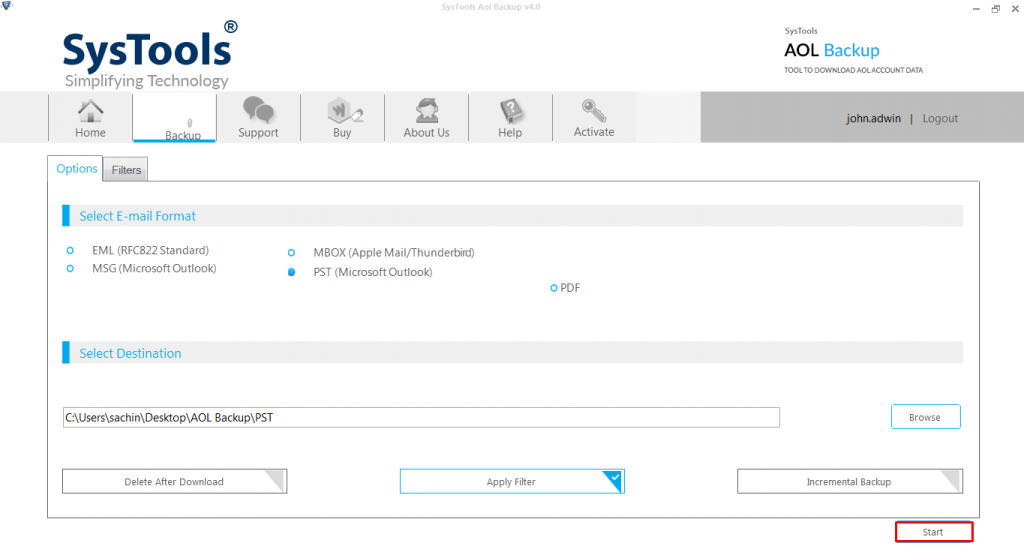 6. Lastly, export procedure is completed successfully.

#Step 2: Import Resultant PST File to Gmail
After exporting AOL mail as PST file format. Now is the time to import that resulting PST file into Gmail to get AOL email in Gmail account. Therefore, please follow the steps listed below to execute the procedure to successfully forward AOL Mail to G Suite.
Step 1: First, you need to install the GSSMO tool on your local system through its official website.
Step 2: Run the Gmail migration app for MS Outlook to continue.
Step 3: Now, enter your G Suite email account ID and password and press the Continue button.
Step 4: Opt Gmail user account into which you require to get PST file.
Step 5: Then press Allow to grant permission to the tool for the forwarding process.
Step 6: Highlight the From PST file … option and choose the Outlook data file to transfer. After that, click on the Next button.
Step 7: You can also customize the transfer process to your liking. Then click the Migrate button and select Outlook Contacts, Emails and Calendar to add AOL to Gmail.
Step 8: Here, the app will display a full continuous progress report.
Step 9: Once the transfer process is complete, a pop-up message appears on your screen. Press the OK button.
Step 10: Lastly, open the Gmail account and verify that all PST elements are transferred correctly to verify the above process.
After performing the above mentioned method, you can get rid of transfer emails from AOL to Gmail account.
Final Words
AOL Mail is a good email application, but we can't deny that Gmail is much better than that. Due to Gmail's enhanced functionality, users try to get AOL email in Gmail account. Therefore, 'how to export AOL mail to Gmail account' becomes the most frequent queries these days.
So, up in this article, we have discussed the main methods to transfer and import emails from AOL to G Suite without any problems. Therefore, choose any of AOL to Gmail migration method according to your needs.