Windows Live Mail
How to Fix Common Windows Live Mail Errors? Get Best Solutions
Admin
| Modified: 2020-01-30T12:38:13+05:30 | 4 Minutes Reading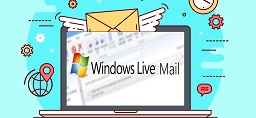 This technical guide describes some of the common Windows Live Mail errors and the solutions to fix them. WLM is an email request provided by Microsoft for internal and external communications. It also allows users to manage their daily tasks. However, these desktop applications are always error-based. If an error occurs, it differs from other apps.
The majority of users report multiple errors when working with Windows Live Mail. This article contains a list of error codes that may occur with WLM. This guide highlighted some of the common errors that occur with Windows Live Mail, including effective solutions on how to fix Windows Live Mail errors.

Error 1: 0x8007007A-When an Email is Sent
If you get a 0x8007007A error in Windows Live Mail, it means the email cannot send an email. This error occurs when a user tries to send media attachments from OneDrive. With SkyDrive, you can send pictures and albums, but with OneDrive you won't find this error code.
According to a new OneDrive update, you cannot send emails with attachments. The job is in the Outbox. However, there are some simple solutions that can solve this problem.
Solution to Fix Windows Live Mail Error 0x8007007A
There are different solutions to this problem, including:
Delete the Message Causing the Error Before Sending Another Message.
Just Delete and Reconfigure your Windows Live Email Account.
Send Photos / Images as Attachments.
Uncheck "Please Email from Photo Attachments".
Error 2: Windows Live Mail Error 3219 & 0x8DE00005
If a 3219 error occurs, it means that Windows Live Mail cannot connect to Hotmail / Outlook or an MSN server to get a job. This error occurs when WLM is configured to link and synchronize a post over a secure HTTPS connection. If your server is suddenly updated, Live Mail will not be able to synchronize via your email account.
Many users configure Windows accounts with IMAP or POP accounts, and these mail servers are updated regularly. Therefore, each time a new update comes, WLM will not be able to synchronize with the server.
How to Fix Windows Live Mail Error ID 3219?
The best solution to fix this error is to reconfigure your mail server with Windows Live Mail. Follow the steps below:
First of all, Windows Live Mail opened and go to your Account
Then click on the "+" icon with the sign @
Then Enter your Login Details
Then Select the Checkbox to Manually Configure Server Settings
Under Incoming Server Information, Select the Server Type
Then Enter the Server Address and Port Number in Address of Server
Then Check the SSL Part "Claim Secure Connection"
In the Outgoing Server Section, Enter the Server Address and Port Number in the Port Type Field
Here, Check SSL Secure Connection Link and Claim Authentication and Click Next to Complete the Process.
Error 3: WLM Does Not Work in Windows 10
After the end of Windows 7 support, many users switched to Windows 10. However, users who use Live Mail on Windows 10 complained that they could not access their WLM account. This is mainly because Microsoft Windows Live Mail users are not required to use Microsoft Windows. Instead, we recommend that users transfer to Outlook or Office 365. That is why we developed Windows 10 according to future needs.
How to Fix Windows Mail Not Working?
A number of experiments were carried out to find the best solution to this problem.
You Must Run Windows Live Mail as an Administrator in Compatibility Mode.
Reconfigure your Windows Live Email Account.
You can Delete an Existing Live Mail Account and Create a New One.
Also, Reinstall Windows Essentials 2012 on Windows 10.
So, if you decide to use Windows Live Mail for a while. At least, you have to upgrade Outlook or change email clients completely. Get help from Windows Live Mail for errors you may encounter.
Conclusion
This section explains how to fix Windows Live Mail errors. The most common errors, including solutions, were described. Try these solutions to fix WLM issues. I hope it helps to solve the problem.