File Conversion
,
Outlook
Know How to Save Multiple Outlook Emails as Text Files?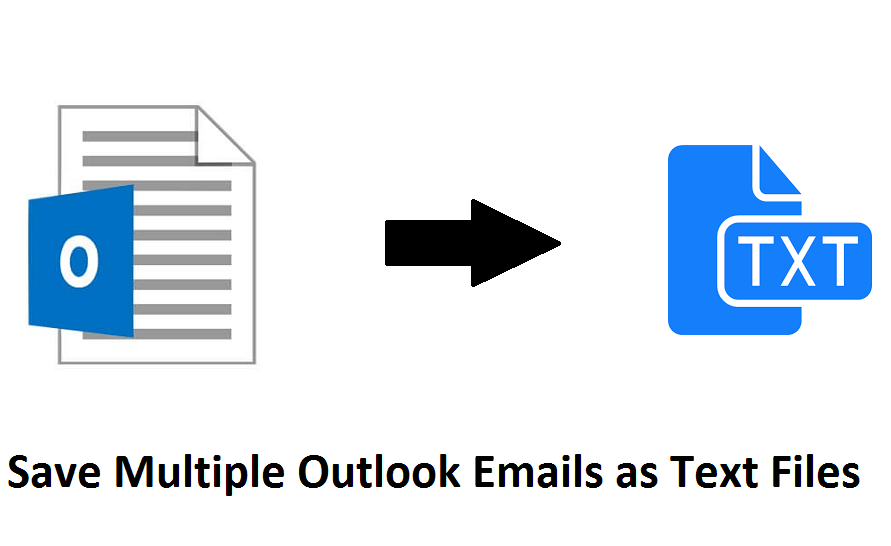 Do you need to save multiple Outlook emails as Text files? If yes, then you will get the perfect answer to your request here. This blog introduces the two methods that users can use to save emails as Text from Outlook. Keep reading and get a satisfied solution.
There are many situations when users need to access Outlook email without an Outlook application. However, this is not possible as you will only be able to access email if Outlook is install on the system. Hence, many users want to save their emails as TXT file format as plain text is one of the most reliable and portable file formats.
Once the Outlook emails are converted to TXT format, the file can be easily opened in any text editor such as Notepad, MS Word, etc. In addition, the text file is a platform-independent format so that users can easily view the file without any trouble.
Also Read: Top Solutions to Save Microsoft Outlook Emails to PDF File
Manually Save Multiple Outlook Emails as Text Files
Open Outlook and you need to select Bulk Outlook Email. To do this, you can either use the Ctrl key to select emails or the Shift key to select multiple emails.
After selecting the emails, click the File menu and click Save As to save multiple emails as text files.
Now select the desired location for saving the resulting TXT file, select the Plain text (*. TXT) option in the Save as type field and click the Save button.
Finally, you will see Outlook emails in a single text format file.
Do You Know?
The above manual techniques only help to save multiple emails in a single TXT file. Outlook does not provide any option to save multiple Outlook emails as text files (individually). In such a scenario, a user has to process it one by one, which is really a strenuous and tedious task.
Better Approach to Create Text Files from Outlook PST
If you want to save multiple emails as individual text files, you can take action that exports all emails to PST file format. You can then easily save all emails in TXT file format using the Freeviewer Outlook PST Export Tool. If you have PST files containing emails exported from Outlook 2019, 2016, 2013, 2010, 2007, this tool will be helpful for you too.
This software is designed to export PST data files to multiple formats so that one can easily access Outlook data anytime. You can create text files from multiple Outlook PST emails in a single attempt. The best thing about this tool is that it has the "Advanced Scan" option which can scan and fix all the corruption issues related in PST files.
All you need to do is add PST files having emails and the software will automatically create individual text files for each Outlook email.
Steps to Save Multiple Outlook Emails as Text Files are as follows;
Step 1. Download the PST conversion tool and launch it on your Windows PC.
Step 2. Click on Add File or Folder to load .pst files.
Step 3. Preview emails and select a required folder to export.
Step 4. After that, select TXT file format from the saving options list.
Step 5. Following that, click the Browse button and choose the location to save text files, and then hit the Export button.
Complete! In just a few minutes, you will receive a completion message on the software's screen. Now, you can go to the location you selected in step 4 and access emails that are saved in text file format. Click on "Individual Mail" to open the mail with any text editor such as Notepad.
What's More, Provided by PST Conversion Tool?
However, the software offers a large number of features to make the task of saving emails easier and according to the needs. Here we mentioned some of the highlighted features of this utility.
It can save multiple Outlook emails as text files without installing the Outlook application on your system.
The software offers the ability to transfer damaged Outlook PST file to TXT format.
It can be easily installed on all versions of the Windows operating system including Windows 10.
With the tool, you can freely choose the target storage location for the resulting TXT files. If you do not choose the destination location, the resulting TXT files will be automatically saved on the desktop.
The software supports saving PST emails in text files exported from MS Outlook 2019, 2016, 2013, 2010, 2007, and other editions without any compatibility issues.
Read More: Know the Solution to Print Outlook PST Emails 
Conclusion
The text file is a standard plain text document file that stores information without any special format. Furthermore, it can be easily opened and viewed with multiple text editors. Also, text files are small and easy to share. Hence, most of the users want to save multiple Outlook emails as text files for easy access to their emails. Thus, to help these users, we mentioned the manual and automatic method here. You can go with any method as per the requirement.