OST
How to Open OST File without Outlook/Exchange in Offline Mode?
OST file is a replica of Exchange mailbox and saved locally. It works in synchronization with IMAP mailbox and secured by server side encryption. So, it is not possible to open OST file, if it is orphaned, corrupted, inaccessible, etc. Don't worry, in this post we will explain pros and cons and fix the query hot to open OST file easily.
Check Microsoft document and recommendation for opening OST file.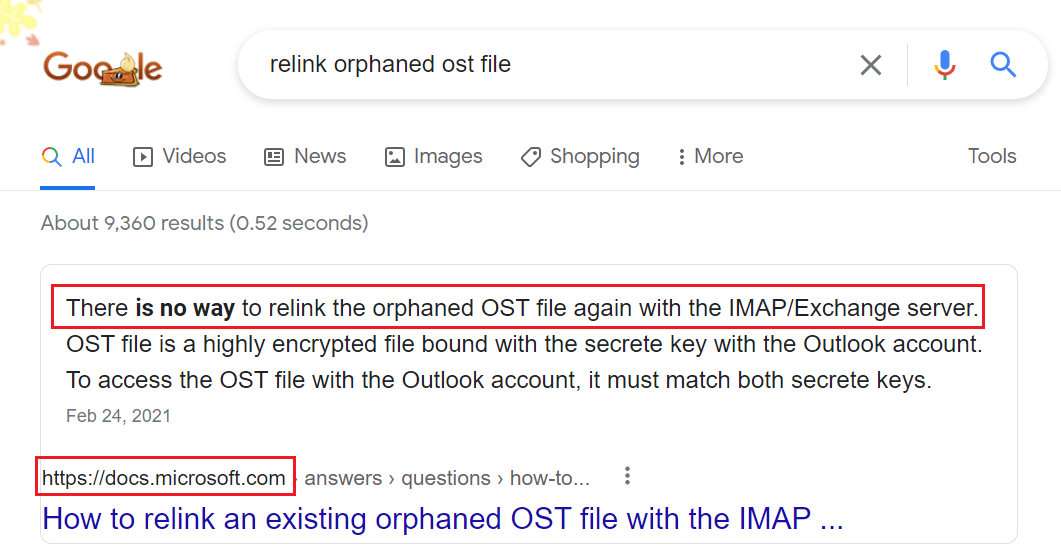 If your Exchange OST file is inaccessible or orphaned and you are looking for a solution. Then, no need to worry. In this article, we will discuss different solutions that users can use to open OST file without Outlook. These solutions will allow users to open OST file generated by any version of Microsoft Outlook. So, get the full information and read the full article.
Table of Content
All About OST File?
OST aka Offline Storage Table used by Microsoft Outlook to store mailbox items (email, contacts, calendars, task, journals, attachments) locally. It works in synchronization with IMAP server (Exchange Server) and automatically created by server while configuring email address in Outlook.
OST file an encrypted file created while setting up Exchange, IMAP, Office 365, and Hotmail accounts in Outlook. This file is attached to the specific profile and the computer on which you have configured the email account.
Microsoft does not provide any option to open inaccessible, orphaned, and corrupted OST file. In these cases, user has to rely on third party utilities to read OST file emails and other attributes.
Unable to Open OST File in Offline Mode – Know Why?
When email clients connect to the Exchange Server with cached mode, an offline Outlook (.ost) folder file will be created. Even if an Outlook profile is configured as an Exchange mailbox, you can still open .ost file. If the Exchange Server account is deleted or inaccessible, the OST file will be damaged.
Additionally, synchronization issues between the Exchange Server and an Outlook email client may cause the OST file to be orphaned. Even some users report of unable to see OST files in Chrome, Firefox, or Edge browser.
OST File Corruption Reasons
Virus or malware infection.
No access to MS Outlook
OST file  is copied or imported from another Outlook or PC
Verify and check the mail items in the OST file
The Outlook application closes abruptly.
MS Outlook account was accidentally deleted on the Exchange Server.
The storage medium was defective.
When the Exchange account was accidentally deleted.
Hassle-Free  Solution to Open OST File Without Outlook
Try an advanced OST file viewer software designed by FreeViewer that allows you to open OST files in offline mode. Using this software, user can easily open OST file and read emails, contacts, calendars, etc., without having Outlook or Exchange environment.
Thes tool allows users to open OST files in a hassle-free way, even password-protected, damaged encrypted files in Windows 11, 10, 8.1, 8, 7 (32-bit or 64-bit) and Windows Server 2016, 2012 R2, 2008.
Instant Solution
If you want to take advantage of advanced-level features and functionality, you can upgrade to the OST viewer pro software edition to export, print, and search emails in OST file options.

Quick Steps to Read OST Files

Step 1: Download & Install the Tool on your PC
Step 2: Hit on Add File option to Browse the OST File
Step 3: Two modes: Quick or Advance File Scan
Step 4: Hit on "Search" Button to Find Any Emails
Step 5: Select Export Options: PDF, Mail Filter, Etc.
Advantages of Using Software to Open OST Files
It has simple GUI technical and non-technical both users can use this tool to open OST file.
Open OST files with related emails with attachments without Outlook & Exchange Server.
Read OST file items in 7+ viewing modes (Mail, Hex, HTML, Header, etc.) for in-depth email analysis.
Open standard, encrypted, damaged, password-protected OST files without Outlook.
No size limitation in opening OST file into the software panel.
Note: If your OST file highly corrupted and inaccessible. You must use this utility to recover the file before restore it into Outlook. Use OST Recovery Software to repair corrupted OST file without any limitations and data loss.
4 Simple Steps to Open OST File
Follow below listed 4-step process to read OST file without Exchange and Outlook environment in offline mode:
1. Launch the software on your system and hit Add File button.
2. Next, Browse and Add the OST File in Software Interface for scanning.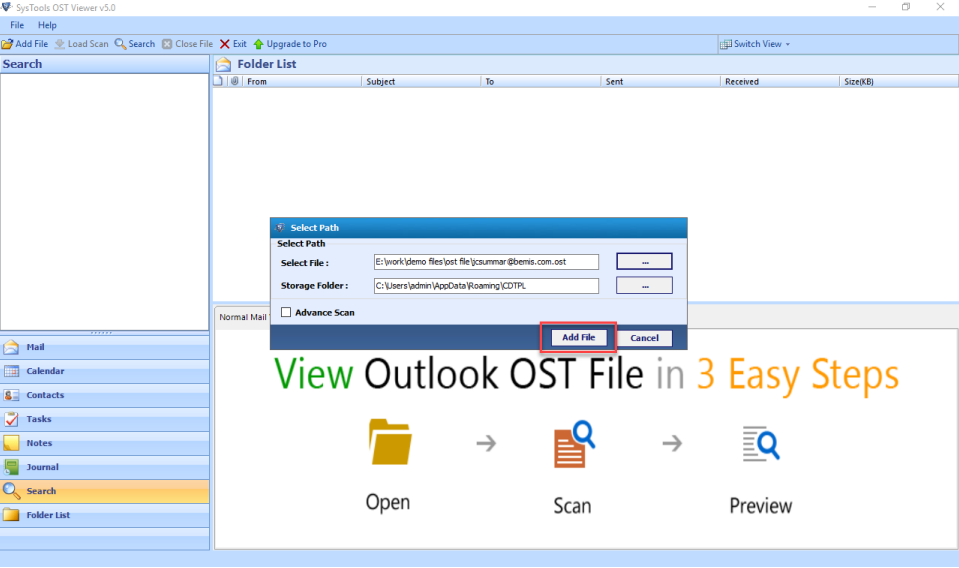 3. Open OST File in Offline Mode without Any Limitations. Here you can read OST file emails with all associated items.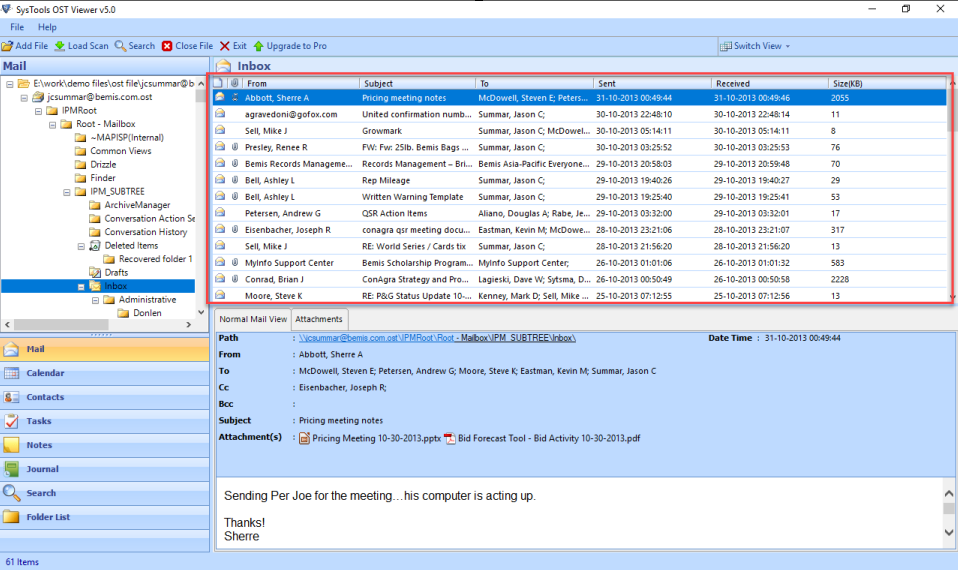 4. Two view Mode: Horizontal or Vertical you can change it according to your ease. Read OST file data in a way you want.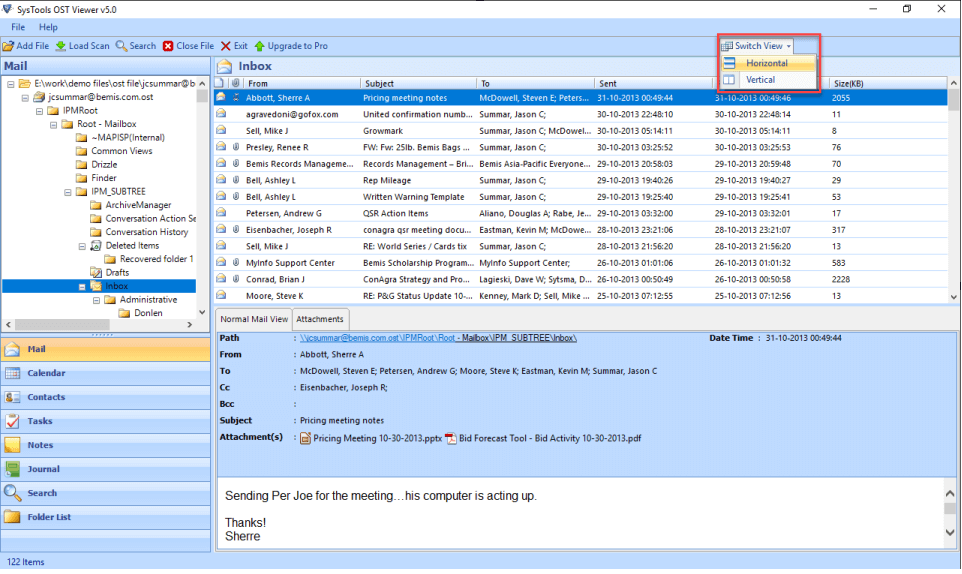 OST File Location
Users must first find the OST file location. You can find the OST file at the following destinations based on the Windows and Outlook editions users are using:
Microsoft Outlook 2000, 2003, and 2007 (Windows XP): C:/Documents and Settings/User Name/Local Settings/Application Data/Microsoft/Outlook
MS Outlook 2007 (Windows Vista, 7, 8, 10, 11): C:/Users/User Name/AppData/Local/Microsoft/Outlook
Outlook 2010 (Windows XP): My Documents/Outlook Files
Outlook 2010 (Windows 11, 10, 8.1, 8, 7, and Vista): Documents/Outlook File/
Outlook 2021, 2019, 2016, 2013 (Windows 11, 10, 8.1, 8, 7, and Vista): C:/Users/admin/AppData/local/Microsoft/Outlook
Users can also use Microsoft Outlook to search the OST file destination. The steps are as mentioned below:
Firstly, install MS Outlook, go to File > Info > Account Settings > Account Settings.
Then, hit 'Data Files' and select. OST files from the list.
Finally, open File destination to open the destination where the OST file is stored.
Also Refer:
Conclusion
OST files allow you to open OST mailbox data in offline mode. However, in case of Exchange Server crashes or any other problems, you may have problems accessing the OST file. Therefore, in this blog, we discussed ways to open OST file without Outlook or Exchange in offline mode.
Frequent Asked Questions
Que. What is the best way to open an OST file without Outlook?
In this post, we have mentioned the best and most reliable software to read OST files without Outlook application on your Windows operating system. This tool allows users to open and read .ost files without any file size limitation.
Que. Can I open the OST file without Outlook using the manual method?
No, to open .ost file without Outlook, there is no manual solution available on the internet. Users can try an automated solution to open and read .ost files.
Que. What programs can open an OST file?
The software mentioned above has the ability to read OST files without Outlook or Exchange. This app provides an option to preview OST emails with attachments and associated items.
Que. How do I open an Outlook file without Outlook?
This software is capable enough to read Outlook files without Outlook. Reload the saved scanned file and read the OST file instantly. To use this tool, you do not need an Exchange server environment to open and read data from OST files.
Que. What is the free software to open OST files?
No, there is no free software available to open OST files. If you are looking for a free solution, it means that your data is not crucial to you because if you use free software, there are many limitations and risks of data loss.
Que. Can I read an OST file on another computer?
Yes, of course, you can read .ost file on another computer with the help of this software explained in the previous section of this post. The best thing about this application is that users can install this wizard for free on various systems.