Thunderbird
Proficient Solution For Fixing Thunderbird Quarantine Inbox Issue
Thunderbird is one of the most leading mail clients used to share sensitive information and email messages as well. However, it not only provides an email feature but also organizing contacts, events, appointments, and tasks. Sometimes, users may encounter a variety of problems one such is the Thunderbird Quarantine Inbox Issue. Therefore, in the following section, we are going to discuss different strategies to prevent messages from getting quarantined and efficient solutions to resolve the Thunderbird Quarantine inbox issue in a proper manner. Fix the error message and open Thunderbird email files easily.

User Queries Related Thunderbird Quarantine Inbox Issue
Many end users may get affected by Thunderbird Quarantine Inbox Issue. Here, let us discuss following scenarios that have faced by users are mentioned below:
Query 1: "I am very upset I feel that my entire inbox has been quarantined. Also, I have lost all of my important emails. While using Thunderbird mail client I only received headers but messages are not showing up anymore. From the past few days, I have set up my POP email account to leave a copy of the message on the server as it is a very uncommon antivirus to erase all inbox. Is there any way to recover the Thunderbird mailbox in quarantine. Kindly suggest me a relevant solution that helps to fix this Thunderbird Quarantine Inbox Issue."
Query 2: "Recently I am trying to migrate from Outlook to Mozilla Thunderbird. I am really impressed by Thunderbird because of its adaptive junk message filtering. A few minutes ago, I was scrolling through daily email messages, and at times, my inbox emails disappeared. I had around 500 emails in my inbox folder but now, I can not see view them easily. I have never seen such an issue in MS Outlook so I get so scared. Then, I searched on Google and I noticed that it was not my mailbox problem. This issue occurs due to the presence of some Antivirus like Norton. The antivirus caught every new malware and quarantined my entire Thunderbird inbox. Please recommend me a reliable solution."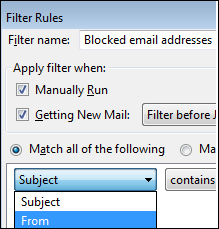 Prevent Antivirus For the Removal of Quarantined Inbox
In Thunderbird, all the messages are saved in the inbox folder with the desired name of the folder. These folders are being stored after changing the name of a folder. So, some antivirus assumes that each message is stored in an individual table. Thus, when a virus is detected from the Thunderbird inbox, the entire mail had been deleted, rather than deleting a single message. Thunderbird Quarantine Inbox Issue arises because of some antiviruses. This problem is not with Thunderbird but with an antivirus program. But there are many workarounds being used to prevent this problem from happening.
Set Antivirus Software to Remove Quarantine Mailbox
Always use antivirus or firewall programs that are compatible with Mozilla Thunderbird.
Set an antivirus on asking before automatic deletion or restore the quarantined files.
Turning off the email scanning options as all files corrupted more than even virus infection does. In addition, it consumes a lot of memory and slows down PC speed as well.
But if users want to scan their emails then let it scan incoming messages as many antivirus programs have problems with outgoing email messages.
Does not rely on the email service provider for executing the scan operation. It is one of the secure ways to scan the email from your own domain to avoid this type of issues.
Manual Ways to Resolve Thunderbird Quarantine Inbox Issue
Go through the below steps for resolving this Quarantine Inbox Thunderbird issue. Let's have a look:
Steps to Resolve Quarantine Inbox Thunderbird Issue
How to Prevent Mailboxes from Deletion
1. Ways to Prevent Loss of Messages as Inbox getting Quarantined
Keep entire mailbox vacant by saving old messages into a separate folder. For this way, some emails may get affected even if antivirus has deleted an inbox.
Set the Thunderbird to leave email messages on a server instead of deleting them instantly. According to this, users can easily download their emails even if antivirus has a damaged inbox file.
For leaving a copy of messages on server for some days, follow these below steps:
From Thunderbird, navigate to Tools option and then, select Account settings tab. Afterwards, click on the server settings.
Now enable 'Leave messages on server' option and mention the number of days
Under Mozilla suite, open Edit tab >> preferences >> mail >> Newsgroup settings
Then, choose server settings again and tick on Leave messages on the server option
Again, you have to specify the total number of days
Thunderbird emails and other account data that must be archived or backed up on regular basis.
2. Solution to Resolve Thunderbird Quarantine Inbox Issue
Follow below-mentioned steps to accomplish the task to remove quarantined inbox.
In antivirus program, exit the "auto-protect" option or disable the antivirus software
In next step, you need to take a backup copy of the profile folder
Then, make a copy of inbox folder or previous inbox with quarantine but Thunderbird seems to be overwritten
Afterward, right-click on the specific folder to create a new folder i.e., OldInbox and copy everything in it
Next, take inbox or other affected email messages out of quarantine
Then, delete the unpleasant messages from Thunderbird application
Remove the trash folder for an affected account
Now, compact the desired folders from affected accounts
In the last, re-activate the antivirus or malware software
Finally, you have to confirm that all emails are available or not
General Solutions For Fixing Thunderbird Quarantine Inbox Issue
To resolve this, just you need to open Norton application and then, choose View quarantine and display the name of that file. If it tells anything else except the inbox, just remove or delete it
If you do not read file name as inbox then, click on the Restore option and follow the above process to fix this issue.
Alternatively, users can drag all email messages to a new specific folder then, clean the inbox in Norton, which contains rest of emails to solve Thunderbird Quarantine Inbox Issue
Users can set up the Norton application to exclude folder from the scan. Due to this reason, entire inbox cannot be quarantined. Only virus-infected email to be quarantined.
Summing Up
How to fix Thunderbird Quarantine Inbox issue is one of the major problems for normal users. After understanding the above scenarios and we have covered various techniques to resolve Quarantine Inbox Thunderbird Issue. From the next time, if you may encounter a situation in which your mailbox has been quarantined, then, you know exactly what to do!