Mac Outlook
Learn How to Fix OLM.dll Not Found or Missing Errors?
Admin
| Modified: 2020-05-16T15:34:03+05:30 | 5 Minutes Reading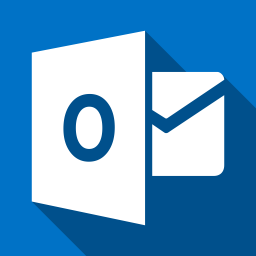 Microsoft Outlook is the topmost largely used email application with many advanced security and features on both Mac and Windows OS. In Mac machine Outlook uses OLM file format to save complete mailbox data. But, OLM files are very sensitive and have many synchronization related issues also. Apart from this, the corrupted OLM files can also create some special types of errors, which are really hard to understand. One such type of error is OLM.dll Not Found or Missing Error. This type of error denied the access to DLL file completely. However, this OLM.dll is a common error that can easily be found in any of the OS like Mac, Window, etc. The main purpose of this DLL error is to create problems in the operating system, which sometimes becomes really hard to resolve. Therefore, in this post, we have discussed many possible ways to fix OLM.dll not found or missing error.

Why OLM.dll Not Found Error Occur?
This type of errors mainly occurs when a user tries to launch or install the application or when the local machine is run or shut down. Apart from this, we have discussed some of the major causes of OLM.dll Not Found or Missing Errors to make it easy for the users to understand the reason behind the error.
If there is some issue in installation, reinstallation or uninstallation of the program, then it may generate OLM.dll error.
The DLL files got corrupted due to some system malware or virus attack.
It can also be possible that OLM.dll file get deleted accidentally while cleaning system program.
Another major cause could be hardware malfunction or Mac database registry files is replaced.
If the OLM.dll files configuration entry is active in the operating system registry.
Commonly Encountered OLM.dll file Error messages
The different types of error messages appear on the display screen when OLM.dll file error occurred are: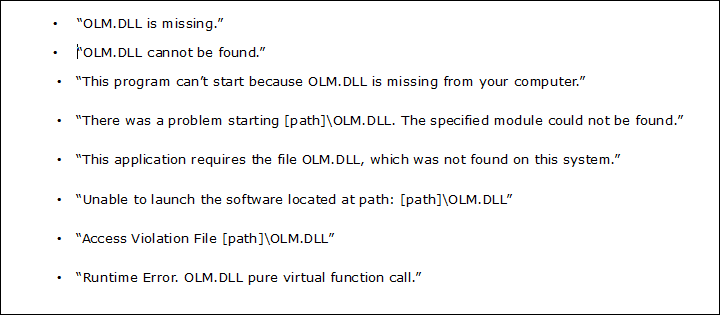 Different Approaches to Fix OLM.dll Not Found or Missing Error
There are various approaches available that a user can use to fix olm.dll error. However, all of these are normal troubleshooting ways to fix OLM.dll not found error. All of these troubleshooting methods may take an hour to fix the error completely but are very easy to perform. Here are some of the commonly used methods to fix this error.
Approach 1: Scan the local machine
In order to repair OLM.dll file Not Found error, a user needs to scan the system in deep. After that, try to delete or remove all the spyware programs and threats from the system rapidly. Then, restart the Mac machine in a 'Safe Mode'.
Approach 2: Restore all the Missing Files
After removing all the threats and viruses from the system, restore the missing OLM.dll error file in the machine. However, if the file is deleted accidentally, restore it from the recycle bin. After all this, you can check whether this missing OLM.DLL error is resolved or not.
Approach 3: Repair Errors of Registry
Another possible way to fix the missing OLM.DLL error is detect and repair the errors of the registry. It is the most efficient method to remove the OLM.DLL Not Found or Missing Error completely. If it is executed properly, it a foolproof solution to resolve the error.
Approach 4: Uninstallation & Reinstallation
As uninstallation & reinstallation can also be reason behind such error, so try to uninstall or reinstall the application via Add / Remove programs. This option will help users in removing all harmful data completely from the system.
Approach 5: Update the Hardware Drivers
If the reason behind corrupted OLM.dll file is some hardware related issue then, try to update the hardware drivers, which might contain the corrupted olm.dll file in the local system.
Approach 6: Use 'Scannow Command'
To repair a corrupt, missing, or harmful DLL file in the Operating System, one can simply use and run the 'Scannow Command', which easily resolves the olm.dll not found or missing error.
Approach 7: Download the OLM.dll File Again
Open your Mac machine and restore the olm.dll file
Then, copy the olm.dll file from some other system using same operating system
After that, you can save this OLM.dll file at location C:\windows\System32
Next, you need to download the OLM.dll from any site
In last, reinstall the application via olm.dll file
All these troubleshooting methods that will help users in making Mac OS completely free from error. It will repair all corrupt, missing, or deleted OLM.DLL files.
Conclusion
The main aim of this OLM.dll error is to create some troubles in Mac OS. Therefore, to free Mac machine all such type of errors, different approaches are discussed above. A user can use them without any hassle as all of them are very easy to perform and provides a perfect solution to fix OLM.dll not found error.