Thunderbird
How to Find Thunderbird Profile Folder Directory Path in Mac / Windows / Linux
Raj
| Modified: November 18th, 2022 | 5 Minutes Reading
With the increasing concern about data security, more and more people are opting for desktop-based email clients like Thunderbird, Outlook, Eudora, etc. Out of which one such is Thunderbird. All the data of Mozilla Thunderbird including email, contacts, tasks, etc. are saved in a single directory, which is known as Thunderbird Profile Folder. The storage path of Thunderbird will vary according to Operating System. Therefore, we have come up with a complete solution to resolve the user's query that how to find Thunderbird profile folder directory path in Mac / Windows / Linux.
Reasons for Finding Thunderbird Profile Folder Directory Path
There are different reasons due to which users need to search out the Thunderbird file directory path from their machine as mentioned:
If the folder wise data of Thunderbird is needed for some reason, first you have to find the profile folder.
To backup data, one might have to find the profile folder directory path to find out the Thunderbird data.
To share the raw data with someone else, it is necessary to know the directory path of the profile folder.
Methods of Searching Thunderbird Profile Folder
Thunderbird is a multi-platform application, which means it can function in different operating systems. For each of the operating system, the way of finding the directory path is different. Here are the ways by which Thunderbird Profile Folder can be found in Mac, Windows, and Linux.
For Mac Operated System
A large number of computers run on Mac OS. To find out the Thunderbird profile from your Mac, you need to follow these steps.
Start Mac and open the Finder window
Now, you can click on Go Menu and then navigate to Go to Folder. Else, you can directly use Command+Shift+G in order to open Go to option
Here, type or paste ~/Library/Thunderbird/Profiles/(Profile name)/. After that enter the profile name you want to open in place of profile name. In case you are unaware of the profile name, remove the profile name part from the path

Note: If the above directory does not work, users can try putting ~/Library/Application Support/Thunderbird/Profiles/.
Finally, click on Go button and it will open the Profile Directory of Mozilla Thunderbird
For Windows Operated Systems
Windows is the most used operating system around the world. Follow the below steps to find out where Thunderbird Profile Directory is located in your Windows system.
First, go to Start menu and click Run. Otherwise, use Windows+r command to open Run application
Into the application, type or paste %APPDATA%\Thunderbird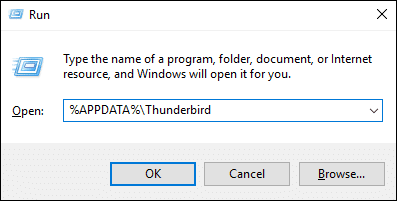 The folder can also be manually reached by using the directory path of Thunderbird, which is: C:\Documents and Settings\(Windows User name)\Application Data\Thunderbird\Profiles\. Just put it into the address bar of Windows Explorer and press Enter. In this case, the hidden folders will have to be made visible first since the Application Data folder is usually kept hidden by the system.
To make the Application Data folder visible, go to Windows Explorer > Tools> Folders Option > View > Check the box beside Show Hidden Files and Folders
In case you are using the new versions of Windows like Windows 10, 8, 7, and Vista, the file path will be different. It will be C:\Users\(Windows user name)\AppData\Roaming\Thunderbird\Profiles\.
For Linux Operated Systems
Linux is the most popular open-source operating system. If your system is running Linux, it is very easy to find out the directory path of Thunderbird Profile. Firstly, you have to open the file browser window of Linux and inside 'Home', open the folder named 'Thunderbird'. This is the profile you need. Now, go to the Thunderbird profile of your need. In case this folder is hidden by Linux, go to 'View' and click on the option 'Show Hidden Files.'
Other Methods of Searching Thunderbird Profile Directory Path
Search for profile.ini file within the drive (usually C in case of Windows) of your system where Thunderbird is installed. This file is situated inside the Thunderbird Parent Folder.
The advanced users can find out the directory by using Thunderbird error console. Go to Tools > Error Console in Thunderbird and paste this code there:
Components.classes["@mozilla.org/file/directory_service;1"].getService(Components.interfaces.nsIProperties).get("ProfD", Components.interfaces.nsIFile).path
Now, click on Evaluate button and Thunderbird will open the location of current profile.
From any platform, use the search option to find abook.mab file. This is a useful method to find the directory when nothing else is working, as this file can always be found inside Thunderbird profile folders.
Conclusion
This was all about finding the directory path of Thunderbird in different platforms like Mac, Windows, and Linux. Always remember to keep a copy of Thunderbird files in some safe place to avoid data loss in case of an accident. As the readers now know how to find Thunderbird profile folder directory path in Mac Windows Linux, hopefully, they will be able to perform the processes by themselves and achieve the desired result.