Backup
How to Recover Corrupted Windows Backup Files and Reload Operating System
An operating system stores all the confidential information, to protect those important files backup is the best solution. Windows users should be familiar with .bkf files. BKF file is an MS backup file format which is created by the famous software NTBackup tool. Windows backup files save the copy of data files. In case, if the data got corrupted from the system one can recover corrupted windows backup files from BKF file. But, what if accidentally BKF file got deleted or corrupted? Nothing can be worst than that and that moment only one question hit the mind that is how to retrieve BKF files?
System requirements for an operating system to work is an important aspect because it is the system configuration that permits and supports the launch of the new OS in system. A new operating system creates a good foundation for the user to work. But it may possible that while process of rebooting the operating system get crash. At this moment, it becomes a challenging task for the user to recover deleted .bkf file. Therefore, to avoid this situation one can take the backup of BKF file. In fact, there are many situations that a user can lose BKF files. Therefore, let's take a review on those situations and solution to repair corrupt BKF file.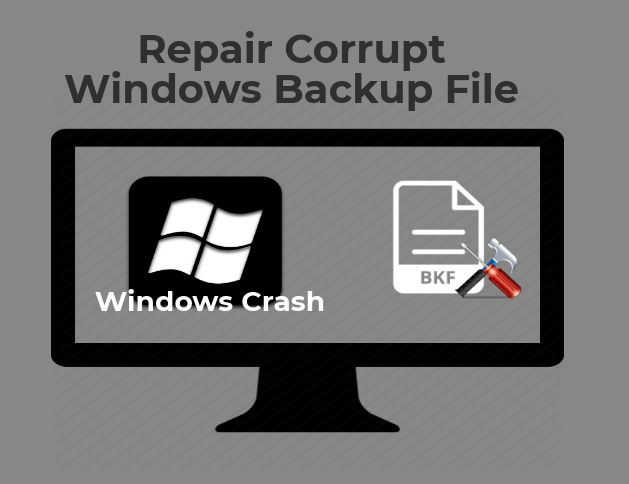 Probable Reason for Corruption of BKF File
Some basic and advanced reasons behind crash. Few reasons for such crash are listed below:
Firewall turned off
Outdated security tool
Sudden system shutdown
Other hardware issues
Installation of external drive without scanning
Downloaded program from unknown source
Unpredicted attack of Malware, Adware, and viruses
These are the main reason of system crash down, but how to identify system crash down? If a system got to crash it can easily identify. Once the system dead, it affects the performance of system. When system does not reboot, then it is a clear indication that the system is dead and it may possible that all the BKF file got deleted. One can avoid this issue by taking the backup of BKF file as mentioned above. The next section will explain how to retrieve BKF Files
Manually Recover Corrupted Windows Backup File
Simple techniques with which a user can restore window backup files without affecting other files are as follows:
Start Windows in "Safe Mode"
Try Windows "Safe Mode with Networking"
Restart the computer and boot Windows Advanced Boot options
Select Windows Repair option on Windows Advanced Boot options
Booting off an Anti-virus / System Utility Rescue CD/DVD
There are primary methods which are applicable to recover crashed system. In case, if these methods fail to provide the accurate result, then one can proceed for an alternate solution.
How to Recover Corrupted Windows Backup File Instantly
An alternative solution must be a safe, secure, reliable and fast so we are suggest to use our BKF File Viewer Software. As it provides different options for scanning i.e., Quick scan, Deep scan, and Range based scan. The utility supports to repair corrupt BKF file, the file can be anything documents, images, excel sheet.

We enclose all possible reasons of Windows backup file corruption with manual recovery solutions and suggested an automated solution: BKF Viewer Tool. Advice for users, first use all manual solutions if you don't get the positive result then go for our software to recover corrupted windows backup file.