EML
How to Open EML Files in Windows 11, 10, 8, 7? Manual Solutions
Are you looking for a safe way to open EML files on Windows 11, 10, 8.1, 8, 7, and earlier operating systems? Then you are on the appropriate page. Here, in this blog, we will describe how to open EML files without Outlook on Windows. Furthermore, EML file format and manual solutions for opening EML files using Outlook, Windows Mail or Thunderbird, and FreeViewer are introduced.
Table of Content
EML File Format – Introduction
EML format is a file extension used to save emails in the Outlook Express application and other email clients (Thunderbird, Windows Mail, Gmail, etc.). Email files (.eml) are saved according to the standard MIME RFC 822 format. The EML file contains ASCII text of the header content; the main message body can include hyperlinks and attachments.
Now, in many cases, users try to open EML files without any restrictions in Windows 11, 10, 8, and 7 operating systems. Therefore, remove the restriction by following the manual solutions to access EML files.
Case 1: "How can I access all saved Gmail emails in EML file format? Is there any manual method to open my Gmail EML files? I have Outlook installed on the Windows 10 operating system. Please recommend a manual solution!"
Case 2: "Are there any manual or free solutions for accessing my EML files without installing any email clients in Windows OS? In addition, I'm interested in creating backups of all EML files. Suggest a manual solution for this too! !!!"
As mentioned above, the majority of users noticed this type of case on multiple forum sites. We have summarized the manuals and automation solutions available to users.
How to Open EML Files in Windows 11, 10, 8, 7 Manually?
If you have multiple email clients installed on your computer and would like to select the program (Outlook, Thunderbird, Windows Mail) to open an EML file, follow the steps:
Open Windows File Explorer, and then find the EML file you want to Open.
Right-click on the EML file and select "Open With".
Select Mail, Outlook, or Thunderbird. The EML File Opens in the Installed Email Program.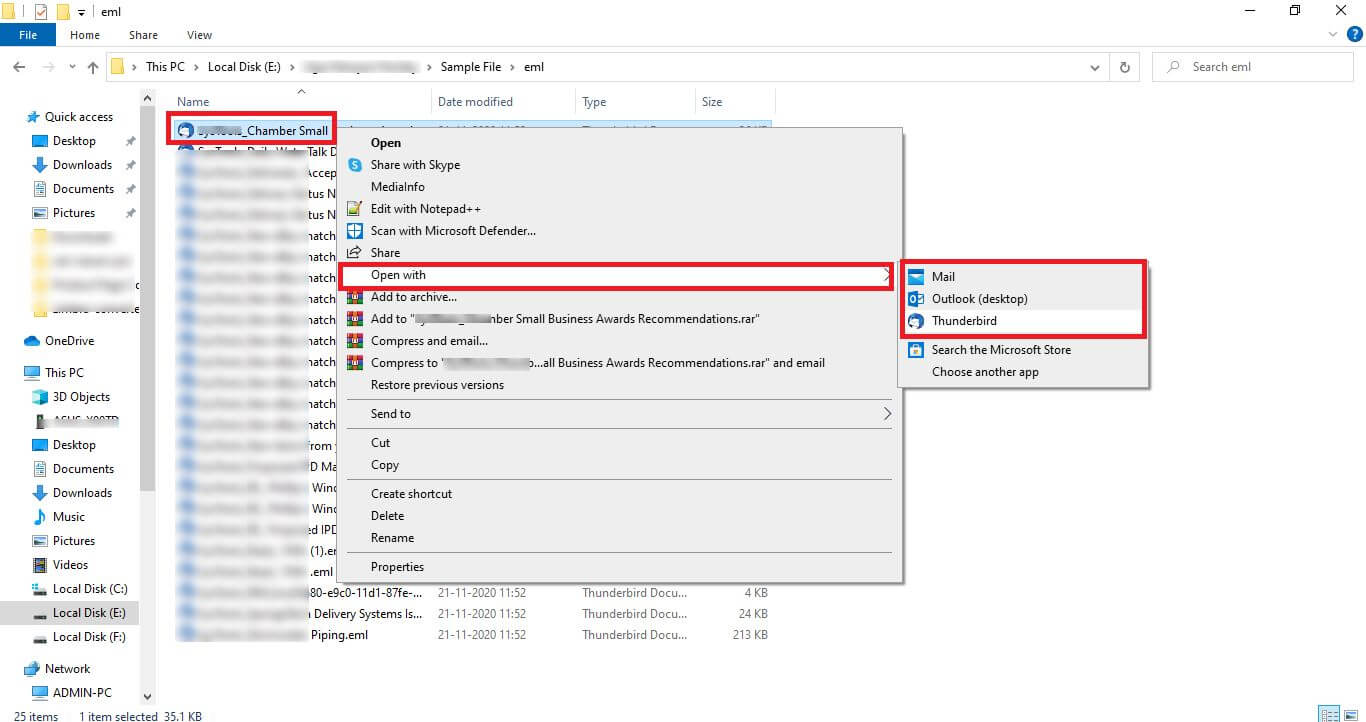 Read More: How to Convert EML to MBOX for Windows and Mac OS?
Open EML File with Header Information in Notepad
Follow the below-mentioned steps to open an EML file in Notepad or Notepad++, anyone, you have:
Select the EML File that you want to access.
Next, Right Click on the selected EML file and choose the "Open With" option.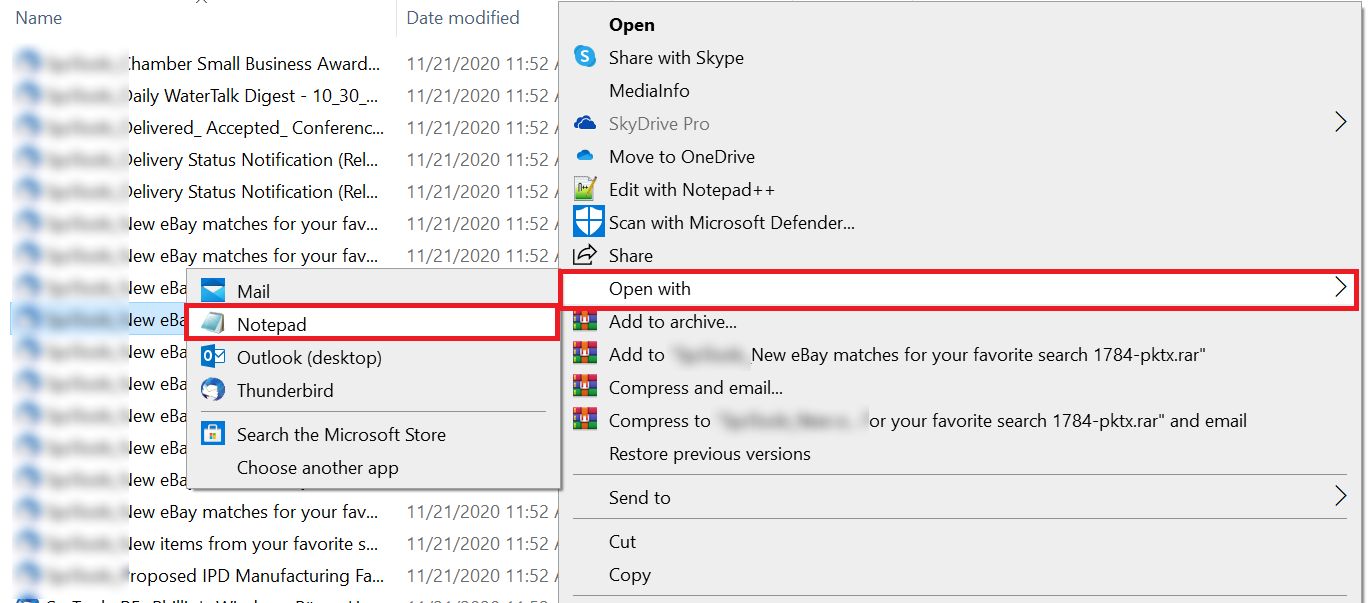 Then, Select the Notepad option to open an EML file with header information.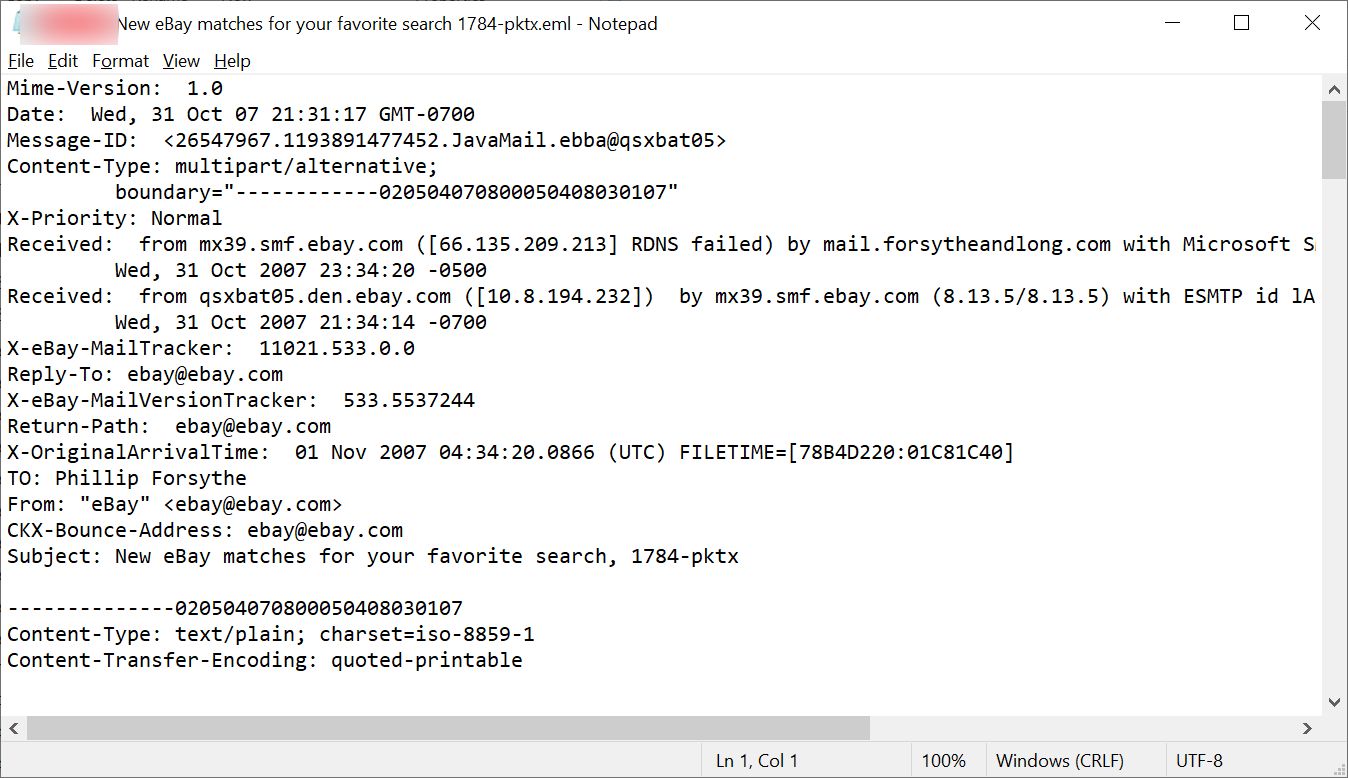 Open EML File With Internet Explorer
If users don't have access to a mail application such as Outlook users can still open EML files with the helpf of Internet Explorer. However, this solution needs users to change the extension of the EML file to MHT.
Choose the EML file users want to open.
Right hit on the chosen EML file and select the rename option.
Remove the .eml and write .mht
Press Enter key.
A rename screen will popup, hit on the yes button
Right hit on the converted file
Choose open with and select internet explorer.
Automated Solution to Open EML Files without any Email Clients
Professional EML Viewer Tool that allows you to access and open EML files in a simple way. With this software, you can open EML emails and attachments without any reliance on email clients. This tool integrates various functions and a user-friendly interface. Easily open EML files with attachments on Windows 11, 10, 8, and 7 (32-bit or 64-bit) and Windows Server 2019, 2016, 2012 R2, 2008.
Quick Steps to Open EML File on Windows OS

Download & run the tool on your PC
Now, auto-detect option to navigate eml files
Select the multi-preview or switch view option
Choose the search option to find any emails
You can use the Pro Version application to Print, Search, and Export EML Files to PDF. Converting emails to Adobe portable document format is very easy. The utility is completely effective in opening EML files in Chrome, Firefox, and Edge web browsers with HTML view modes. He / She can easily perform the task at hand.
Working Steps to Open EML Files in Windows 11, 10, 8, 7 OS
Step-1: Free Download Tool and Add EML Files.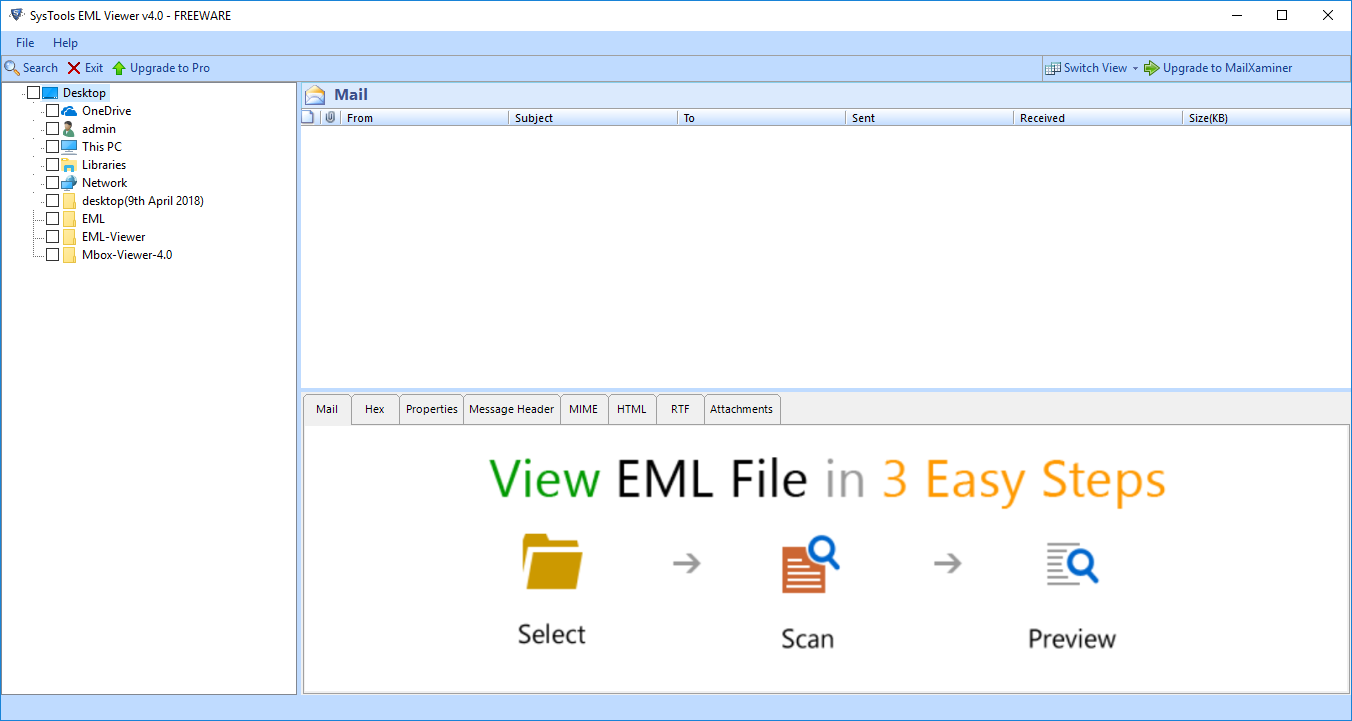 Step-2: After that, view EML files with attachments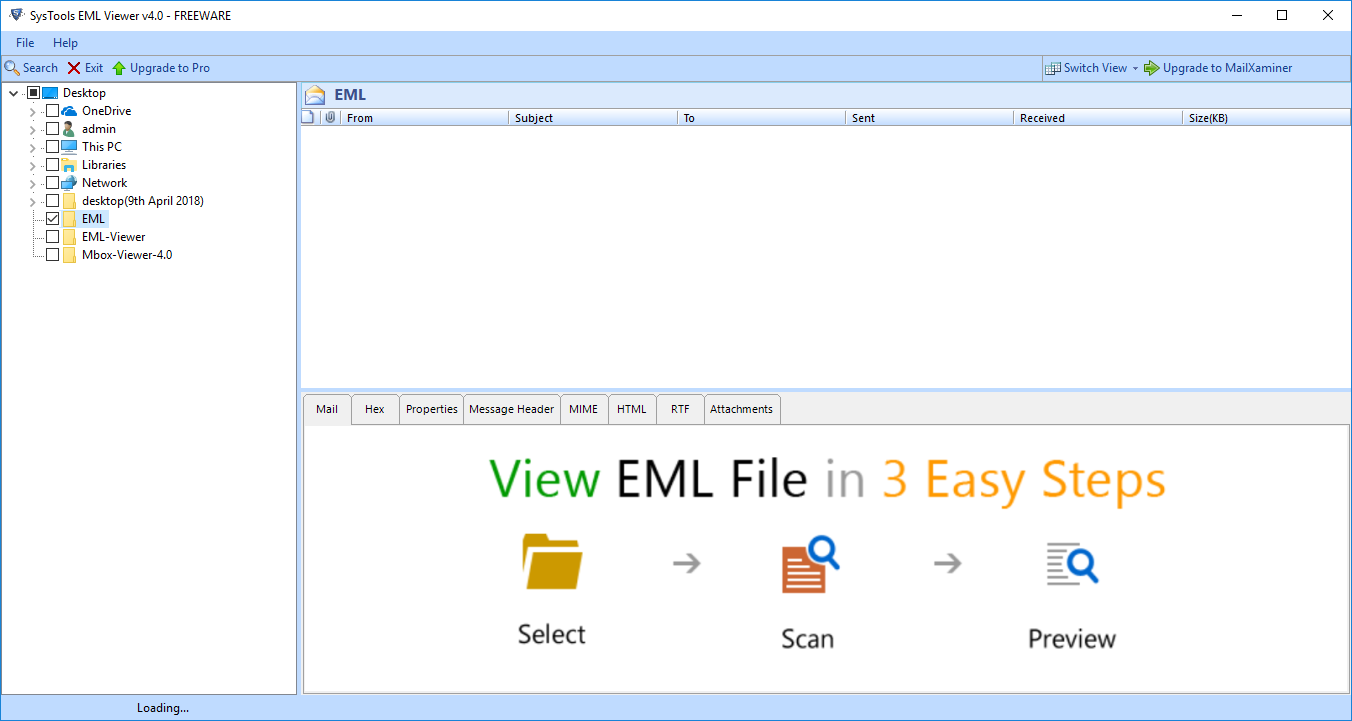 Step 3: Various View Modes with Switch View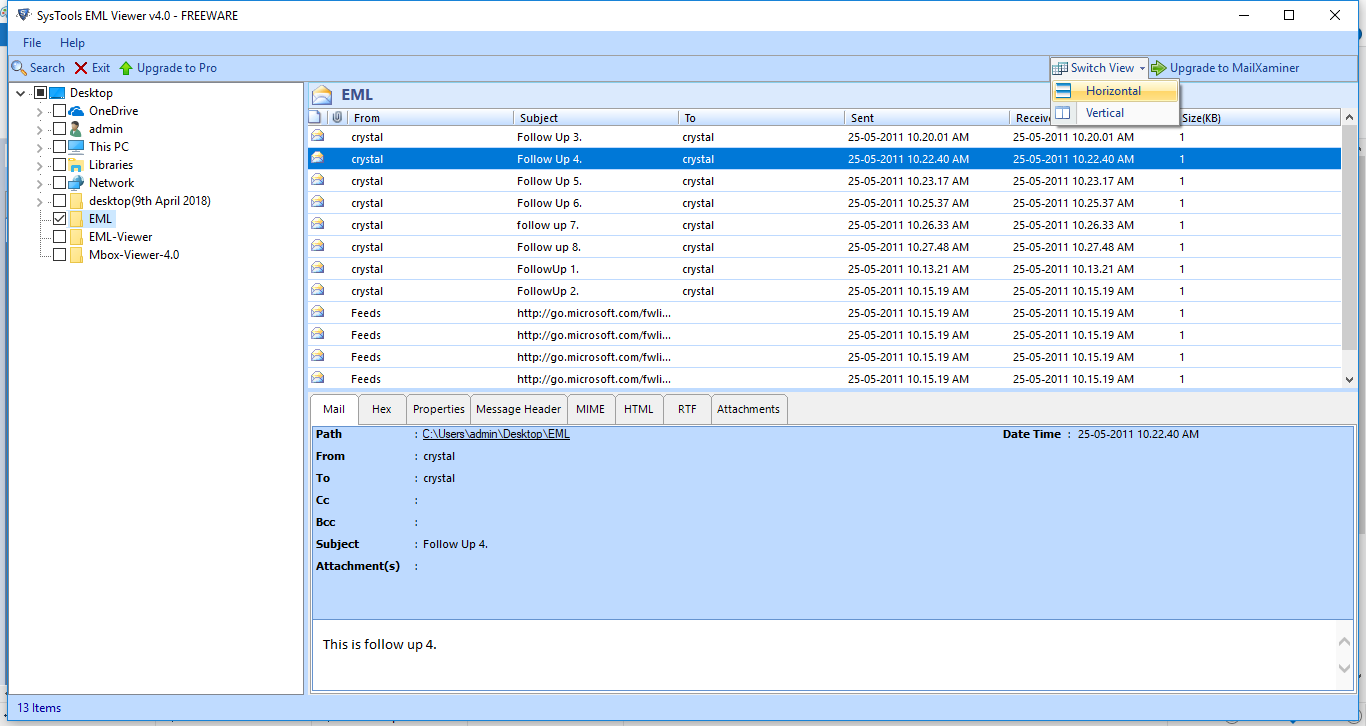 Step 4: In-Depth Search to Find Any Emails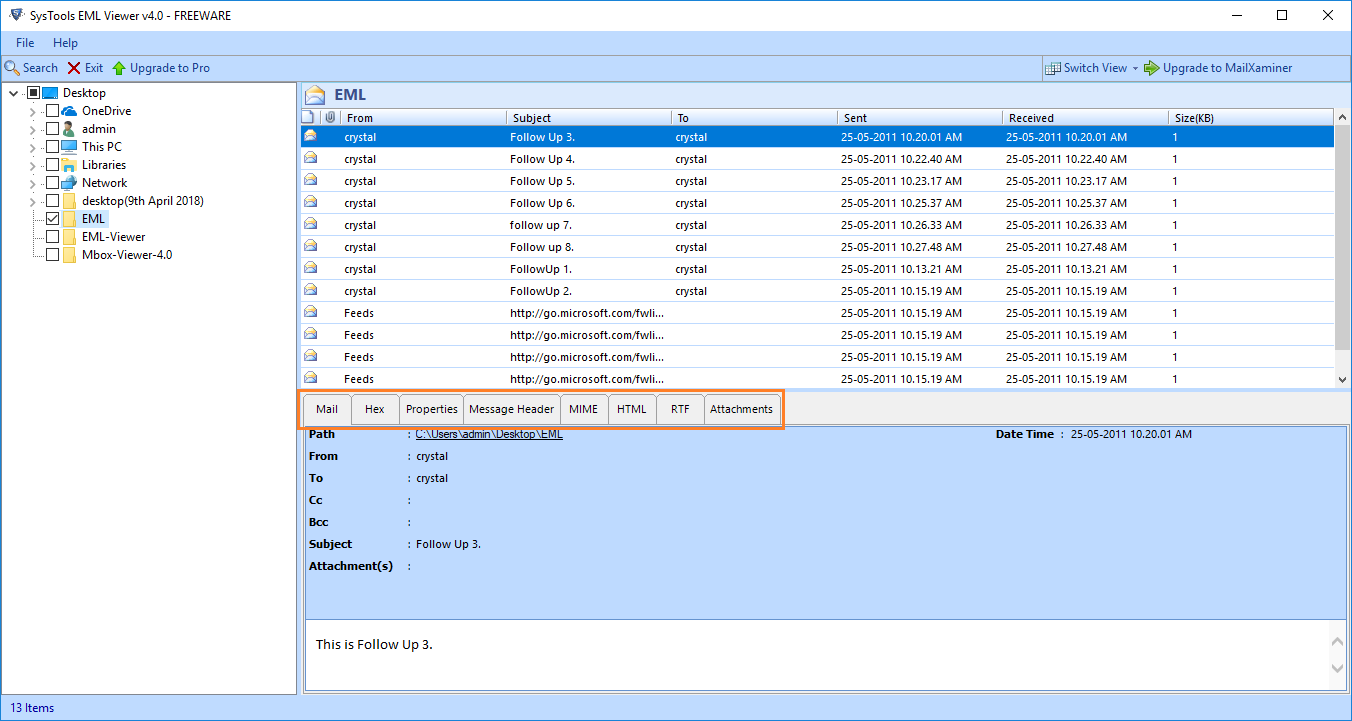 Conclusion
In the above article, we have discussed the EML file format. We also discussed manual and automated solutions to open EML files in Windows OS 11, 10, 8, and 7. Users can access EML files with attachments without installing any email client.
Few Questions Asked by Users
Que 1:- Is there any solution to open EML files?
Ans. Yes, in this post we have mentioned a professional solution to open EML files without any email application. By using this application users can open EML files on Windows 11, 10, 8.1, 8, 7, and all below versions.
Que 2:- Is it possible to open EML files without Outlook?
Ans.  There are several manual solutions available to open EML files without Outlook. However, manual methods do not work without Outlook. Therefore, you can opt for automated software.