Active Directory
Migrate User Profiles to New Domain: Local User Profiles Migration
Migrating user profiles to new domain might be a cumbersome process if you don't follow the correct technique and don't use tried and tested tools. The overall situation could worsen if you are handling a considerable amount of data. However, you can make this process hassle-free if you properly plan your migration and follow expert-suggested strategies.
In this article, we will take you through a comprehensive guide for the successful migration of user profiles to new domain. If you migrate your user profiles in a step by step manner, then there is a tendency that you will experience an error-free and seamless migration process. Let's get started without any further delays.
Table of Contents
A Guide to Migrate Local User Profiles to Another Domain
When beginning with the migration process, there are some preparation steps that you need to follow in case things go south.
5 Quick Steps to Migrate User Profiles to New Domain
Step 1. Download this software and launch it.
Step 2. Register Domain Controller for both domains.
Step 3. Fetch Active Directory Objects by clicking the Fetch button.
Step 4. Create Migration Scenario in the next step.
Step 5. Choose Migration Options and start migration.
Step 1: Pre-Migration Planning
Backup – It is essential to keep a backup of user profiles and their data (user data, settings, and permissions). This practice makes sure that you always have a backup copy of your data in case any step goes wrong while migrating user profiles to another domain.
Communication – There are chances of downtime during the migration and users would have to log in to their profiles via a new domain. So, it is necessary to inform all the users about the upcoming migration and the changes to their user profiles. Additionally, when users are informed in advance, there are specific questions in their mind which can be addressed and makes the overall transition smooth.
Domain Trust – You can also establish a trust relationship between the old and new domains. This process will enable users to log in to both domains by using the same credentials.
Step 2: Preparation for Migration
Now comes the second phase of migrating local user profiles to another domain. Here we will prepare both source and destination domains for migration.
Validate Source and Destination AD Environment: Make sure that both the Active Directory domains are in a healthy state and free from any possible errors and issues. You can use the Active Directory Health Check tool for the same.
Update User Information: Now comes the next step where you need to check all the user information and update it if required. This might include parameters like department affiliations, phone numbers, and email addresses.
Prepare Target Domain: Before initiating the migration process, it is necessary to ensure that the target domain has all the required resources to fit in all user profiles. You need to set up domain infrastructure including DNS, Domain Controllers, and DHCP profiles.
Create User Accounts in Destination Domain: In order to migrate user profiles to new domain, you also need to create user accounts similar to the ones in the source domain.
After preparing domains and performing all necessary checks, now we can move to the next phase of the migration.
Step 3: Migrating User Profiles to New Domain Using a Professional Tool
When talking about a seamless migration process, many professionals prefer going with automated tools over ADMT tool. This is because these tools offer an error-free and efficient migration experience. One such professional tool that you can use for migrating local user profiles to new domain is Active Directory Migration Tool.
This utility offers many advanced features and comes with an intuitive interface to make the job simple. Using this application, you can migrate AD objects from one domain to another without any hassle. This software supports the migration of multiple AD objects like Users, Computers, Printers, Contacts, and Groups.
After migrating user profiles to another domain, the software generates reports in two formats: Domain Wise and Migration Wise. These reports can be helpful for future reference and contain crucial details like success and failure counts.
You can download a free demo version of the utility and have a look at its functionality before purchasing the licensed version.
Step to Migrate User Profiles to New Domain Effortlessly
1. First, download the software on your device and log in to the software using the default credentials:
User ID – Administrator
Password – Administrator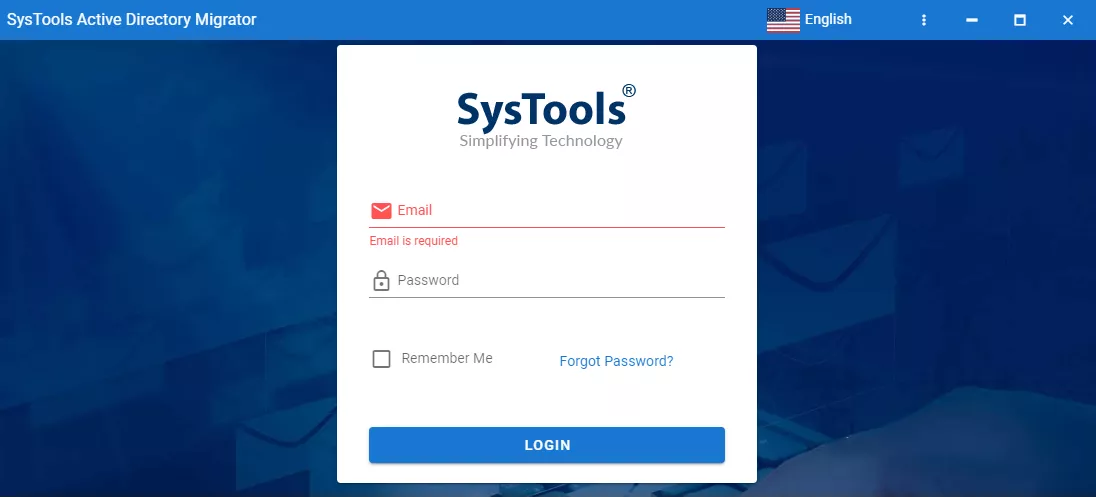 2. Now you need to Register Domain Controller in the tool. Click on the Register Domain Controller button for the same.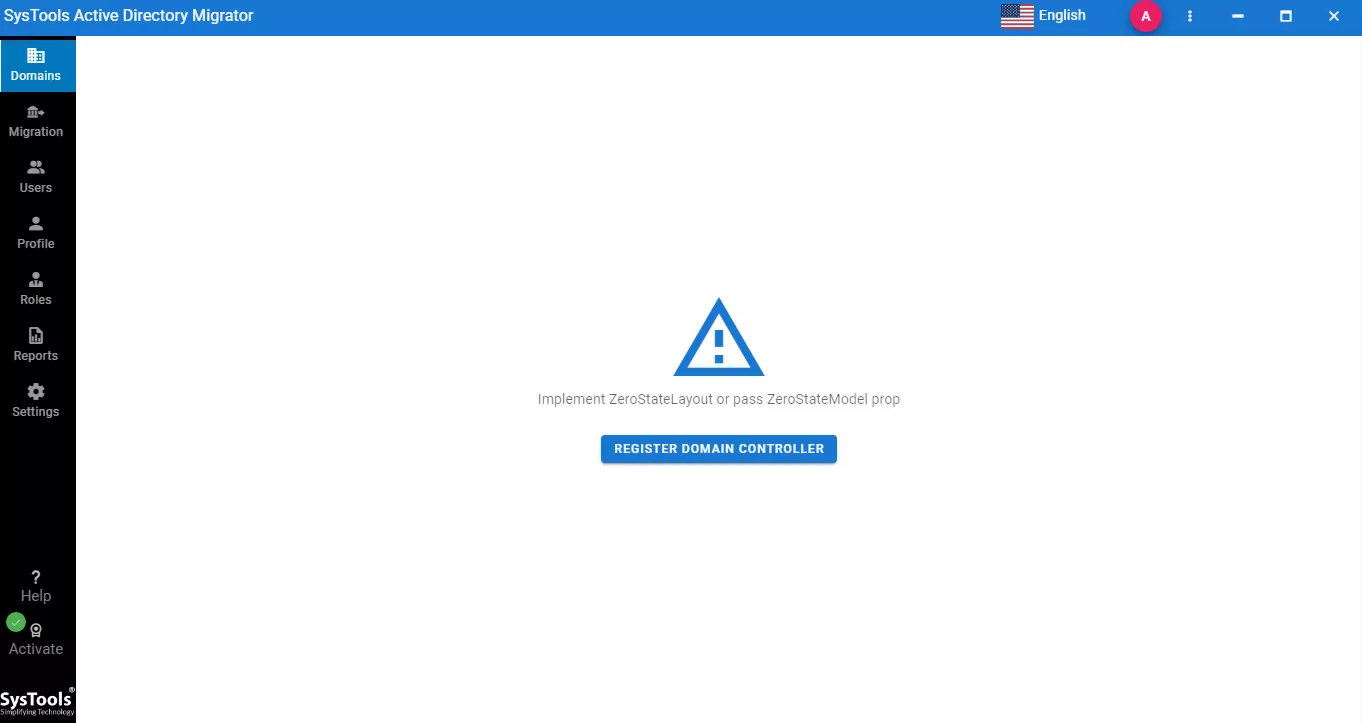 3. Provide the Domain Friendly Name and IP Address of the first domain and click on Save and Continue button.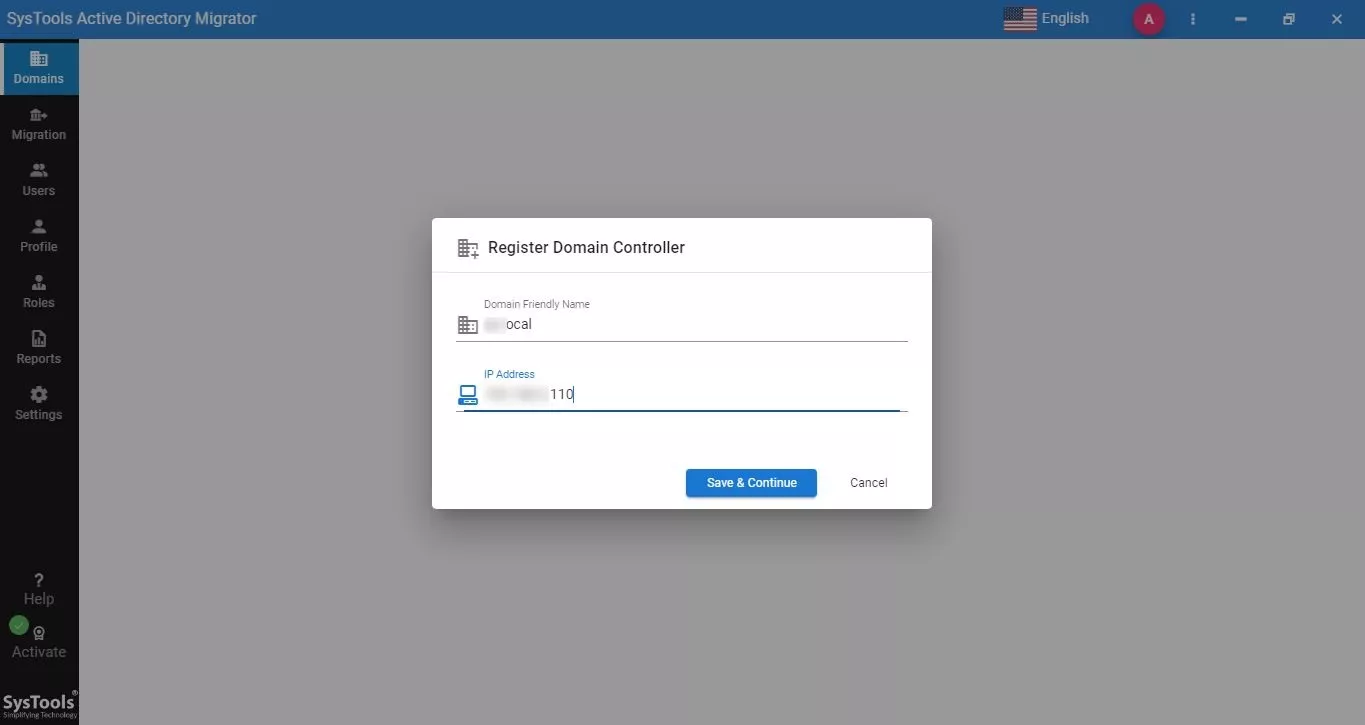 4. Now provide Domain Friendly Name and IP Address of the second domain and save it in the software.
5. In the next step, click on the first domain and provide Admin User and Admin password and hit the Save and Continue button to validate the required permissions.
6. Now go to the Active Directory tab and click on Fetch Active Directory Objects button to fetch all AD objects.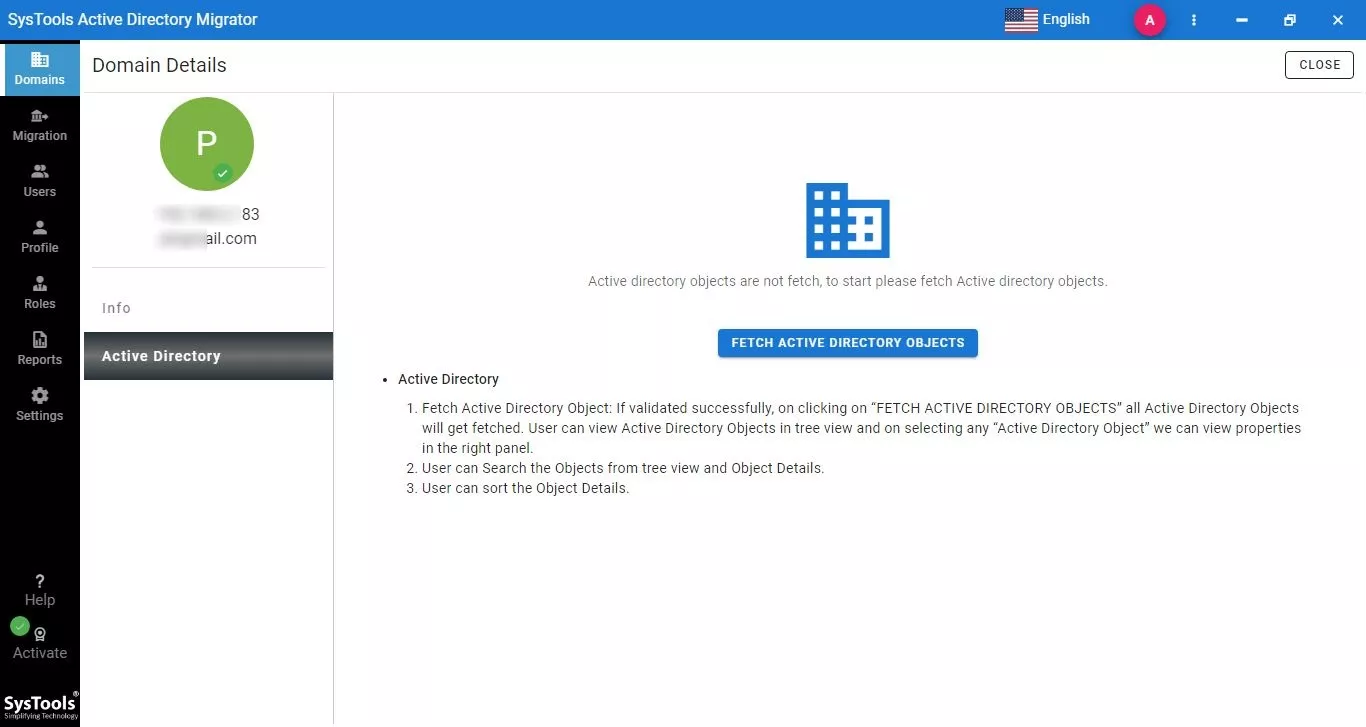 7. Perform Steps 5 and 6 for the second domain as well to migrate local user profiles to another domain.
8. Go to the Migration tab and create a migration scenario to initiate the process. Here you need to provide details like Scenario Name and select Source and Destination domain from the dropdown.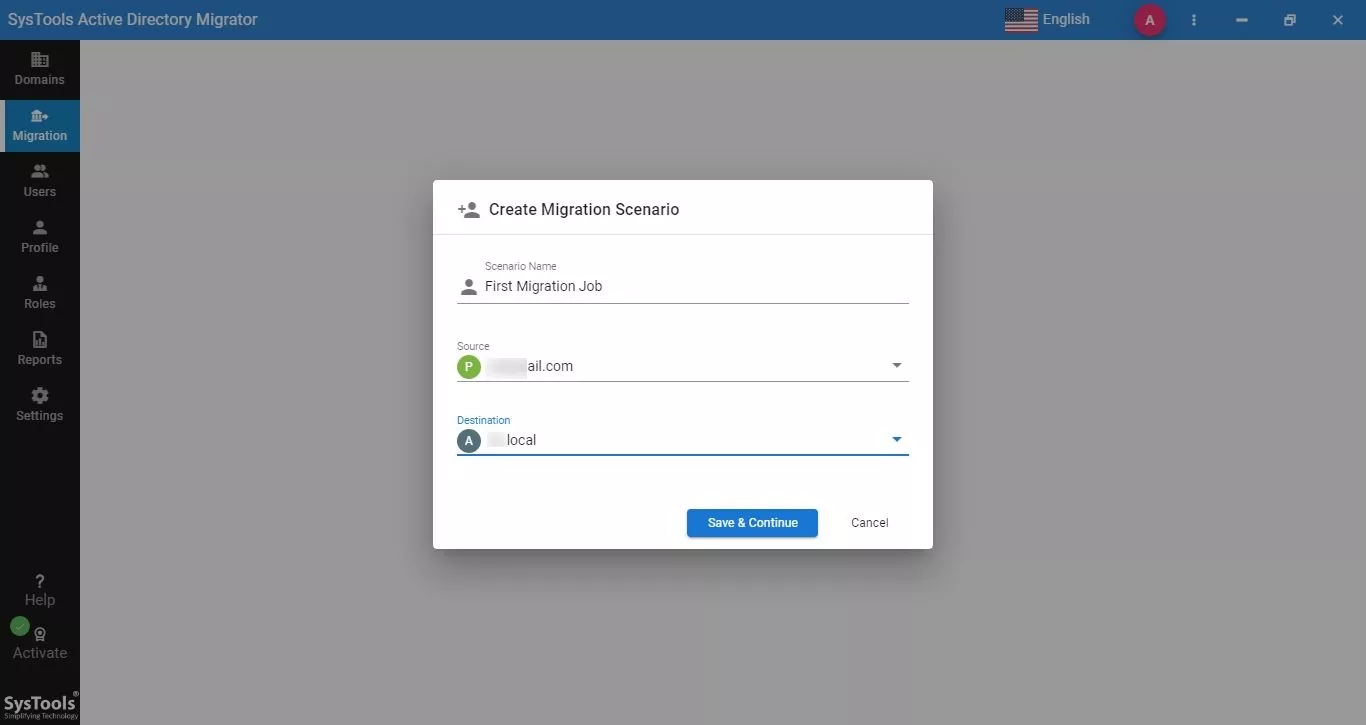 9. After creating a migration scenario, you need to create a task where you have to select the AD objects that you want to migrate and click on the Save and Continue button.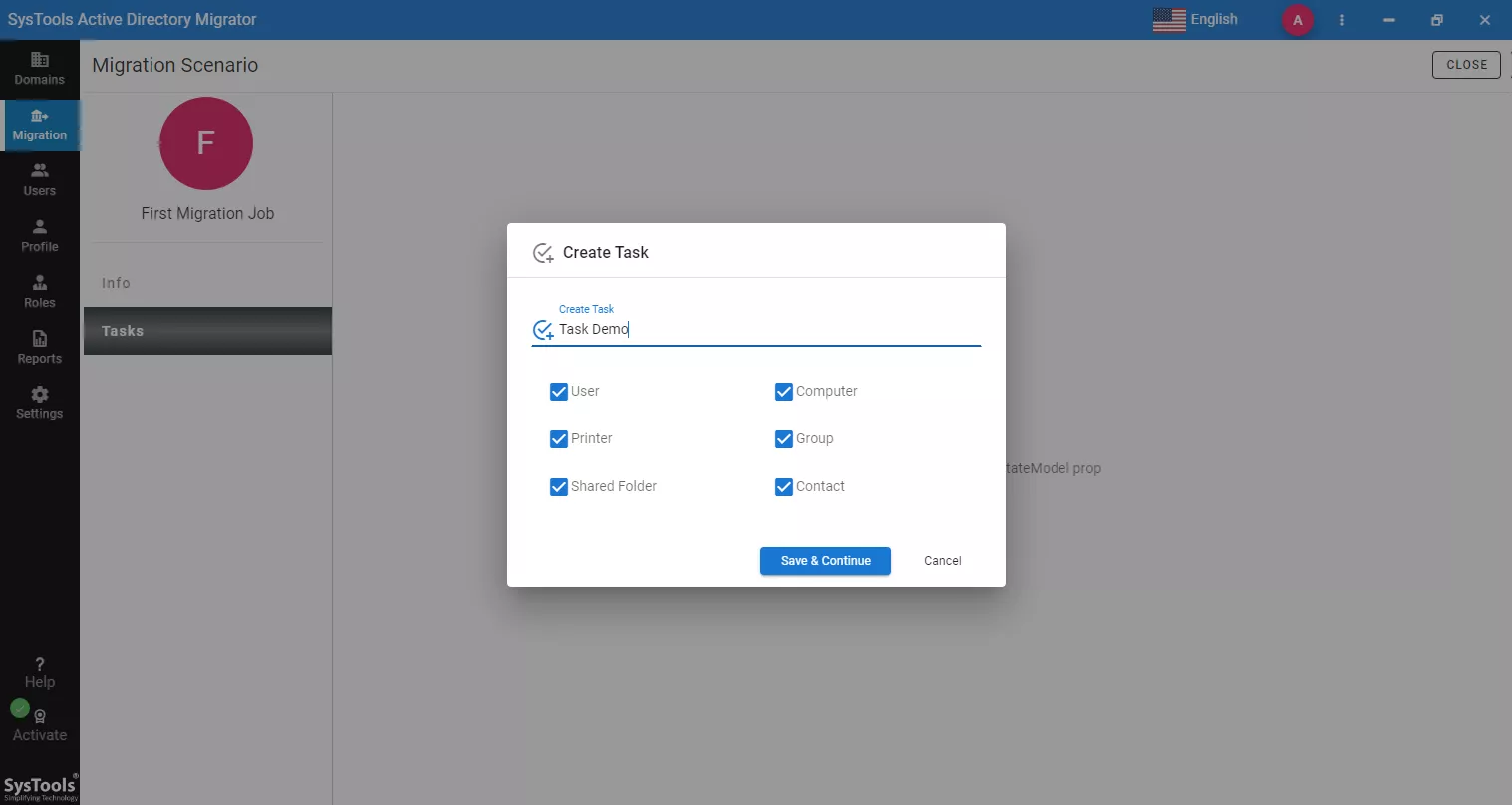 10. Here you will see the AD objects available in the source domain. Click on the 3 objects adjacent to the object for mapping.
11. Under the migration options screen, choose Merge or Create option depending on whether you want to create new object or merge it into an existing object.
12. The software will then display the objects mapped to the destination domain. Now you can start migrating user profiles to new domain by clicking on the Start button.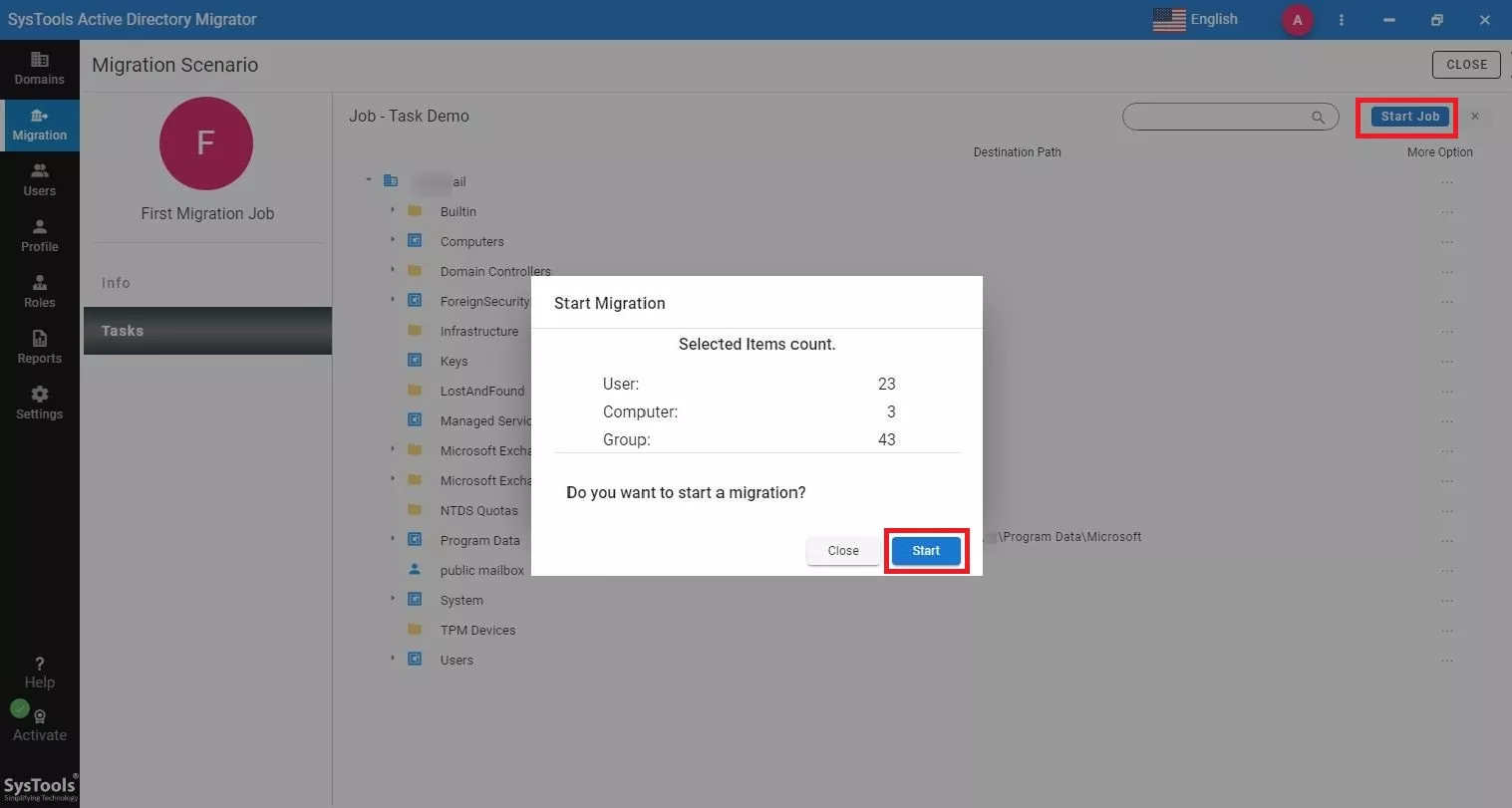 13. Once the migration process completes, you can download the migration reports to check if all data has been migrated successfully.
Step 4: Post-Migration Activities
Now that you have migrated local user profiles to another domain, the next step is to test if there any issues post migration. Please check the following steps:
Test User Logins: Once the user profiles are migrated, you need to check if the user logins are working perfectly.
Address Post-Migration Issues: You also have to be prepared for any possible issue post-migration. There might be any kind of problem be it a permission-related issue or any user-specific problem.
Decommission Source Domain (Optional): After you have successfully migrated user profiles, decommission the source domain following proper protocols.
FAQs
Q. Can we migrate user profiles to new domain without experiencing downtime?
A. It is quite challenging to achieve zero downtime while migrating user profiles to new domain. However, you can minimize the downtime by carefully planning and executing migration.
Q. Is it possible to roll back the migration if we face any issues with the migration?
A. Whenever you are planning any kind of migration, it is essential to have backups in place that act as your roll back plans. In case any major issue arises, you can simply restore the backup with older configurations to ensure a functioning AD. However, this should be the last option to choose as there are multiple complexities involved in this process.
Q. How can I ensure that the migration from user profiles to new domain is error-free?
A. To have a successful and error-free migration, you need to follow the best practices as suggested by experts. Moreover, it is recommended to conduct pilot testing before migrating main user profiles. You should also carry out migration in phases in order to minimize the disruptions.
Q. What should I do if I face any issues post-migration?
A. When you perform a large-scale migration, it is quite common to encounter issues post-migration. That is why it is important to have a support plan in place so that you can address these issues promptly. While migrating user profiles to a new domain, you can get assistance from your IT staff and migration experts to eliminate such issues.
Q. What precautions should I take to ensure a secure migration of user profiles to new domain?
A. As security is one of the top priorities for businesses, it is essential to ensure that group memberships and permissions are migrated properly to maintain proper access rights. Moreover, regular audits and monitoring are required to look out for any possible security gaps and rectify them as soon as possible. You can opt for a secure and reliable migration solution as well to ensure a safe transition across Active Directory.
Q. Why is it required to migrate user profiles to new domain?
A. There are various reasons why an IT administrator needs to migrate user profiles to new domain:
In case the organization wants to merge 2 domains, then the IT administrator would need to migrate user profiles from old domain to new domain.
Whenever you upgrade your Active Directory, you have to migrate user profiles to the new AD so that all users can access their data in it.
In case you are decommissioning your old domain, you will first have to migrate the user profiles from old domain so that users don't lose access to their data and settings.
Q. What information would be included if I migrate user profiles to new domain using this tool?
A. While migrating user profiles to new domain using this tool, you can migrate the following components:
User name and password
Desktop settings
Start menu settings
Favorites
Cookies
History
My Documents folder
Application settings
Group membership
Conclusion
You should have proper planning, seamless implementation, and rigorous testing while migrating user profiles to new domain. By following all the guidelines explained in this extensive guide, an administrator would be able to complete the migration process in an error-free manner.