Office 365
How to Migrate Domain Data From One Office 365 Tenant to Another? Tips
Raj
| Modified: April 15th, 2022 | 4 Minutes Reading
Picture yourself in this scenario: "You are having two different domains under one Microsoft Office 365 that includes users, emails, and the Office license is assigned to both domains.
Now, you are going to split these two domains into their own separate Office 365. Hence, you have been created another Office portal and you need to transfer domains data into it. In order to add the domain in a new account, you have to remove it from the other account. This means while executing this transfer, there will be downtime when no one can access emails. So, now the main issue is how to move domain from one Office 365 tenant to another in a better way?"
The above-mentioned migration is an operation where you migrate users and other data from one O365 domain to another. Today, it becomes so common procedure as organizations are adopting more and more Office 365 services other than just emailing. Due to this, the migration procedure is becoming more complex. If you are stuck in the same condition and searching for a simple way to migrate domain users data from one Office 365 tenant to another, do not panic. This technical guide comprises a simple and easy solution for the same. However, before directly proceeding to the solution section, let us understand the reasons that occur the need for such migration.

Common Factors That Leads to Move Domain from Office 365 Tenant to Another
Why do users migrate the same domain between Office 365 tenants, when the new environment has the same features and functionality as the source environment? Well, the answer is quite simple: business requirements. Common scenarios include:
1: Mergers and acquisitions of two or more organizations
2: Corporate partnerships, alliances, and joint ventures
3: Divestitures: company's separate entity, needs own tenant
4: Complying with the data self-determination regulations
5: For reducing the risk of corporate disputes of interest
6: Separation of works between systems administrators
7: Change of organization's Office 365 data centers
Technique to Migrate Domain data from One Office 365 Tenant to Another
Office 365 to Office 365 Migration Tool is the best solution to move a domain among different Office 365 tenants. It can migrate all data items from one Office 365 tenant to another quickly and seamlessly.
The software supports exporting entire Office 365 tenant user mailboxes. In order to reduce the unnecessary data migration time, the tool provides a date filter option. Using this feature, one can export emails, contacts, calendars, documents between "From" to "To" date range just by setting up the filters accordingly.
Apart from this, the software allows to migrate emails, contacts, calendars, and OneDrive documents, However, if users need to move only selective data items then, they can check / uncheck the items accordingly from the software pane. Key features of the software are given below:
1: Migrate Office 365 users emails, contacts, calendars, documents.
2: Date-based filter option to move select data from Office 365 domain to another tenant.
3: Import CSV file option to create mapping between source & destination users.
4: Re-run migration option to migrate failed & newly arrived items.
5: Account-based priority migration option to set priority of accounts to migrate first.
6: Support multiple Office 365 projects migration.
7: Support selective, bulk Office 365 users data migration.
Know Working Process to Move Office 365 Domain from One Office 365 tenant to Another
1: Install software & run on the local machine, then select Office 365 as a source & as a destination from the initial screen.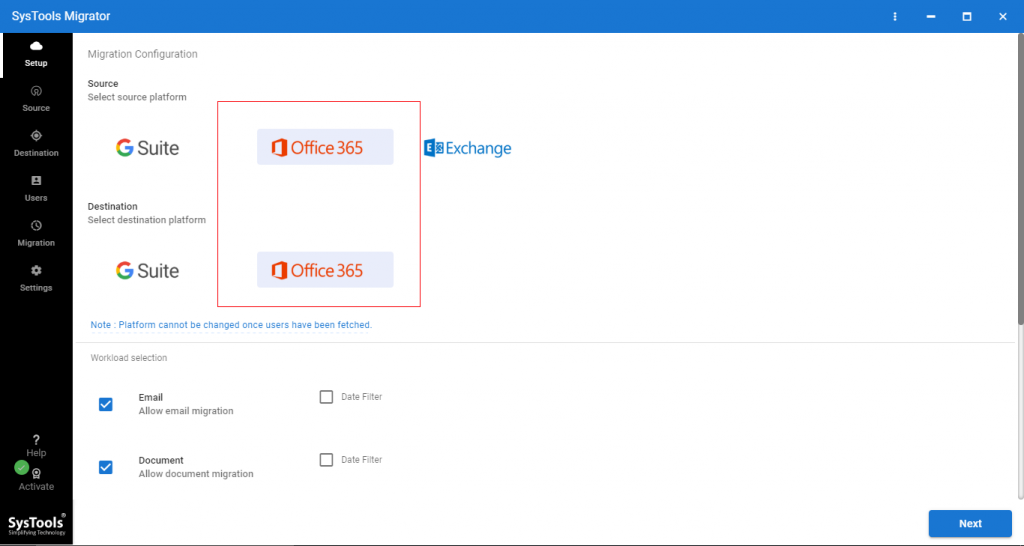 2: Select items (email, contacts, calendars, documents) from the workload section. On the same screen, you can apply the date filter. The tool also provides Migrate document permission, Use Group Mapping option. Apply options according to requirements. Click on Next.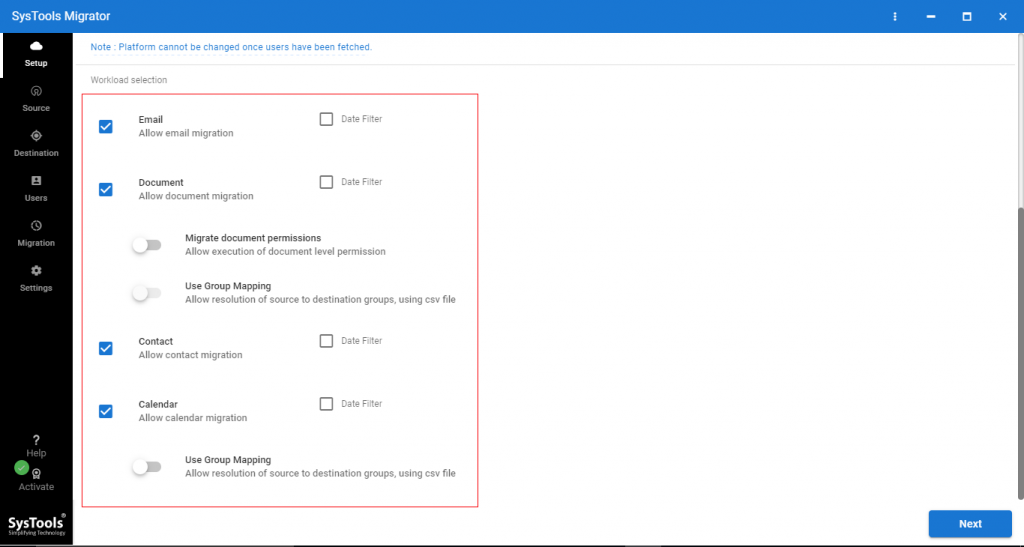 3: Now, enter the source Office 365 admin ID and application ID then click on the Validate button to validate permission.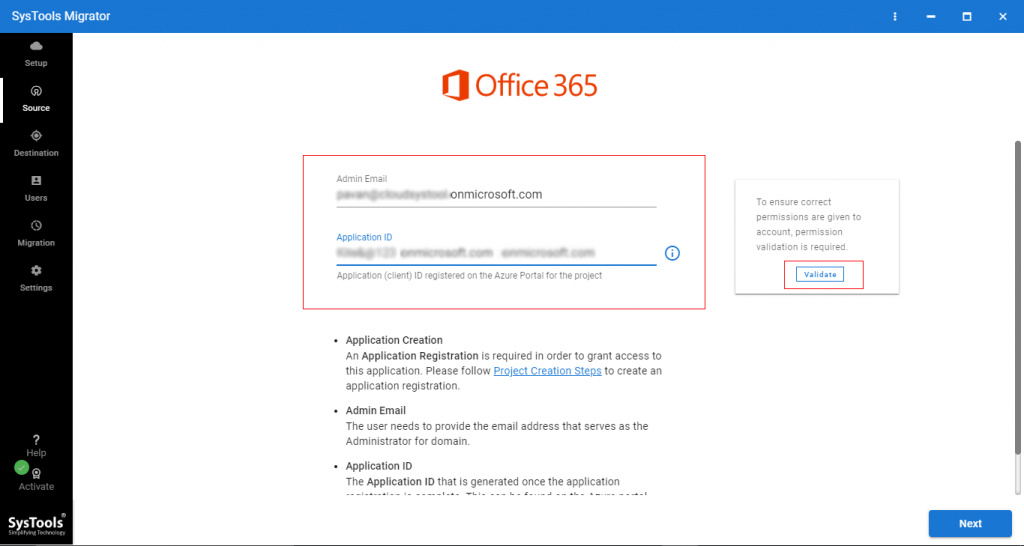 4: After validating permissions click on Next.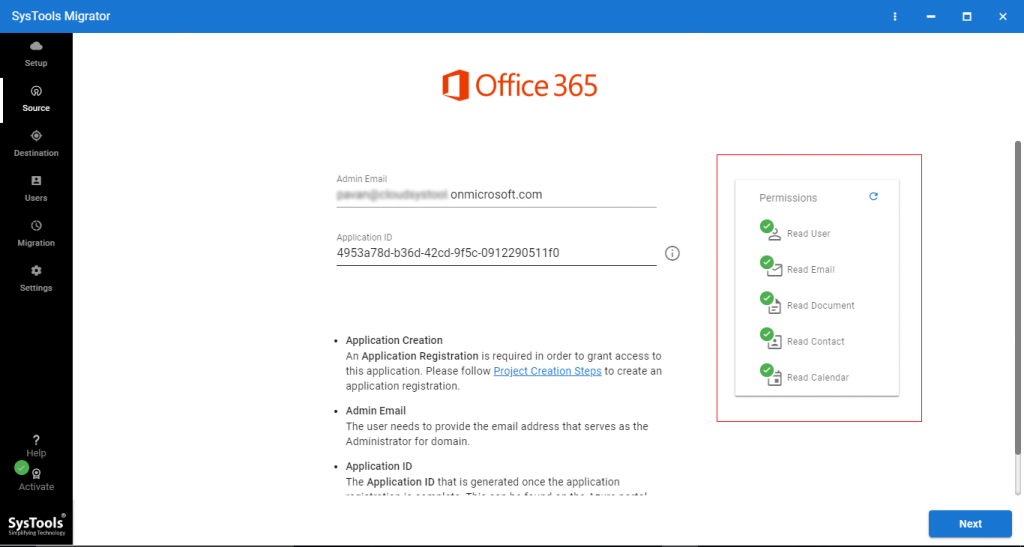 5: Enter destination Office 365 admin ID & Application ID, click on the Validate button.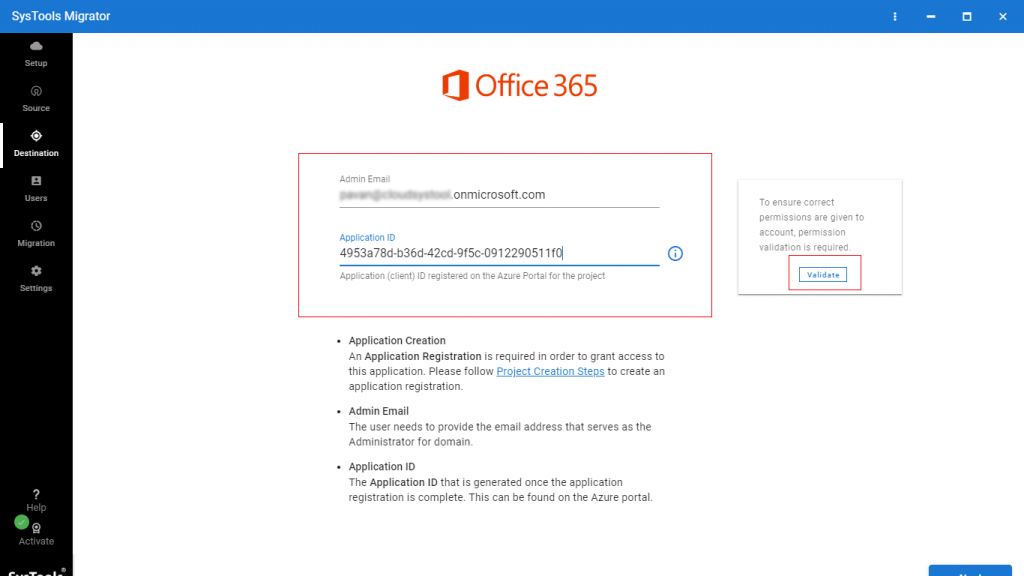 6: Once permissions are validated, click on Next.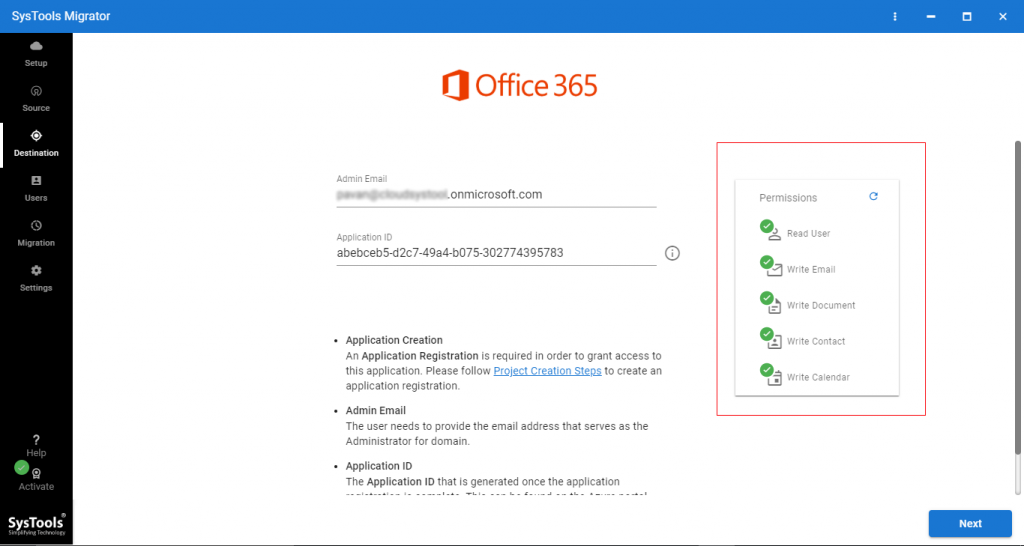 7: Now, we have to create a mapping between source & destination users. To do this task tool provides three options – Fetch users, Import users, Download Template.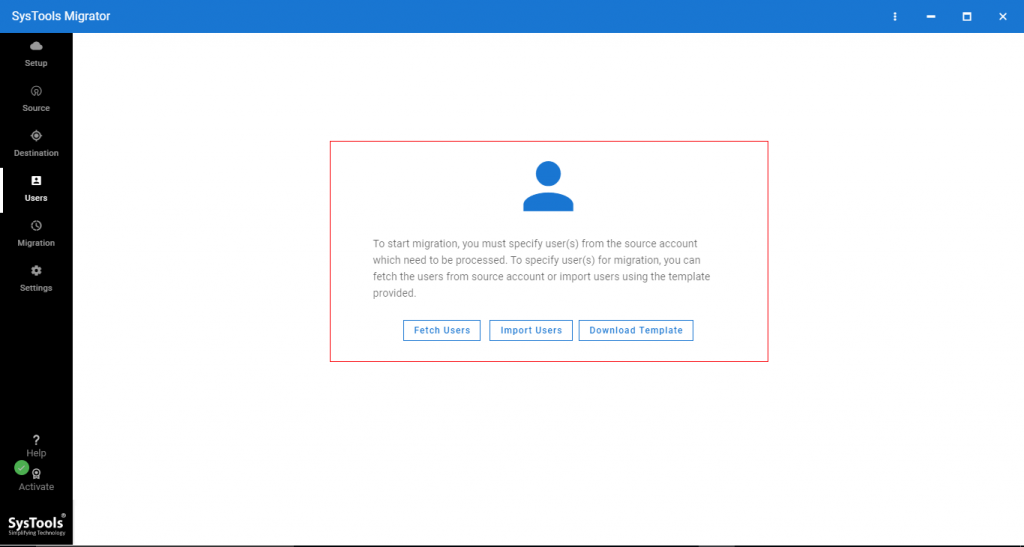 8: Mapping is successfully created between source & destination users.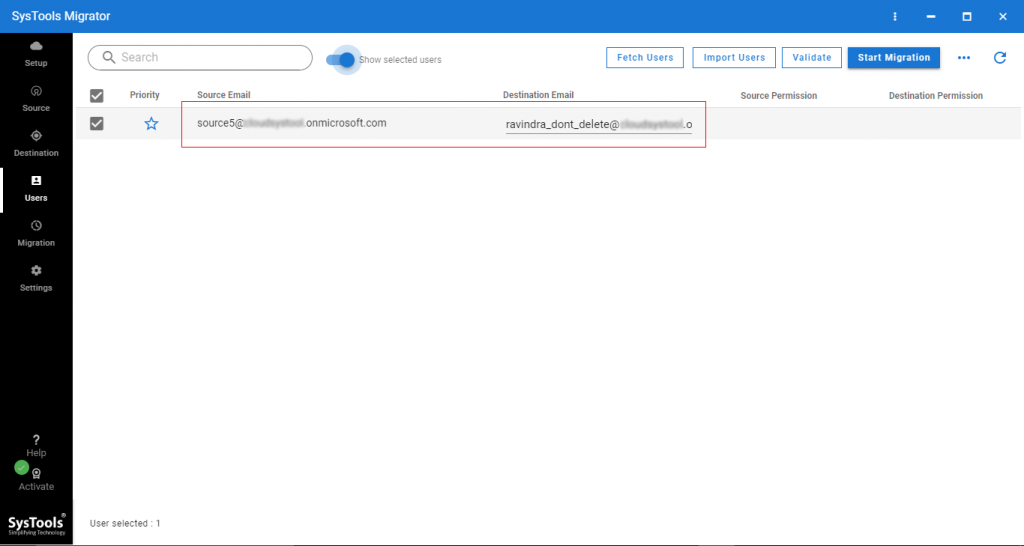 9: Now, click on the validate button to validate permission.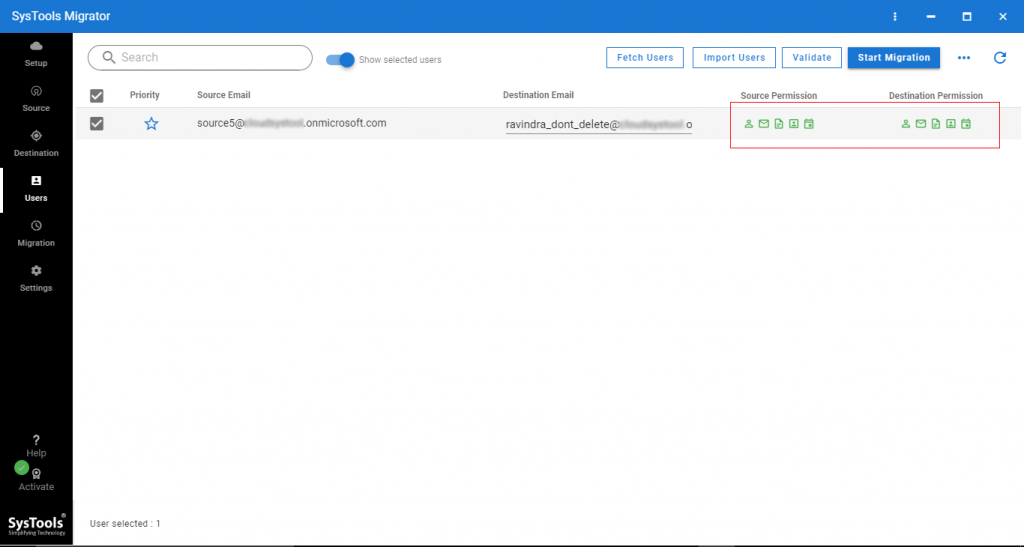 10: Once permissions are validated click on the Start Migration button.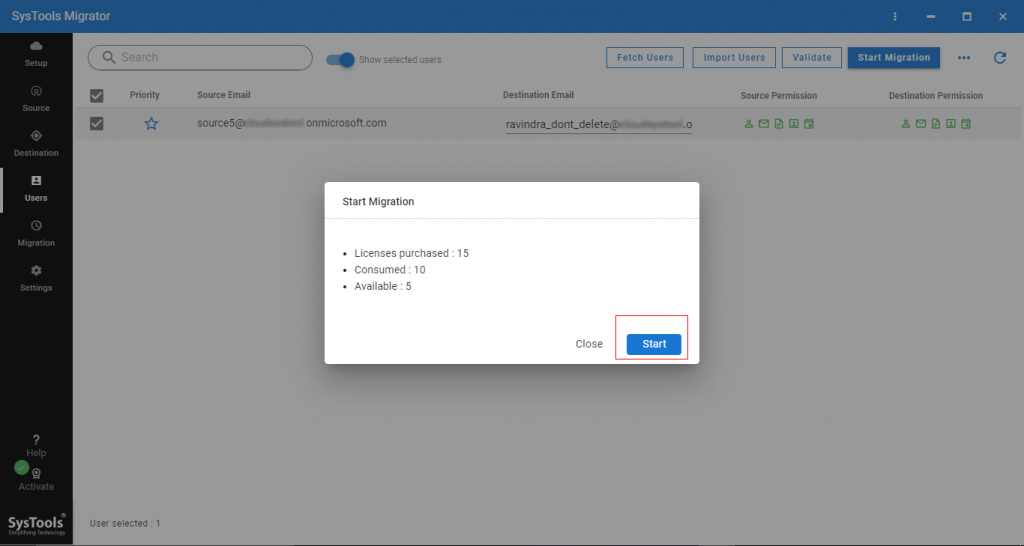 Observational Verdict
How to move domain from one Office 365 tenant to another now becomes a common internet search. It is so because this is not an easy migration task Therefore, this article comprises an ultimate solution to resolve this issue. The third-party tool recommended above is completely secure to download and run.