Office 365
How to Migrate All PST Files to Office 365 – 4 Ways Explained
This technical write-up is crafted to guide the users who are searching for methods to migrate PST to Office 365. Here you will find distinct methods for transferring crucial PST files to Office 365.
PST is a widely-used file format, generally used to reduce the amount of data residing on email servers. It's the popular file format preferred by many users for its various business advantages. However, PST files can get damaged easily if left unused for a long period of time. Hence, it's suggested to migrate them to a cloud platform like Office 365 to keep the mailbox items residing in the PST file safe and secure.
Moving PST files to O365 can be a crucial task that's why experts recommend executing the data transfer through a reliable method. 
But, How do Migrate PST Files to Office 365?
Basically, four different options are there to upload your PST files to O365. Three of them are manual methods and another one is automated.
The following methods you can use to upload the PST files manually.
Import/Export Wizard
Driving Shipping Method
Network Upload Method
And, for the automated method, you can use the Professional Office 365 Import Tool to quickly migrate the PST files.
Let's have a look at both the manual and automated methods one at a time.
Method-1: Migrate PST to Office 365 Using Microsoft Outlook Import/Export Wizard
This method utilizes the in-built import/export wizard and for using that, you need to first make sure you have configured the Outlook account. In case you haven't configured it, you can follow the steps given below.
Open Outlook on your system, and click on

File

then on

Add Account

.

Next, enter your Office 365 email ID & tap on

Continue

. 

After that, generate a password, and press

OK

to finish the configuration.
Once you configure your account, you can perform the below steps to migrate your PST files.
Open MS Outlook, navigate to

File

, and click on

Open & Export

then on

Import/Export

After that, the Import-Export Wizard window will pop up. Here select the option

Outlook Data File(.pst)

, and press 'Next' 

Then, select the file path from where you want to migrate the PST file by clicking on

Browse

. And, choose

Replace duplicates with items imported

option, then click Next.

Next, select the root file & click on the

Include subfolders

checkbox to upload the complete file. Then, tap on 'Import items into the same folder' and enter your office 365 id.

Finally, hit the

Finish

button.
This method is suitable if you have less number of PST files to upload. However, if you have a large number of files to migrate then it can take more time than usual for the process to complete. Sometimes it takes hours and even days(if the data is in TB).
That's why it's suggested to opt for a method that can migrate your data in bulk.
Method-2: Migrate PST to Office 365 Using Drive Shipping Method
This method is also supported by Microsoft through which you can migrate multiple data in one go. Here, one of the Microsoft representatives will upload your PST files to the cloud, however, it's gonna cost you $2/GB of data transfer.
Here's what you need to do.
First, you need to Copy your PST files to a hard drive(s).

Then, ship the hard drive(s) to Microsoft physically. 

After receiving your hard drive, the data center personnel will run a verification on the same. Then, the Microsoft professional will transfer your files to the destination account.
Undoubtedly, after following the steps your data will be uploaded to your Office 365 account. But, there are certain limitations of this method you should know. For instance;
There's no fixed time frame to upload your data. So, it's difficult to estimate how much time it's gonna take for the process.

Secondly, it would be expensive if you have a huge volume of data(in Tera Byte) to upload.

This method is made available to limited geographical regions.

Also, you can't send more than 10 drives at once for uploading your PST files.
Though this method can migrate PST to Office 365 in bulk, the limitations make it unreliable.
Method-3: Use Network Upload Method to Migrate Your PST Files to O365
This is a free native method using which you can upload your PST files in bulk. However, it's a technical approach and uses PowerShell scripts. 
So, before attempting this approach, you need to make sure that you are comfortable and have the expertise in executing the PowerShell commands. Otherwise, a single mistake could lead to data loss.
The complete network upload process goes through various steps. Let's have a look at them.
Step-1: Copy the SAS URL for your organization & download the AzCopy tool
SAS URL is a mix of the network URL for the Azure Storage location in the Microsoft cloud and a Shared Access Signature (SAS) key. The SAS key plays an important role as it provides you the necessary permissions to upload PST files to Azure Storage Location. Also, make sure to protect your SAS URL which is unique to your organization.
Open https://compliance.microsoft.com and sign in with your admin account.

In the compliance portal, select

Data lifecycle management

>>

Microsoft 365

>>

Import

.

Then, click on

+New Import Job

.

Enter a name for your import job.

Next, on the 'Do you want to upload or ship data?' page, click on the

Upload your data

radio button and then click

Next

.

Then, the

Import data

window will pop up like this
Here, you need to 
copy the SAS URL and save it somewhere it can be accessible. 

download the Azure AzCopy tool.
Step-2: Upload your PST files to Microsoft Office 365 Platform
After downloading the tool, you can upload PST files to O365. This tool uploads and stores PST files in Azure Storage location in the Microsoft cloud.
[Note: Each time you run the tool, you can define a different source location.]
Now, let's have a look at the upload procedure.
Open a command prompt on your desktop.

Locate the directory where the azcopy.exe file is saved.

Then, run the below command.
azcopy.exe copy "<Source location of PST files>" "<SAS URL>"
Important Note: Once you successfully run the 'azcopy.exe copy' command and verify that all the parameters are correct, save a copy of the command line syntax to the same (secured) file, where you copied the information obtained in Step 1. So that, you can easily copy & paste this command every time you want to run the AzCopy tool to migrate PST files to Microsoft 365.
Step-3: Create the PST import mapping file
After uploading the PST file to the Azure storage location for your organization, the next thing you will do is create a CSV file for mapping. This file has the information on which user mailboxes to the PST files will be migrated.
Step-4: Create a PST import job
Next, you need to create a PST import job in the Import service in Microsoft 365. Then, submit the PST import mapping file that you created in step 3. Below are the steps that you have to follow to submit an import job.
Navigate to the compliance portal in Microsoft 365 & sign in with your admin account.

Then, click Data lifecycle management >> Import >> + New import job

Enter the name for the PST import job and click Next.

Next, on the '

Do You Want to Upload or Ship data?' Page,

click Upload data, and then press Next.

After that, tick the checkboxes

I'm done uploading my files

&

I have access to the mapping file

.
After that, click on

+Select mapping file

to submit the CSV mapping file.
Then, under the

Mapping file name,

the name of the CSV file appears

.

Next, you need to click Validate to check for errors in your CSV file.

Finally, tap on

Save

to submit the job, then on

Close

after the job is successfully created.
Step-5: Filter data and Start the Import job
When you create the import job, Microsoft 365 analyzes the data in the PST files. After that, it provides you with the facility to filter the data that actually needs to be imported to the mailboxes specified in the PST import mapping file. 
So, it gives you the option to filter all the data or trim the data that's imported by setting filters.
Once you carry out all the above 5 steps meticulously, you'll be able to migrate your PST files to Office 365. 
However, the Network upload method also has certain limitations. Let's see what are those.
Also Read: How to Extract Emails from PST File Without Outlook Installation?
Limitations:
First of all, the entire process is complex, lengthy, and requires technical understanding. 
Secondly, the Network Upload method is available in limited geographical regions. Such as the United States, Canada, Brazil, the United Kingdom, France, Germany, Switzerland, Norway, Europe, India, East Asia, Southeast Asia, Japan, the Republic of Korea, Australia, and the United Arab Emirates (UAE). The countries or regions apart from these can't use this method.
Another restriction is that a PST file can be imported to Office 365 mailbox at a rate of approximately 24 GB per day. Also, if you want to migrate items that are larger than 150 MB then it's not possible due to the size limitation in Microsoft 365.
Even the screen resolution of your local computer matters. If the screen resolution is set to 1366X768 then you might face issues while creating an import job.
Though it's a free method, it has so many complications that it can be difficult for a naive user to understand. So, it's always best to opt for a simple and effective method when you want to upload your PST file.
Also Read: How Do I Import PST File in Outlook Web Access Without Any Hassle
Method-4: Easily Migrate All PST Files to Office 365 Using Tried and Tested Tool
This method comes in handy when you don't want to face the complications of manual approaches and want to quickly upload your PST files to Office 365. Since it uses the most trusted software(mentioned in the earlier section), the entire process is done automatically.
Comparatively, this is the easiest method of all. It's because of the graphical user interface which makes the tool user-friendly. 
Above all, the process to migrate PST files to Office 365 is short and simple. It takes only five steps to carry out the whole process. Let's have a look at the steps.
Office 365 Importer Purchase Now
Step 1. Download the Tool on your computer, launch it & then log in by entering your credentials.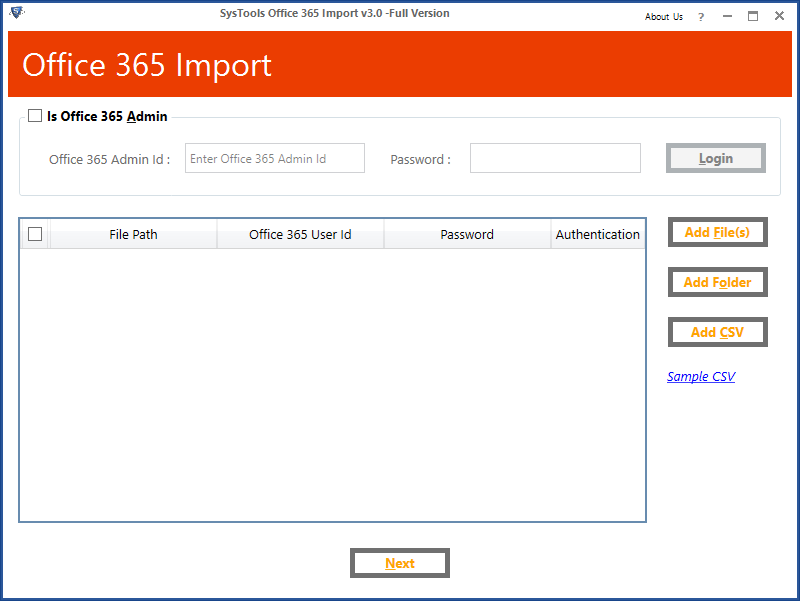 Step 2. Choose any 1 option from Add File, Add Folder, or Add CSV to migrate PST to Office 365.
Step 3. Map the path of the PST file with the destination O365 user ids and authenticate the same.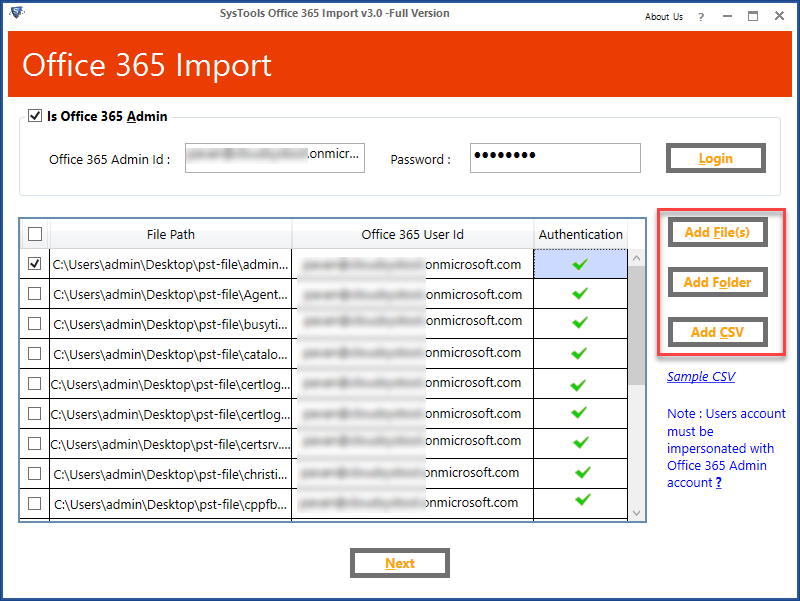 Step 4. Select the categories such as emails, calendars, tasks, and contacts that you want to upload. 
Step 5. At last, click on the 'Import' button to begin with the process.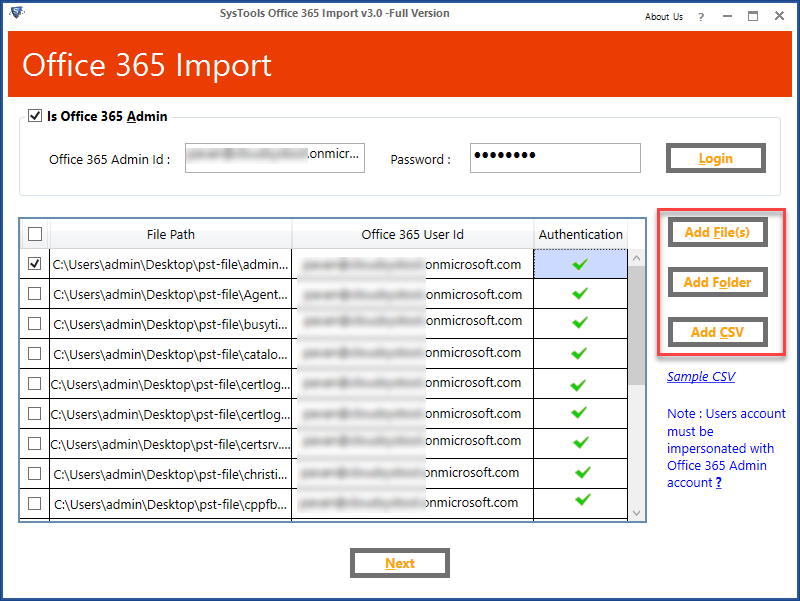 That's it! After following the above steps you will find your PST files at the desired destination.
Wrapping Up
This write-up explained four methods to migrate PST to Office 365 in detail. Though you can use manual ways to migrate your PST files, it's quite tedious. Besides, the limitations make them unreliable. So, why use complicated methods when you can opt for an automated and easy method for the job? Thus, it's suggested to use a professional tool for uploading your crucial PST files to Office 365.