File Conversion
Solve Eudora Could not Read from File Error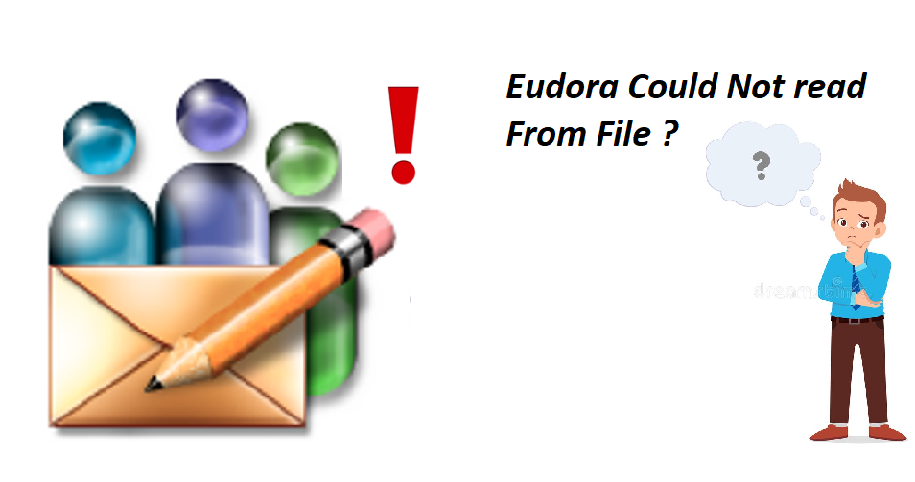 Summary: Are you stuck in a situation where Eudora could not read from file? And not finding the accurate way to explore Eudora emails. Then, this article is definitely for you. In this informative blog, you will get the correct solution for this error without losing a bit of data information.
Now, before going towards the process to fix the error.  Let's see a real-life user scenario that we have found during the research of this issue.
"Hello Everyone I am George. I have been using Eudora for a very long time and I am habitual to it. But for the last 2 days I am facing an error Eudora could not read from file." And I am very stressed. As my data information is very important to me. I want the best yet reliable solution to fix this error. Any suggestion would be appreciated. Thanks!"
The above user query is not just a single one because we have found many users are facing this same issue with their Eudora.
Also Read : Open Eudora Files in Outlook
Some basic info. About Eudora Email Application
Eudora Mail is one of the most popular email applications. It is an active email application that is accessible by Windows and Mac Operating Systems. The best feature of this email client is that it provides users with secure data information via password protection.
It is part of many investigation cases. The file can be acquired and the data in it can be analyzed for examining emails that can mainly lead to evidence. Eudora email application stores its data in MBX file format, which is basically one of the variants of MBOX file format.
Well, after the brief intro of Eudora, the million-dollar question is "How to Fix Eudora could not read from file" issue?  And if you want to know the answer keep reading the write-up because in the upcoming section we are going to elaborate the process.
Hassle-Free Solution to View Eudora Emails
To overcome all the hurdles we have come up with an automated software that will resolve the issue. The advanced MBOX converter has a very easy to use interface that even a non-technical user can use without feeling any discomfort. 
It is a top notch software that allows its users to access and view windows and Mac mailbox files in an effortless manner.
The best and the most advanced feature of the tool is that users can access corrupted or damaged files in just a few seconds.
There are no file size limitations using this tool, any size of the file can be easily viewed. The best part of this software is that there is no need to install any email client. Users can view files without any email application.  
Working Steps of the Software
Step 1. Download the software and start it. Hit the Add file button and select the Mbx file
Step 2. You can use the mailbox files or if you have Eudora then, you can directly upload the file from that application
Step 3. Next, preview the emails with its attachments. Click on Export button
Step 4. Choose EML file format from the option given. At the end, click the Export button.
After you have EML file, Following are the Simple Steps to import the resultant file to Eudora
Start Eudora email application
Now, open Eudora mailbox folder ( Inbox, Sent etc.)

After that, drag and drop EML Files into Eudora Mailbox Folder
Done! in this easy way user can easily solve the error " Eudora could not read from File".
What Makes the Software Different from Others?
The most amazing feature of the wizard is that you can upload the mailbox file or if you have the Eudora application then, you can also directly upload the Eudora file.
The software can easily save emails from mailbox file to multiple file formats. It can convert MBOX to PST, PDF, EML, MSG etc.
 This is the smart option to auto-load Eudora data files by using the in-built feature of automatically loading files from their default location. You only need to click on any mailbox supported application. The software will automatically load complete data from the configured profile.

It offers a preview of the mailbox file along with all the email attributes like From, To, Subject, Sent date, etc. You can quickly view Eudora emails without losing a single piece of information.

Users can easily view the emails without any installation of an email application.
Last Say
Most of the time, it is a very complex task for some of the users to solve the problem of Eudora could not read from file . In this above write-up we have discussed the software and you can perform the task without any email application dependency. Thus, you can easily view the emails without any difficulty.
For non technical users this software is the best choice as it comprises simple and easy steps. Therefore it is recommended to use the tool and resolve all your issues.