Lotus Notes
,
Outlook
Know How to Convert NSF Archive to PST File by an Ideal Method
Admin
| Modified: 2019-07-11T11:06:08+05:30 | 4 Minutes Reading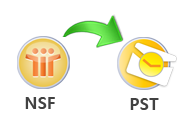 In this write-up, we will throw lights on the ways that can be devised to convert NSF archive to PST file. We will also include the reason which calls for this migration from Lotus Notes NSF to Outlook PST. One can easily opt for the archiving option to save all the emails locally in case they are running out of space in Lotus Notes. So, to avoid the deletion of emails, simply archive them and store plenty of files. This archive folder is also very useful while migrating from Lotus Notes to any other platform. So, let us now look at the situations that require users to move emails from NSF archive to PST in the following section.

Instances That Demand Export from NSF Archive to PST
Cross-platform migration is the major need for which users convert NSF archive to Outlook PST. Since there are certain limitations in Lotus Notes, users in large number tend to migrate from Lotus Notes to MS Outlook. The entire email items including old NSF files are archived to PST. Also, the fact that NSF data cannot be accessed in MS Outlook So, we need a mechanism to convert NSF archive to PST format or read NSF files in Outlook 2019, 2016, 2013, 2010, 2007, 2003.
Methods to Convert NSF Archive to PST File
There are some manual ways to move NSF archive emails to PST format. One way is to use connectors while the other way is to use a software solution. Connectors serve dual purposes. One is the migration of data from Lotus Notes NSF files to Outlook PST format and vice-versa. The other being a source that offers synchronization. Let us look at each solution one by one.
Microsoft Transport Suite
Microsoft has devised a free, inbuilt feature called MS Transport Suite for conversion of data from NSF archive to PST. This utility comes with a transport management console. It easily converts all stored NSF mailboxes to PST format.
Limitation: This feature is not for converting a bulk of files as it might generate some error messages like maximum length exceeded, etc.
Exchange Migration Wizard
This wizard can be used to extract archive files from Lotus Notes. It provides users with an option to migrate an archive folder in just a few steps. In one step, the utility will extract NSF file from Lotus Notes and import over to Exchange server. NSF file can be easily extracted as PST file when MS Outlook is configured with Exchange server.
Limitation: It is only for exchange server 2003 edition. NSF archive to PST migration will not work for latest editions of Exchange server.
NSF to PST Converter Tool
If all the above methods fail to provide a satisfying outcome then, this is the ultimate tool to convert NSF archive to PST Outlook format. By this Converter software, one can easily convert all Lotus Notes files including emails, calendars, tasks, etc. to Outlook. It is necessary to have an installation of MS Outlook and Lotus Notes for this conversion. The tool also offers a feature to translate the canonical name into SMTP format. It can even convert the password protected files from NSF to PST. Therefore, this tool is a perfect software to process such a conversion. Some of its highlighted features are listed below.
Retains all meta properties while NSF archive to PST export of files.
Includes all attachments during NSF to Outlook conversion.
Provides bulk migration from NSF to Live Exchange server.
Maintains folder hierarchy and internet header of all emails.
Decrypts messages and removes duplicate contacts from data.
NSF archive to PST transfer has email filters, to-do filters, and so on.
It has a user-friendly interface for Lotus Notes to PST migration.
Compatible with all recent versions of MS Outlook 2019, 2016 and below.
Final Words
Data conversion is very crucial these days to maintain the continuity in work. Hence, we have brought for our viewers the most effective ways summed up at one place to effectively convert NSF archive to PST. Users can choose any of the methods given above however, it is suggested to go for reliable NSF to Outlook Converter tool instead of manual methods to have a smooth and easy bulk conversion.