Outlook
How to Combine Password Protected Outlook PST Files? – Find The Answer Here
Outlook users create multiple PST files and make them password protected for security reasons. Opening multiple Outlook PST files is a very complex process. Therefore, a large number of users want to combine password protected Outlook PST files into a single file because the single file is easy to handle. To solve this query here is the complete guide. This blog describes how users can merge or consolidate PST files in Outlook without losing data. Before going to start the process, know about the Outlook PST file.
Microsoft Outlook PST Data File
PST stands for Personal Storage Table in Outlook. Users can export Outlook data like emails, calendars, contacts, notes, tasks, and much more into the .pst format. There are two types of PST file, ANSI PST and UNICODE PST. In Outlook 2002, 2000, 1998, 1997, and other below versions, the PST file follows the ANSI standard with 2 GB size limitations. In Outlook 2007 and 2003, the PST file follows the UNICODE standard with a maximum size of 20 GB. And for all the other versions such as Outlook 2019, 2016, 2013 and 2010, the recommended limit has been set to 50 GB.
Table of Content

Reasons to Merge PST Files
Expert Solution to Combine Password Protected PST
Manual Method to Merge Password-Protected PST
Limitations of Manual Approach
Frequently Asked Question by the Users
Reasons to Merge Multiple PST Files
There are many reasons to combine multiple PST Files into one as it depends on the needs of the users. Some of the common reasons are-
To merge ANSI PST file to UNICODE PST.
Combine multiple Outlook accounts into one.
To upgrade from older Outlook version to newer.
Access and handle several PST files at one place.
To avoid sharing of PST files one by one.
Expert Solution to Combine Password Protected Outlook PST Files
The Outlook PST Merge Tool is a reliable, simple, efficient and quick solution to merge Outlook data files. This software is able to combine Outlook PST files protected by a password without corrupting or losing data. It supports to merge PST files Outlook 2019, 2016, 2013, 2010, 2007 and all below versions. The tool supports to combine unlimited PST files into one without displaying any size limitation message.
Step-by-Step Process to Merge Password Protected PST Files are as follows;
First, Download and install the application.
1. Click on Add Files or Add Folder option to load PST files.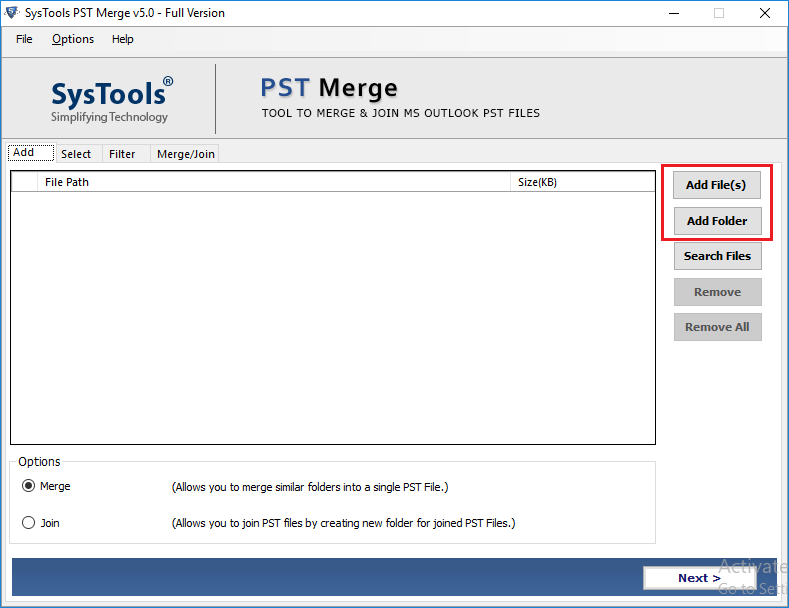 2. Choose an option:- Merge PST or Join PST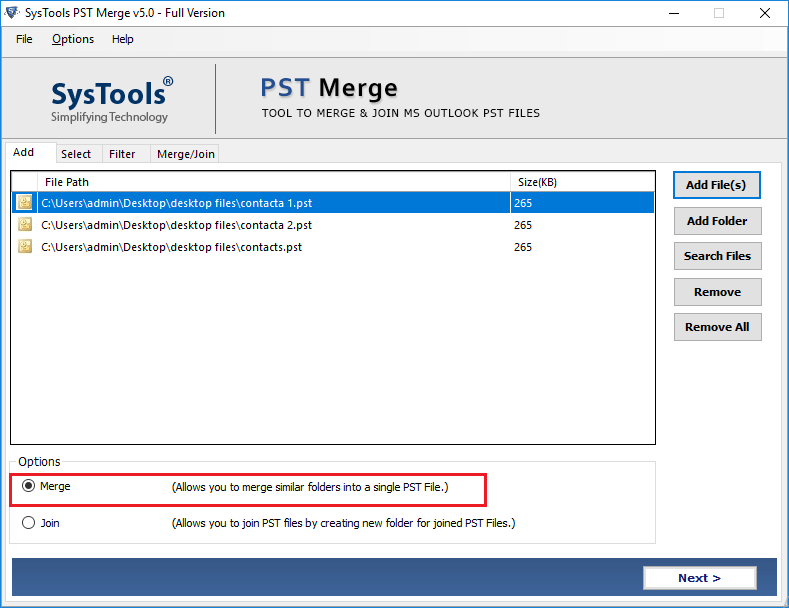 3. Choose required option: Merge in a New PST, Existing One or Outlook Profile.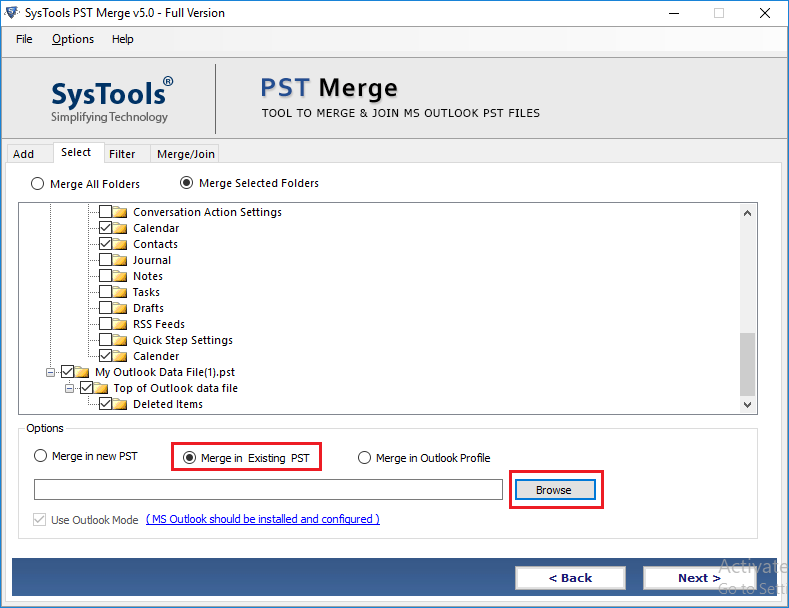 4. Select the items you want to combine like Mail, contacts.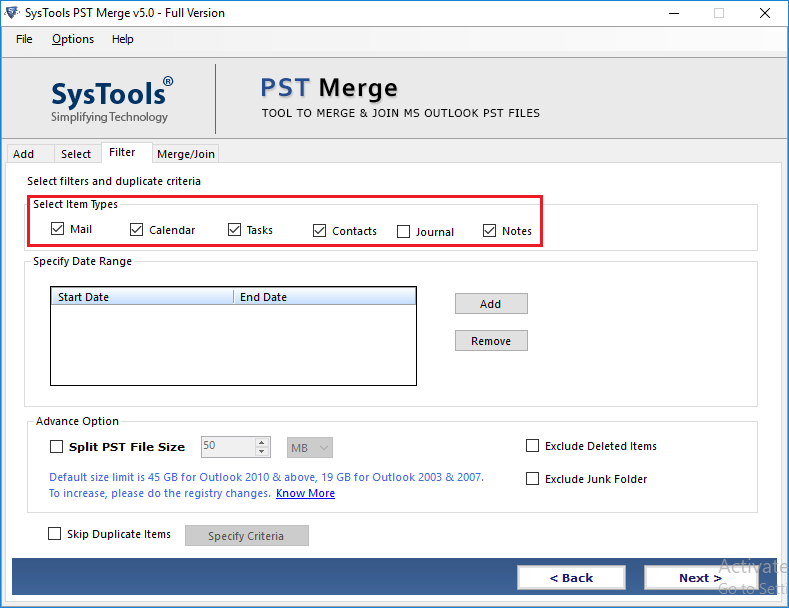 5. Finally, click on the Next.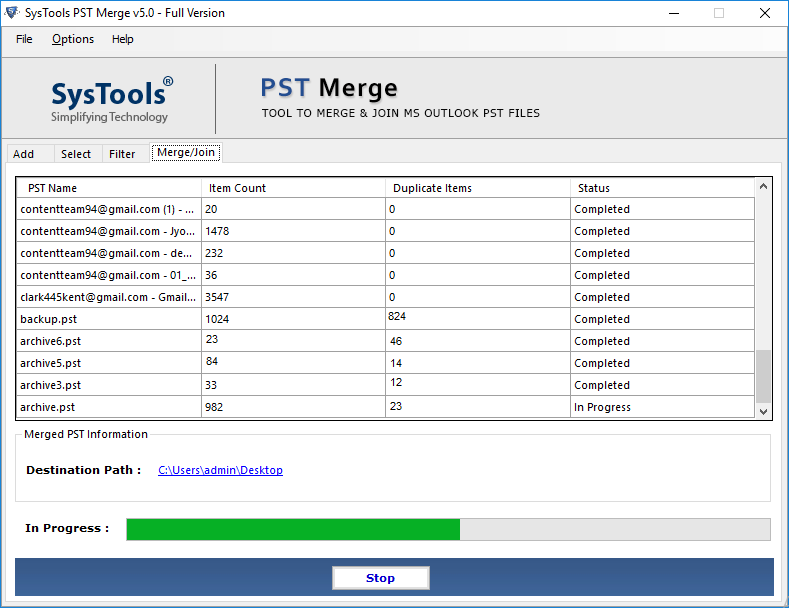 That's how you can directly merge password protected PST files in just a few simple steps.
Manual Approach to Combine Password Protected Outlook PST Files
The manual process to merge password protected PST files has two parts, create a new PST file and import all Outlook data items into New PST file.
Step 1. Create a New Blank PST
Open Outlook, click on New Items >> More Items >> Outlook Data File
Select the location where you want to save new PST file and give it a name
In the end, click OK.
Step 2. Import PST Files into Newly Created PST
Go to File >> Open & Export >> Import/Export
Select "Import from another program or file" option and click next
Select "Outlook Data File (.pst)" as file type to import from
Click on Browse and select the file to import
Check the "Do not import Duplicates" option and click Next
Select the folder which you want to import
Check the Include subfolders and Import Items into the same folder in option
Click on the Finish button.
Note: You must enter the password of the PST file at the time of importing to complete this task successfully.
Limitations of Manual Approach
This manual approach to import PST files will import the PST file to the folder you selected. If you want to import other PST files, then you need to repeat the same steps for each one. There is no guarantee of data safety while merging Outlook PST files. Therefore, it is better to use a professional solution to avoid all these problems.
The Final Words
The outlook is the first choice of almost all users. To get more features and benefits, users upgrade from an older version of Outlook to a new version. By doing this, users have a large number of PST files that are difficult to open and close. Merging Outlook PST files into single one is the best idea to easily manage and handle data at one place. Therefore, we mentioned the manual and the professional solution to combine password protected Outlook PST files. To protect the data securely, it is recommended to expert solution. This will allow you to combine PST files protected by a password without entering the password.
Frequently Asked Questions
Can you merge two PST files?
Yes, you can merge two or multiple PST files using the PST merge software. It lets you combine unlimited Outlook data files with complete accuracy.
How do I combine multiple Outlook emails into one?
It is easy to merge several emails in Outlook together with the help of the mentioned manual and advisable method.
How can I add Outlook PST files to an existing One?
1. Download PST file merge software
2. Select the PST files
3. Choose merge PST files into an existing PST file
4. Click Next.
Can I Combine password protected PST without entering the password?
Yes, this is only possible with the Outlook PST Combiner software. You can merge password-protected PST files without having to enter the password.