How to Import Mailbox of Apple Mail to Outlook?
In the era, many of email client are available for the digital users and for all platform like Windows, Mac, Linux OS. There is the widest choice of email client easily pick any free or paid services with lots of others features. Apple mail one of that which available for Mac OS users, it provides many features for the user. Apple mail manages multiple user accounts in one interface and provides to manage email, contacts, calendar, etc.
Outlook one of the best email client which run in both platform Windows as well Mac OS. It is the common reason why people move to Microsoft Outlook platform it provides same features of Apple mail as well as better features and interface. Many of the Mac user's concern is how to import Mailbox of Apple Mail to Outlook.
In this article, we have simplified the migration process of Apple Mail to Outlook. In just three simple approaches a user can be performed the process. First, we need to export mailbox of Apple Mail then convert emails to PST and last import mailbox to Outlook.
Export Mailbox of Apple Mail
The first approach to the export complete mailbox of Apple Mail by some manual steps. Here are the steps to export mailbox:
Step 1. Login to Apple Mail user account.
Step 2. Select the Mailbox which needs to be exported.
Step 3. Right click on selected Mailbox then choose Export Mailbox.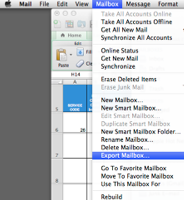 Step 4. Browse the location where the exported mailbox will save.
Step 5. Select Desktop and click on Choose button to finalize the process.
Now you have completed the process of exporting mailbox from Apple Mail now you need to convert Apple Mail to Outlook by any third party solutions.
Import Mailbox to MS Outlook
The last approach to import converted Apple Mail to Outlook. Here are the steps to import mailbox to Microsoft Outlook:
Step 1. Log in MS Outlook (2016 or 2013).
Step 2. Select File → Open & Export → Import/Export.
Step 3. Click on Import from another program or file. Click on Next button.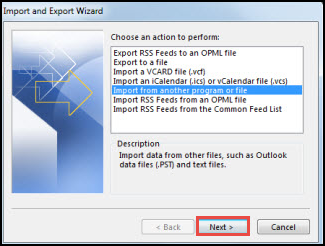 Step 4. Click on Browse button to open converted PST file from the local drive.
Step 5. In next pop up window click on Finish button to finalize the process.
Now use Apple Mail mailbox in Microsoft Outlook with all attachments. Follow the manual approaches with any version of Apple Mail and MS Outlook.
Conclusion
In the informative article, we discover how to import mailbox of Apple Mail to Outlook. We are mentions all manual approaches which are use to convert mailbox to PST file format. The mentions third party solution is specially designed to export any email client MBOX file to Outlook PST format.