Resolve The Error Event ID 9175 and 486 in Exchange Server
Fix Exchange Server Error Event ID 9175
When user wants to mount the database on the Exchange server and instead of mounting the database Exchange gives the following error messages:
"An internal processing error has occurred. Try restarting the Exchange System Manager or the Microsoft Exchange Information Store service, or both.
ID no: c1041724
Exchange System Manager"
Also, an event is logged in the Application log that is given below:
Error 9175 Exchange Server: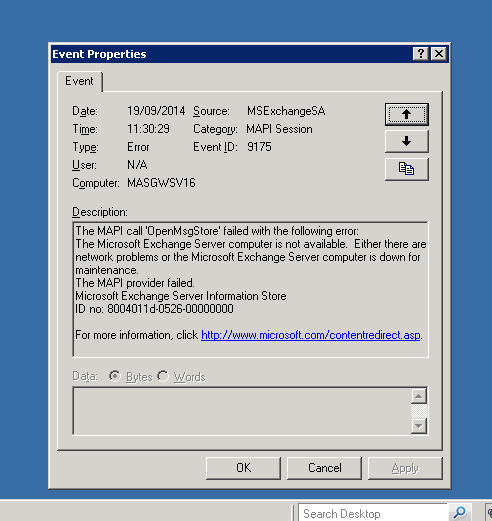 Event Type: Error
Event Source: MSExchangeSA
Event Category: (14)
Event ID: 9175
Description: The MAPI call 'OpenMsgStore' failed with the following error: The MS Exchange Server computer is not available. Either there are network problems or the Exchange Server computer is down for maintenance. The MAPI provider failed.Exchange Server Information Store ID no: 8004011d-0526-00000000
or
Event Type: Error
Event Source: ESE
Event Category: General
Event ID: 486
Description: Information Store (3932) First Storage Group: An attempt to move the file "E:\Program Files\Exchsrvr\mdbdata\E00.log" to "E:\Program Files\Exchsrvr\mdbdata\E000080A.log" failed with system error 2 (0×00000002): "The system cannot find the file specified." The move file operation will fail with error -1811 (0xfffff8ed).
Reasons behind these errors or events:
Error 1811 is related with JET_errFileNotFound. The reason behind this issue may be a wrong signature and L Generation which pop up in an Exchange log file(E00.log). If E00.log file has a signature which matches incorrectly, then the information will not store on the database even if the database is reconciled.
Sometimes anti-virus software deletes the orphan or lost Exchange log files from the server.
Now Resolve the Error Event ID 9175 Exchange Server
This error 9175 on Exchange server can be resolved by checking the anti-virus programs and configured them as they can not scan the Exchange server directories. Also, check the log files of anti-virus program and verify that Exchange server's log file was quarantined or deleted.
If Log Files are quarantined, Recover the Exchange log files by following the given steps:
Recover the log files from the folder which contains production files.
If other Exchange log files are not lost then Run the Exchange Information Store Service. If you found that lots of missing log files then go to the quarantine folder and check over there for the lost files. If you can not find the files follow the next step.
If Log files are deleted, Recover them by following given steps:
Move all the consistent database files to the backup folder.
If new E00.log file has been generated then move it to the backup folder. Also, move the E00.chk and make a copy of all existing files.
Change the name of the last E00*.log file as E00.log
Now restore all the database from the backup.