Outlook.ost is not a personal folder file error starting outlook
Nowadays in every organization, MS Outlook is used as the default email client worldwide. MS Outlook is leading email client and we can not imagine an organization to work fluently without it. Outlook provides a wide range of functionalities like sending or receiving emails, managing contacts and keep track of tasks and schedule meeting and much more than that. But MS Outlook work efficiently, this totally depends on its database files including OST & PST files. These database files are highly susceptible to get damaged or corrupted. Many people may face the following problem on using MS Outlook :
"The file C:\Documents and Settings\ Local Settings\Application Data\Microsoft\Outlook\outlook.ost is not a personal folders file."
Here we are going to discuss the reasons and its distinct solution for the above error.
Reasons for ".ost is not personal folder" Error
Error "Outlook.ost is not a personal folders file error on starting outlook" generates due to following mention reasons:
When a user upgrades to MS Office 2007, MS Outlook creates an error like "ost is not a personal folders file outlook 2007". If Office 2007 is not upgraded properly or up gradation is not performed properly then Outlook 2007 has some faults with OST file.
Sometimes anti-virus and firewall tools scan your whole system fro virus or malware and may interrupt the operations of OST file.
Due to virus attack OST file get corrupted and this is also a major cause for the "outlook.ost is not a personal folders file" error.
Pathless OST files by MS Outlook.
It also occurs if OST file is checked as Read Only.
If MS Exchange server accidentally gets damaged or account has been deleted.
Solutions
This Error can be resolve, try to implement these following solutions.
Be sure that OST file is not checked as Read Only. Right click on the OST file and select properties to view this.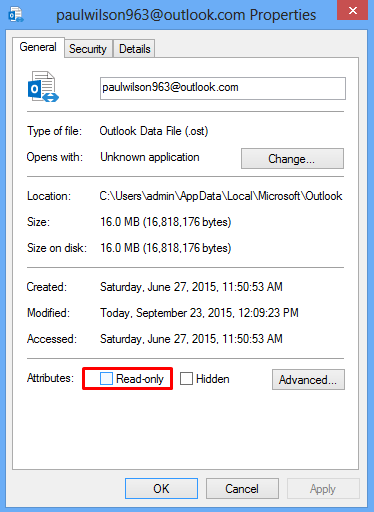 If you recognize that the OST file got damaged or corrupted, Microsoft recommends running inbuilt utility to Repair Inbox (scan.pst.exe) that can be capable of repairing the OST and PST files both. Sometimes this scanpst.exe deletes those files which have bad headers. So this utility can only handle for minor corrupted issues.

Badly corrupted OST files can not be repaired by the Scanpst.exe tool. So there is another way to recreate your OST file, by renaming your old file as abc.oldost and now you just have to restart your Outlook a new OST file will be created. (Note: Perform this after closing the MS Outlook.)